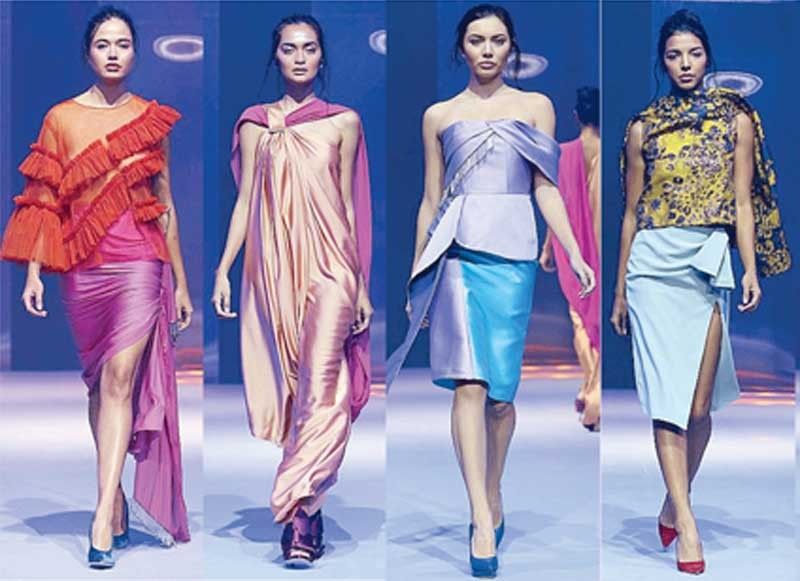 YSTYLE Picks: STYLEFESTPH '18
Fashion Exchange International designers Martin Bautista, Maureen Disini and Michael Levya debuted their first official RTW collections as Globe Telecom celebrates the launch of their new fashion platform StyleFestPH — YStyle supplies the rundown.
To all the women he's ever loved
A culmination of Martin Bautista's greatest hits in tribute to his muses.
If there was something familiar about Martin Bautista's show last Sunday, it's because you've seen these dresses before. From him, mostly, but they're still amazing dresses.
With glamorous ease and feminine strength interpreted in his usual way, these are still the kind of clothes only Martin can make. Inspired by his love affair with makeup, this was a color-driven collection painted by warm peaches and nude tones, of cooler reds and assorted sorbet hues.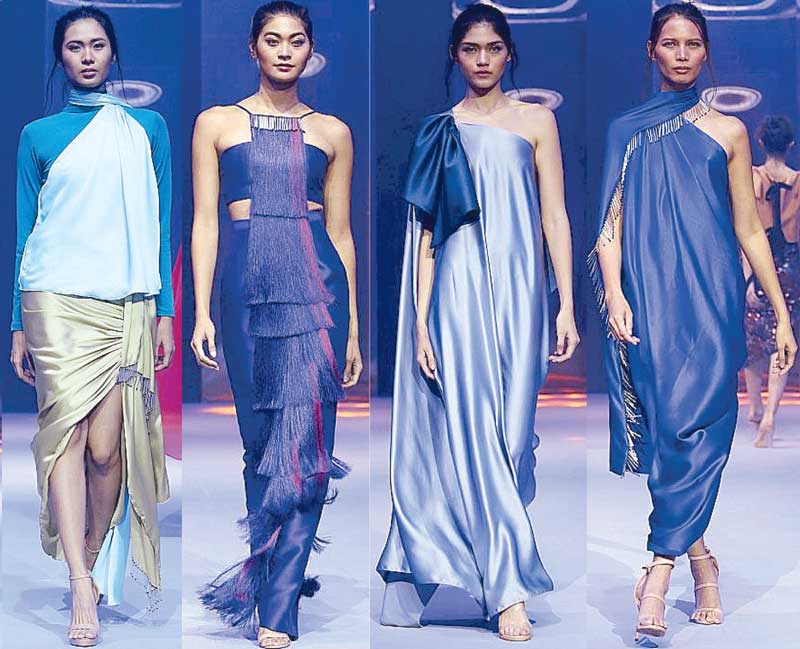 Martin then took his audience into the wardrobe of his more than 10-year archive. We saw his signature silks in drops and drapes; his overwrought but still chic adornment; and most recent of all, the gathered tulle he finesses into froufrou and mille-feuille frocks.
But more than just a grab bag of greatest hits and successful motifs, there were thoughtful updates throughout: there was the seamless dress, hand-molded from a single piece of fabric on the body of top model Ria Bolivar. An update from an original 2011 piece, he anchored the satin weave by way of a single twist, fringed on the side with a cascade of plexiglass tubes. Unrestricted. Fun. Easy!
You also saw renewed energy in a draped knit top with an embellished biker short (not far from what Kim Kardashian would wear in 2018). Urban goddess on top, space-techno ninja on the bottom.
"It was inspired by Pam, actually," writing about his longtime muse and collaborator, Pam Quiñones, in an email, "she was in my studio dressed on the way to a spin class. I showed her a top I loved with unfinished trousers; I hated them put together and I just couldn't finish the pants. I asked her to try the top over her athletic wear instead and it was magic. We were both like, 'That's the look!'"
With themes and motifs that once-upon-a-collection seemed forward and improbable with its "newness," you look around and you start to see other designers catching up. Maybe by presenting a collection as contemporary as his, it's a small comeuppance for dipping into fashion's curve (as opposed to well ahead of it).
But at the end of the day, Martin Bautista's clothes will always be in service to his women. "I know it sounds pa-ulit ulit nalang but it's what I do, I create looks for women. That's really it." With frocks of unfettered female fantasy and separates cut with a couture-like sensibility (evident still in his brand's ready-to-wear), his spring/summer 2019 collection was made in tribute to his loyal muses.
There's no fault in making beautiful dresses that speak to "now," especially if Martin's clients continue to clamor for them. Judging from the oohs and ahhs from the front row, they still do.
And for Martin Bautista, that's all that really matters.
Tiny Little Bows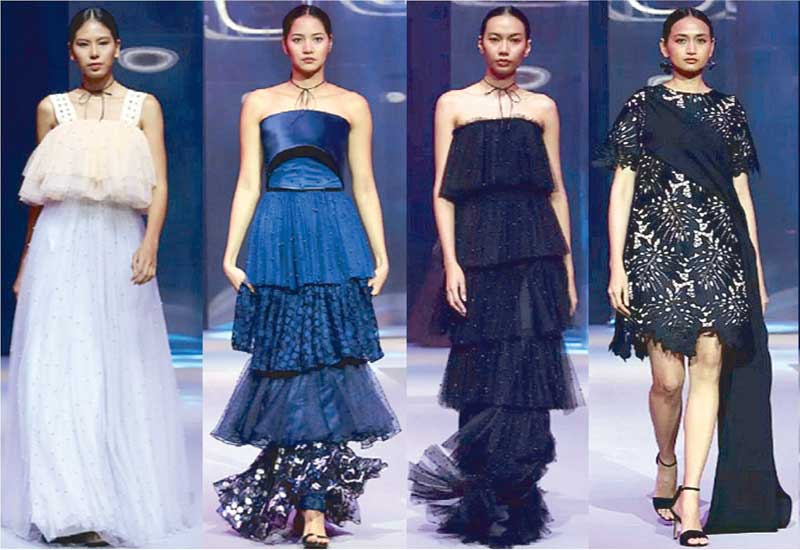 At Maureen Disini, tulles are dotted, and shoulders are in knots.
The ruffled tiers of embroidered tulle flounced and bounced as they came.
For Maureen Disini's first official foray into ready-to-wear (outside of her childrenswear and her noted retail collaborations with mall brands such as Plains and Prints and Mosaic), she leaned into the overt femininity and ease-of-wear that is her usual signature, but altogether distilled with an off-the-rack approach.
On her decision to pursue ready-to-wear, "We were invited by Fashion Exchange International to create an RTW line that best represents our aesthetic," writes Maureen, "and although our training in Milan is bespoke pieces, we were up for the challenge. Our process in constructing the collection, surprisingly, had less work and we finished everything in about three weeks." Her discipline is custom-made and there was no small triumph in preserving that sensibility here.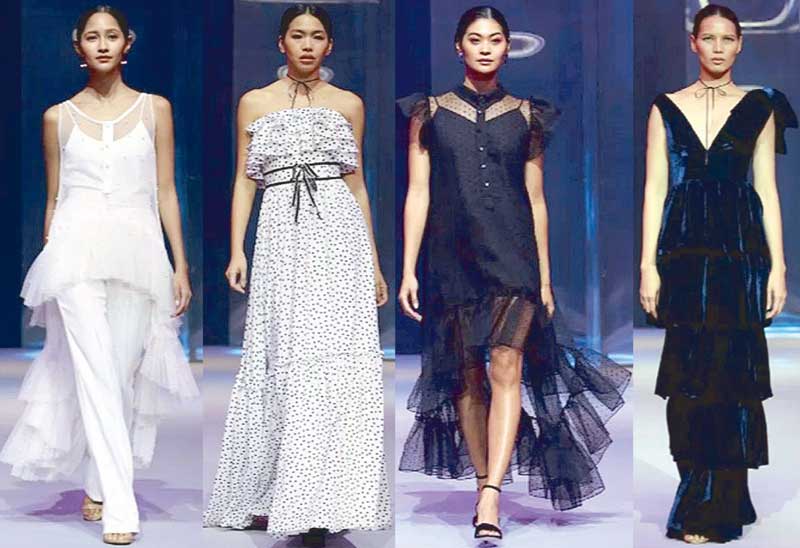 Let's observe: pursuing her girlish-but-for-grownups aesthetic, Maureen chose to embellish with her signatures of tiny bows, larger-than-life bows (not that you could miss them), pearl-encrusted tulles and refined laces. There were dots everywhere; be it point d'esprit ruffles cut into a suspended frock or pearl-encrusted tulles in shirred waterfall tiers.
Elsewhere, there was a subtle nod, too, toward a mid-western motif. You saw it in the saloon-skirt style mini dresses (and maxi too, toward the end) detailed with a flounced bib. Also in the cinched guipure frocks with dropped peplums. It was subtle, and according to Maureen altogether unintended ("I just wanted to make sure there was bounce when the models strut the runway," she writes) — but the imagined hints of a "glamorous cowgirl goes to the ball" only added to the whole.
A midnight blue velvet gown, cut in her staple tiers and adorned with a knotted bow on the shoulder, felt like a promise of newness for Maureen Disini. "It was my favorite piece," she shares. "What excited me about it was the play on texture. I never realized that velvet worked for us!"
It did, and it moved beautifully.
Crazy Rich Glamour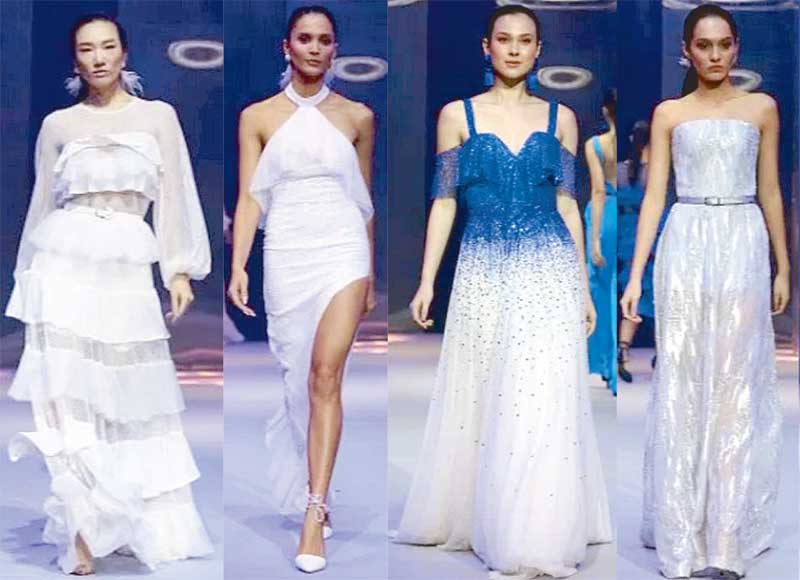 Michael Leyva sends down a parade of ruffles and sparkles.
Michael Leyva, who is ever-pursuing the codes of opulent glamour and high-voltage more-is-more is more – see the lavish bridal gowns; the red carpet eleganza (with certified-Crazy Rich Asian Kris Aquino wearing a larger-than-life yellow gown, making the most recent headlines) –the designer hits refresh for spring/summer 2019. In a sea of optic whites, breezy prints, sequined metallics and deep ocean blue, he presented clothes that feel equally appropriate for either an evening event or a glamorous resort-time by the pool.
"This is my first RTW line," writes the designer in an e-mail, "I'm known to be someone who makes intricate and detailed gowns. So this time, it was a challenge or me to make it more accessible but still with my distinct look as a designer."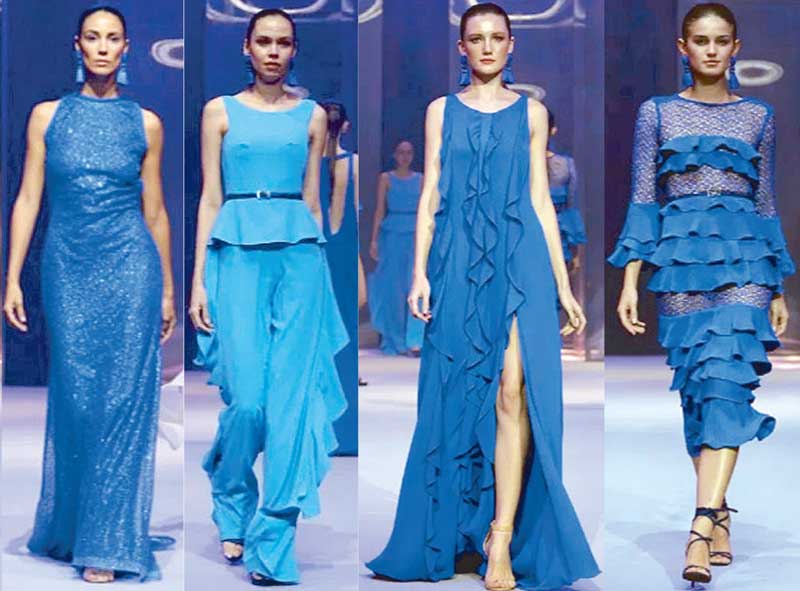 There's a freedom and life-of-the-party spirit to this collection. It's obvious that Michael looks to dress a specific woman – she's often confident in all-white; at home in uncompromising metallics; secure with a come-hither slit that leaves little to the imagination. She could be J.Lo, with resort-ready jumpsuits paired with chiffon tearaways or a full-sequined blazer worn over a sheer goddess-draped slip.
Lindsay Lohan in Mykonos is the client – and with Michael's dresses, there's a lot here for her to love.