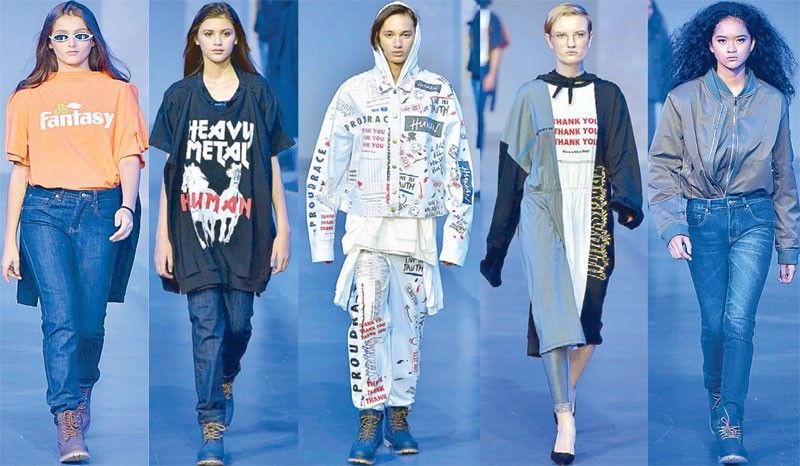 REBEL, REBEL Human by Proudrace
Bench Fashion Week Holiday 2018
From local collabs to fast fashion favorites, YStyle presents a rundown of this season's ready-to-wear collections.
Ystyle: Congrats on the successful collab! Tell us, how did it come about?
Rik Rasos: Thank you! We've worked with Human a few years ago when they reached out to young local brands to do a pop-up store inside their flagship store. After that, we've openly talked about doing a collaboration but never pushed through with it because the timing wasn't right. Fast-forward to today and we finally made it happen. Right now, we feel like the market is ready for something collaborative between an underground label and a retail staple.
How similar or different is the experience from producing your own collections independently?
Very different! For Proudrace, we work at our own pace and the pieces we produce are just enough for our international stockists. Manufacturing is also a little bit more complicated, especially with the fabrication that we develop for every collection. For our collection with Human, our schedule is tighter than usual and we had to simplify some of the things that we are used to doing. Deconstruction and reworking of traditional pieces is still very present in this collection as it is our brand's DNA but it was executed in a way that it can be produced in larger quantities. Nevertheless, we still kept the exclusivity of this collaboration and just produced enough to reach out to a wider audience.
Talk us through the design process. What were your main inspirations?
We kept our aesthetic in every piece in this collection. We're very lucky that Human gave us the creative freedom to produce what we want and believed in our vision for this collaboration. It's like an introduction of Proudrace to a new market so we decided to revisit the more distinctive prints from our past collections. We also got inspiration from Human's archives and distorted and re-constructed the traditional shapes of their staple styles. We really want to capture a very RTW vibe mixed with our label's aesthetic. I would say the collection is conceptual but easy to digest. It's made with the Human customer in mind so they can easily add pieces from this collection to their existing wardrobe.
While both labels celebrate individuality and youth culture, there is also a distinction between their market and aesthetic. How were you able to marry the two identities together?
I remember Human from their past collaborations with designer Joey Samson and have always admired how bold the label was when it started. Around that time, nobody understood what androgyny is and Human took a risk by producing that line. Then they launched Human Black, which is also a great contemporary sub-line by the label. So when it came to our collaboration, I knew it would be a perfect fit because they've already established that sense of rebellion when nobody else was doing what they did in the local retail landscape. Clichéd as it may sound, our partnership just fell into place, like it was meant to happen. Being an underground label for so long, it feels like this collaboration is the best platform for us to explore and see where we can take Proudrace.
Any favorites from the collection?
Everything denim!
REBEL, REBEL Human by Proudrace
From logo sweatshirts sewn atop sweatshirts and outsized jackets (in denim and bomber iterations) worn over, well, the exact same thing, The Human by Proudrace collection has us seeing double. Which only makes for double the fun, really.
After all, both local labels have always shared an affinity for the offbeat and unexpected; of course cookie-cutter looks are out of the equation! Interestingly, while longtime fans of indie brand Proudrace can easily spot some of the their signature motifs — oversized silhouettes, extra-long sleeves, spliced shirts, heavy typography and cheeky riffs on existing logos (orange soda brands and skateboarding
magazines included) — accessibility plays a much bigger role in the design process for this special fashion collaboration. YStyle gets the lowdown from Proudrace creative director Rik Rasos. —MB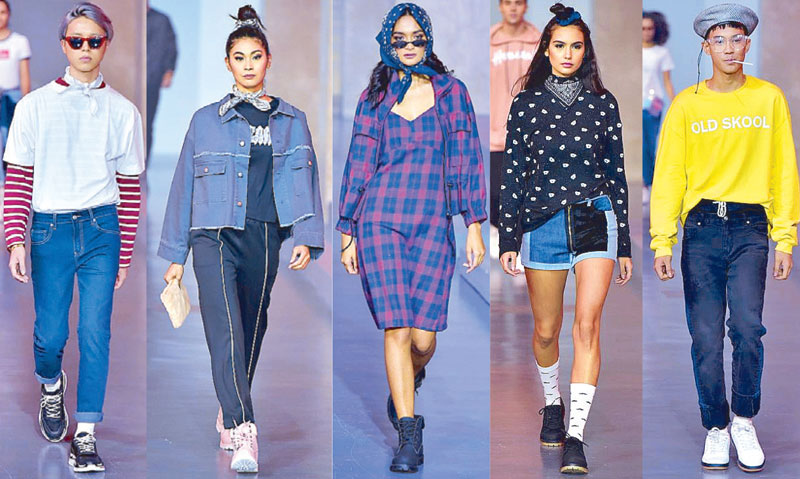 TAKE IT TO THE STREETS Human
Picture this: A gum-chewing pack with a devil-may-care 'tude walks down the runway at Human's holiday presentation, skateboards in hand and bandanas tied around necks. Just in case that visual wasn't enough for you to take the hint, Human's latest offerings are made especially for the cool kids. Sportif meets street in the label's holiday collection, with bright hues and bold patterns giving the on-trend styles some extra zing. Cases in point: While plaid sweetheart dresses go from sweet to street with the addition of plaid outerwear and chunky hiking boots, track pants take an edgier stance when styled with boxy jackets and slogan tees.
Meanwhile, lemon yellow "Old Skool" sweaters, blush logo-emblazoned hoodies, and orange flight jackets add zest to your trusty pair of black denim jeans. Topping off the looks are spiffy toppers, ranging from checked berets and statement caps to thick, colorful scrunchies (a bona fide '80s accessory also embraced by Balenciaga and Mansur Gavriel this year). —MB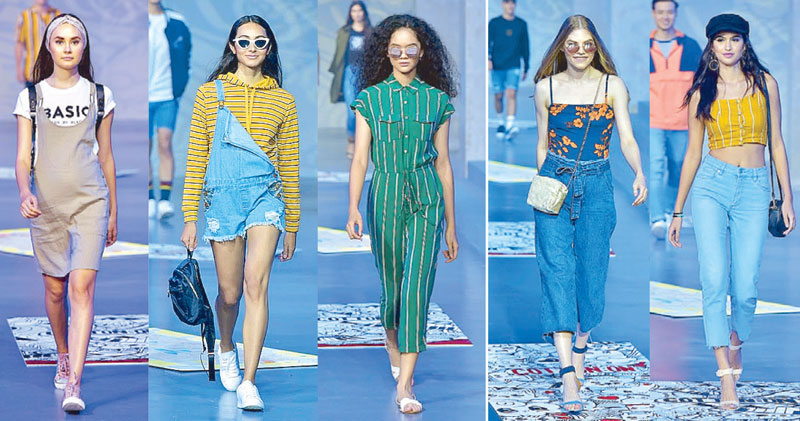 BACK TO BASICS Cotton On
Cotton On injects a casual cool sensibility to their latest collection with a lineup that focuses on the basics. Think: A slew of denim variations — overalls, raw hemlines and shearling jackets, as well as a play on prints in bold and zingy tones. This holiday collection is anything but an understatement as Cotton On focuses on key pieces that can take you from day to night. — FG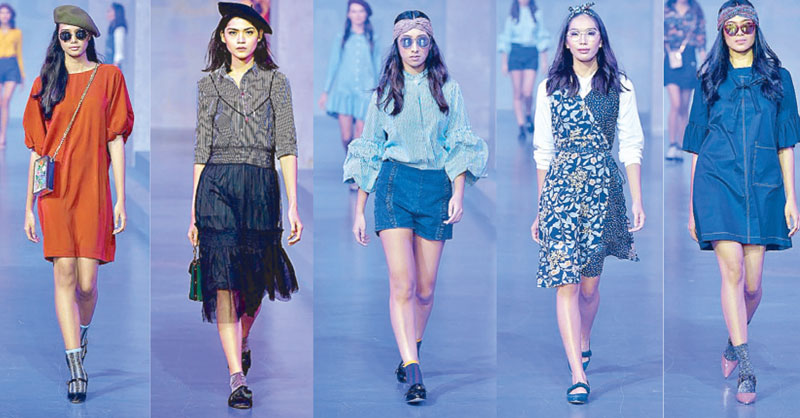 DO IT LIKE THE FRENCH DO Kashieca
Kashieca has always been a brand that understands feminine style, and for Bench Fashion Week, the brand served looks that can have you looking preppy and sweet for your next coffee date. The Manila-based brand takes cues from the Parisian woman but approaches the collection with a certain minimalist ease. We zero in on sheer tulle skirts and dresses layered over basic staples, a variation of stripes and floral prints on button-down silhouettes and a generous serving of dainty ruffle. The color palette was anything but subtle as pops of bubble gum pink, canary yellow and emerald greens were sent down the runway. Some key styling tips to take away from the show? Layering basic staples and accessories to create the ultimate French-inspired look. — FG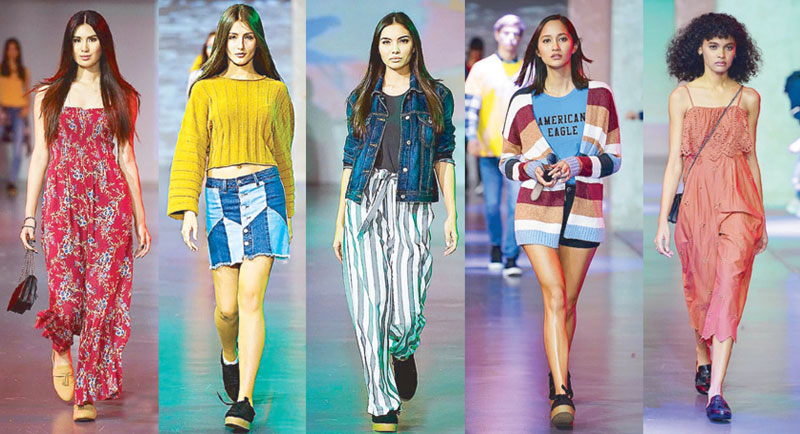 THE AMERICAN DREAM American Eagle
If there's one word to describe the aesthetic of American Eagle Outfitters, it's functional. Perfect for your off-days or for your next holiday, the new offerings feature key pieces that can have you feeling comfortable throughout the day. It's safe to say that their fuzzy cardigans, denim jeans, wrap dresses and breathable knits are perfect transitional pieces no matter the occasion or weather. —FG