Exclusive: Sunnies Face Has Arrived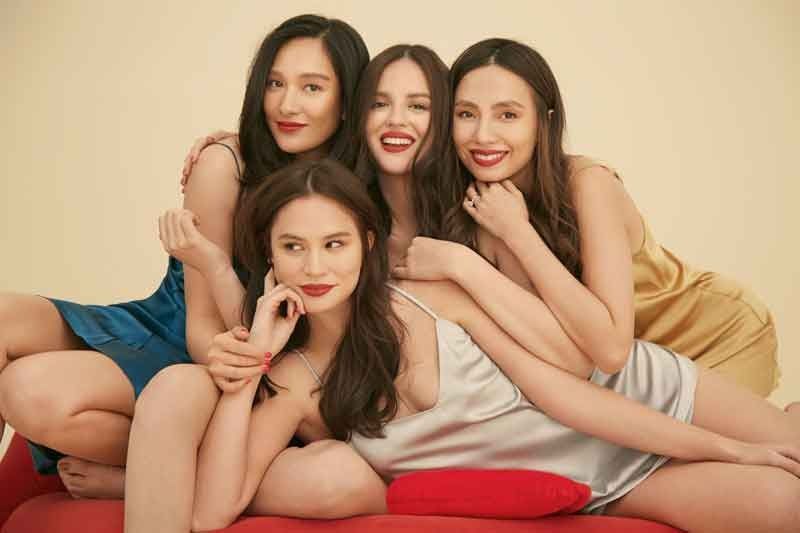 Affordable, pigmented, and packaged perfect — who would've thought that the perfect makeup would come from a sunglasses brand?
'And the manufacturers that we worked with manufactured the world's best luxury makeup,' Martine says. 'The really dirt secret of this is that you're getting a $50 luxury lipstick for P345.'
It was hesitation that brought Sunnies Face to life.
"I like this but…" was a term that Sunnies co-founder Martine Cajucom and Sunnies Face brand manager Jess Wilson often dropped in our conversation, in the context of other cosmetic brands.
"We would love the visuals and branding of certain brands, but didn't love the payoff of the product. For other brands, we didn't like the visuals attached to the brand, we didn't like the packaging, but we liked the product itself," Martine explains. "We just found this gap of a brand we dreamed of that didn't exist."
The dream had been brewing for a while, long before their first baby, Sunnies Studios, was even a dirty thought. Back then, the beauty scene was much different than it is today — social media was just about to catch up with e-commerce; independent, homegrown labels were barely heard of; and cosmetology was largely delegated to the experts. But thanks to the rise of beauty gurus and influencers, makeup has become democratized. Celebrities, makeup artists and models are no longer the only tastemakers of beauty. Digital influencers are not only consumers anymore, but they could also be creators — YouTube vlogger Jaclyn Hill is one such example, creating a highlighter for Becca that became so popular it put the Australian brand in the international spotlight.
Sunnies Studios was also a game-changing force, especially in the local retail industry. Out came a brand that had such a strong look and tone — mid-century retro, Pantone shades, Los Angeles summer — that everyone was paying attention. In less than 10 years, their founding team of five has grown to the hundreds, and they've branched out to prescription eyewear (Sunnies Specs) and food (Sunnies Cafe) with branches dotted all over the Philippines. Sunnies became so popular because it sold an existing idea in an attractive package, democratizing a lifestyle that so many wanted but couldn't afford, showing them that all it takes is a few choice accessories to look and feel good.
It was, perhaps this, the democracy of retail and beauty, that made the idea of creating a beauty brand more real to the Sunnies founders. Martine recalls how her Instagram comments section was often full of comments about makeup. ("The number one question most asked question for us is 'What lippie are you wearing? What lippie are you guys using in this campaign?'") But she could never give one single answer, because each shade was Frankensteined out of a bunch of different products from different brands.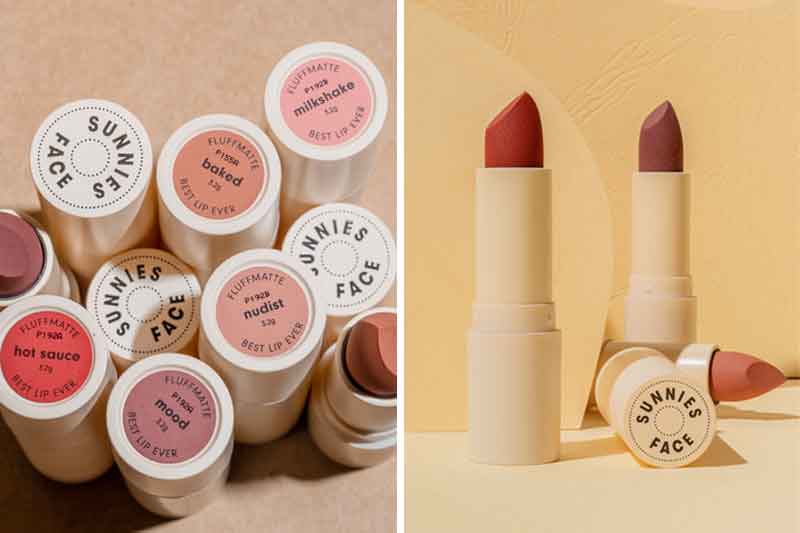 Meet Fluffmatte: A collection of nine creamy, matte lipsticks in universally flattering shades
"We would have to mix so many different colors to get to that one right color," Jess explains. "It's also because the colors didn't exist. That's kind of where we saw an opportunity to come in, because the colors we love so much, other people loved so much. And they weren't readily available."
Martine goes on to describe how she achieved her perfect peach before, a mix of a liquid lipstick that's too light on its own, a popular matte lipstick in bright red orange, and a nude lipstick. But this library of shades was what brought the shade Vacay, a peach that Martine and Jess claim is universally flattering, regardless of age and skin tone.
The rest of the shades followed the same principles: they had to be moisturizing despite the matte formula, they had to be lightweight despite the intense color payoff. And of course, skimping on packaging was out of the question — but it still had to be affordable. The result is Sunnies Face's maiden product: the Fluffmatte Lipstick. Upon application, it feels like an unbelievable feat. How is it possible to have a beautifully formulated lipstick, in hefty packaging, and a host of universal colors?
Martine and Jess say that product development was the most fun but also the biggest challenge. Not only did they have to edit down to nine colors ("We fought a lot! Sometimes some of us wouldn't even talk for days, just because we were so passionate about certain shades"), they also challenged themselves to spend on formula and packaging smartly in order to sell it at the most accessible price.
"The way we developed the product is the way luxury brands do. We didn't skimp on packaging. We definitely didn't skimp on formula. And the manufacturers that we worked with manufactured the world's best luxury makeup," Martine says. "The really dirty secret of this is that you're getting a fifty-dollar luxury lipstick for P345."
Jess goes on to say that even their manufacturers were stumped at their pricing system — given how good the product was, they could've easily justified charging more. But this was totally against the Sunnies ethos, which has always been about the best value and design at accessible prices. "We were saying 'That's not the point.'" Jess recalls. "The point is to give it at a price that feels right and that people are happy to buy multiple pieces, because that's where people get excited and create that brand love."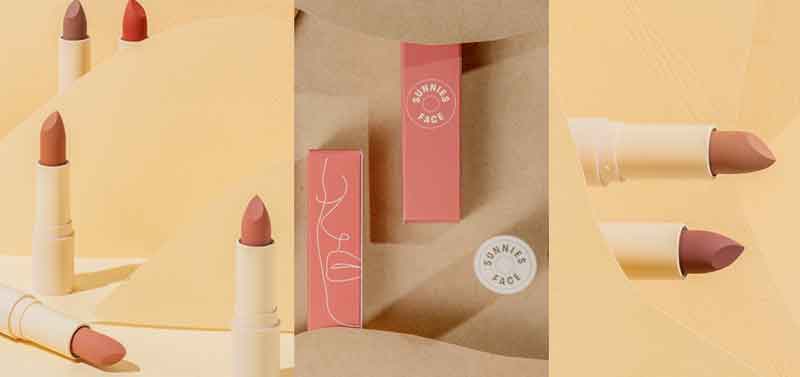 What came out of two years of work and 350 lipstick iterations are nine shades that the Sunnies Face team claims are "your lips but better." Martine and Jess giggle over stories of running into random people in their office and asking them to try their many prototypes. (It was here that they learned how to come up with shades that looked different but flattering across many skin tones.) Once they begin talking about the products themselves, you really see how in love they are with the product — they have their own personal favorites (Vacay for Martine, Nudist for Jess), and every shade is the "perfect shade" of each color. The shade range includes Nudist, a neutral nude; Milkshake, a soft pink; Baked, a terracotta orange; Vacay, a warm peach; 143, a light mauve ("I had to convince Martine, who's anti-mauve, by finding the most perfect mauve"); Girlcrush, a combination of mauve and peach; Mood, a warm '90s mauvey brown; Hot Sauce, a red orange; and Major, a bluish red, which Jess says was the shade that she first saw in the Fluffmatte formula and fell in love with.
It's been hard for them to keep Sunnies Face a secret; even harder to get the prototype out of people's hands. "So many times, when we have people try it it on, they'll be like, 'I need that, because I need to wear it the whole day. I wanna go out tonight and wear it,'" Jess recalls.
But now Sunnies Face is ready to come out in public, starting with their nine Fluffmatte shades. Starting Aug. 10, Sunnies Face will be available online on Lazada, and will have physical stores in Glorietta and UP Town Center. It comes as no surprise that the stores themselves fit right into the Sunnies family, with bright pink interiors and lots of room to try out the products in person. Totally accessible, totally affordable, totally cute. So how will Sunnies Face roll out in the next few months? What's there to be excited about? In true Sunnies form, the Face gals are already on their way to building their beauty empire — and fast.
"Definitely look out for the fall for exciting new things. We have so many products that we've already developed that are in the pipeline. Literally just keep watching because new products are coming out within the year," Martine says. "I think the name lends itself to what we're developing: face!"
* * *
Sunnies Face will be available online at sunniesface.com by Aug. 8 and offline at Sunnies Face stores at Glorietta 2 and UP Town Center by Aug 10. Follow @sunniesface on Instagram for more information.