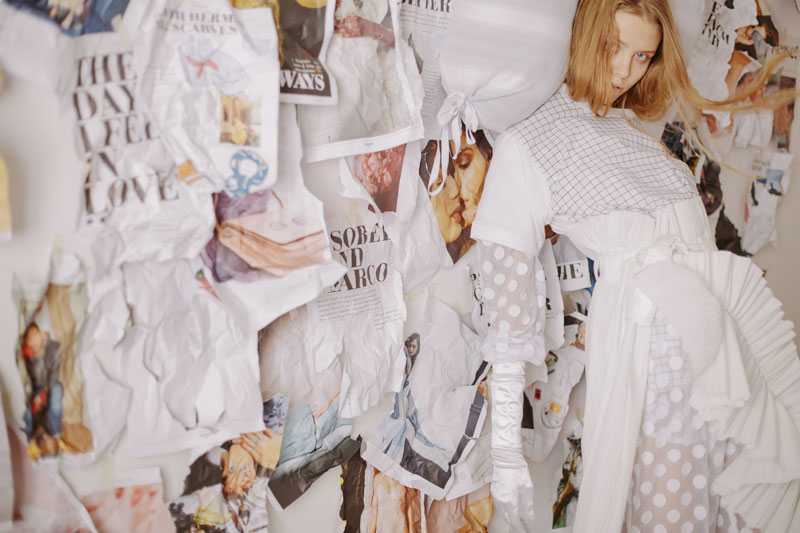 White tulle longsleeved buttondown with felted polka dot prints, white cotton shirt with graphic line pr ints,sculptural ruffles obi-skirt, and pajama trousers in tulle with felted polka dot prints by Jaggy Glarino
In Bed With Designer Jaggy Glarino
David Milan
(The Philippine Star) - March 23, 2018 - 12:00am
MANILA, Philippines — Poetic, talented and self-made. These are the words that best describe designer Jaggy Glarino. Now readying his fourth collection and second season for Bench Fashion Week, Glarino was always meant to create clothes that speak a narrative of emotion. Armed with no skill at clothes- making (he graduated with a degree in nursing and passed the US nursing board), he pursued his passion and started teaching himself the basics of fashion design. He then worked under a more experienced designer, learned the ropes, joined a fashion design contest (and won it), started his first collection — and the rest is history. Fast forward to today, Glarino is considered one of the most exciting and skillful designers of his generation. In this YStyle exclusive, we talk to the designer on his latest collection and what his next move is.
YSTYLE: What was your inspiration for this collection?
JAGGY GLARINO: The collection is called "Cuddles." It is a personal attempt to translate one's sentiments into clothes while in the lonely hours of post break-up. Imagine someone in the comfort of his clean white sheets, snuggling a pillow or two, crying over a failed relationship. It's mushy, I know (laughs). But this season I'd like to speak of a personal story and create an experience, which I know, is very relatable. We've all been heartbroken in one way or another and I'm not even limiting it to a romantic experience.
What were your references when you were conceptualizing this collection?
Sleeepwear, bed, pillows, heartbreak, cotton, comfort, and home. These were the key words I have kept in mind while doing this collection. As you can see, these are all familiar things/experiences. That's me trying to create a familiar scenario for my audience.
Can you tell us about this season's muse?
This season is all about men/women who make comfort dressing a top priority. These are boys and girls who are not scared to be seen at work or dinner in their pajamas. They are the types who take their home with them everywhere. People who take pride in wearing basic articles of clothing like white tees, crisp button-downs et al. But don't get me wrong, these people aren't fashion passive individuals, they are the type who'd go out of their way to amp-up basics by piling-up and by playing with layers and textures. In a sense, these are people who never consider basics boring. I even coined a term for this, grounded excess, which means taking grounded articles of clothing and styling them in an excessive and interesting way.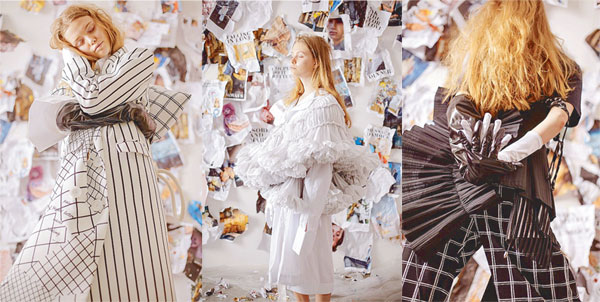 Optic whites and faux leathers combine into structural pieces
How have you grown from your previous collections?
I have always loved telling stories in each of my collections and I try to make each and every story true-to-me. This collection is a little different than the previous one since it requires so much honesty and vulnerability. I also went against the core of my previous collection. This time I've decided to give my trademark technicolor overkill a rest and chose neutrals instead. I also opted to use a lot of cottons and generally softer, more comfortable fabric choices. I took advantage of techniques that allowed pieces to be so much more airy and lightweight. The pieces this time are very wearable seperates. Though in this case I have kept the intuitive aspect in my clothes very evident. In a way, I got very interested in translating my over-the-top aesthetic into rather subtle coloring and more organic material choices. I honestly wanted to surprise my audience and take them to a different place this time.
Did you use new techniques this season?
Nothing that hasn't been done before. This season, I have pretty much exploited basic construction techniques like ruching, the use of gathers and tailoring. I tried to create a balance between soft and rigid structures and ruffles in between pieces.
Can you tell us about the color palette you chose?
I surprised everyone by going with neutral this season. I know everyone expected me to go crazy with colors again this season, that's why I went the opposite direction.
Apart from consciously making the least obvious choice, I have felt that the collection is about a very honest and relatable life experience; it needed to be interpreted in the most organic and raw coloring there is which is basically whites and blacks. I gave a contemporary spin to it by adding graphic line art prints and a pinch of chrome in some of the pieces.
This is also me sort of trying to invite people into my world. I sometimes shoo away people because my coloring is a little intimidating. It is an awake effort to be more approachable, homey and so much more relatable.
What would you say is the mood of this collection? What were you feeling this season?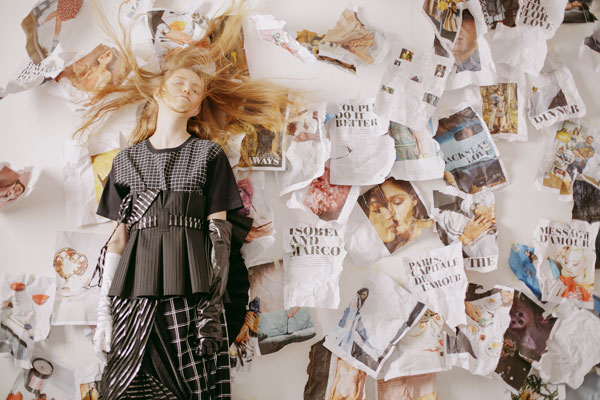 Faux leather gloves and stretch satin gloves, graphic printed pajama trousers in black waffle jersey, pleated sculptural obi-belt, and black cotton tee with graphic prints
I don't want to say somber, but in a way it is. I mean the collection is all about the beauty and pain in heartbreaks. I definitely wanted to take it to a very poetic level and not picture it as a cheesy and tackyhuman right of passage.
I really wanted it to talk about vulnerability as honest, relatable, fragile and as natural as much as possible.
If this collection had a soundtrack, what would be on it?
Definitely the ones I've used during the show. Norweigian singer-songwriter Aurora Aksnes' song titled Runaway was on constant replay while building this collection. I have also frequently listened to stripped-down (vocals only) versions of Somebody that I used to Know and Say Something I'm Giving Up on You.
Describe your collection in one word?
"Grounded..." it is an exploration of the basics in clothing.
What's next for Jaggy Glarino?
Jaggy as a designer has always been very "intuitive." He talks about his "now" and tells a story about his significant life moments through clothes. It goes to show that everyone should expect more interesting fashion stories from me in the future.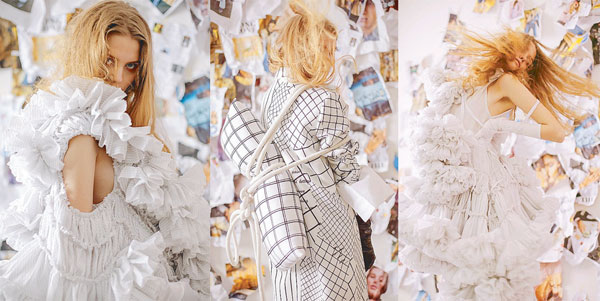 Sculptural flounces in fine pinstripes and cotton shirting