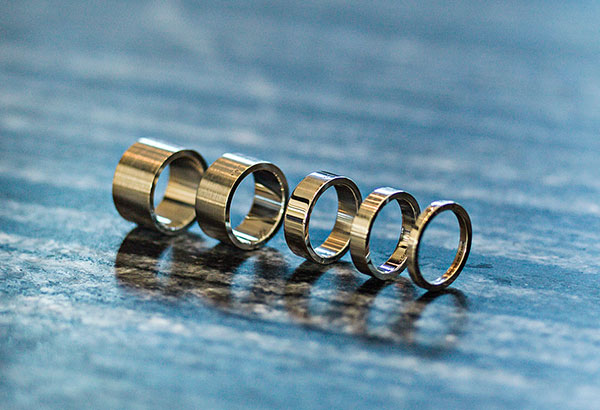 Slick brushed 925 sterling silver rings come in 3g, 7g, 9g, 15g, and 19g.
Le Gramme and the shape of the future
MANILA, Philippines — A curve around the wrist and the fingers — it could be a band of precious metal, of threads braided into a close — and everybody knows it's a bracelet. Which would explain the creative impulse to transcend this basic form, soldering onto it the most precious gemstones, twisting it into a slithering jewel. Nobody really left them as is in all its masculinity, highlighting the wrists and the hands, the power of our will; not much in stores and from brands a decade ago, and most certainly not for men. "It wasn't there before but at the same time it's been there since a long time ago," says Le Gramme co-founder Erwan Lelouer on a recent visit to Univers, the Parisian metals brand's exclusive stockist in the Philippines.
What happened in that decade was the brewing of today's men's category boom. At the time Lelouer, an industrial designer by passion and education with minimalist sensibilities, founded Jewellery Ethically Minded (JEM) in 2008 followed by work for Maison Margiela Line 12 fine jewelry line for four years.
But for something he would wear? The embellishment most jewelers purveyed as unisex was not his style. "We didn't find it in the stores and different brands — a product that we would like to wear, that was simple, minimal, that we could create our own style with," he says of the predicament that brought him and co-founder Adrien Messie together, an architect who at the time had had a seven-year stint at Andree Putman. "Maybe Asian people are more aware of accessories and keen to be more detail-oriented in style, but in Europe, it was only five years ago that men started to like accessories and look for accessories and now all the fashion brands are starting to produce men's accessories. It's growing up quite quickly."
Five years ago was also when Le Gramme was founded on the shared drive to explore male-oriented jewelry. The creative process is informed by the works of minimalists in arts and architecture: Canada-born American abstract painter Agnes Martin, the French contemporary painter, sculptor and light artist Francois Morellet, Belgian architect Vincent Van Duysen, and British architect John Paulson, all known for their meaningfully sparse use of aesthetic lines.
"We like lines and tension in the drawings," says Lelouer. "We start with an elementary shape that everyone knows but we do it in our own way. We project it in different sizes depending on the weight of the product."
The first few designs were simple bands of sterling silver and 18K gold, polished and brushed, with the same form but in different sizes according to their weight and in different materials according to their style, followed by the concept of basing the name of each product on its most fundamental trait: its weight.
As it turns out, Lelouer and Messie weren't alone. The cult following the bands gained among some of Europe's top creatives then spread to America, making Le Gramme the "new signal for minimalist cool," as GQ anoints.
"Some wear just one near a watch but you can wear as much as you want. You can create your own accumulation, reverse the product. Because it's simple and designed in an elementary shape, it goes with a lot of styles and you can stack them and create your own assemblage," says Lelouer, who wears two polished bracelets, one with a personal mantra engraved on the inverse.?
Every minimalist from a tattooed rockstar chef to corporate lawyers — Le Gramme appeals to everybody because it's like a blank canvas you can make your own. "It's a brand dedicated to men but 40 percent of the sales is women because it's unisex due to the minimal aesthetic," he says.
Le Gramme now creates cuffs and rings in yellow gold, sterling silver, red gold and ruthenium, a rare non-oxidizing metal like platinum. The finishes are matte, polish, plating and studding; the latter rendering any sort of sparkling stone redundant as it casts an understated twinkle when it catches light. Lelouer spotted a local in Tokyo wear it as over-knitwear. "Just that. It was so cool."
"We only work on untreated material so our metal silver will move in the time depending on your mood, skin, weather, but the more you wear the product, the less it will move. You can put it on a table for a month and it'll go back (to its original shape). There can be a change in color. For us, it's a good thing that it becomes patinated."
"Everything is produced in France and it's in between the craftsmanship and industrial world. It's really precise and it can take between two to three months to produce a piece," says Lelouer.
"Le Gramme is a brand around the real etymology and concept of design which is not to draw but to think of the shape," Lelouer sums up, an ethos that opens up possibilities of what more can be simplified down to its essence. It's a creative project rethinking everyday objects. Six months ago, they released keyrings — an essential everyday object that has not evolved much. Le Gramme's version is a square with a hook in the corner that you simply press to attach to a key, altogether rethinking the mechanism. Also coming soon to Univers are rulers in 43g, 83g, and 209 grams, rectangular parallelepipeds (the diagonal of the cross-section measures 5, 7 or 11 mm) with slick sides alternating brushed/polished finishes and graduations in centimeters and inches made of 925 sterling silver. These are things that we may already have — but surely not as beautiful as these.?
* * *?
In the Philippines, Le Gramme is exclusively in Univers, One Rockwell, Makati. Follow @instalegramme and @_univers_ for updates.