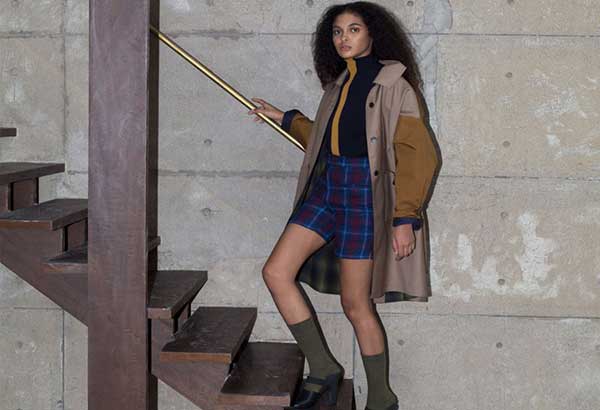 MJ Benitez
(The Philippine Star) - October 12, 2017 - 4:00pm
MANILA, Philippines — What a difference a year makes. Last year, designer Seph Bagasáo was selected as one of three Philippine representatives for Amazon Fashion Week in Japan, where his namesake brand Bagasáo made its runway debut at the Asian Fashion Meets Tokyo segment. This year, the young designer finds himself back in Tokyo, this time to launch his s/s 2018 collection at the Bench x Philippine Designers pop-up store.
To be held at Laforet Harajuku from Oct. 16-23, the eight-day pop-up will showcase his eponymous label's latest offerings alongside those of accessory designer Ken Samudio, fashion designer Renan Pacson, and retail giant Bench (which, together with the Japan Fashion Week organization and Tetta Ortiz Matera, brought the initiative to life). Not one to waste an opportunity and grateful to be given a chance to bring his business to a global platform, Bagasáo does what he does best: create. From reversible waterproof long coats and vibrant plaid trousers to leather/wool hybrid slings and single-stripe knit sweaters, his s/s collection was made with comfort and functionality in mind.
In this YStyle exclusive, we talk to the designer about his springtime collection and reveal Bagasáo's brand new lookbook.
YSTYLE: Tell us about your spring 2018 collection.
SETH BAGASAO: The collection, entitled "Don't Run," is a representation of my perspective on the world. It's about taking your time: to write, to dress up, to eat, to walk, to lie down, to read, to think and remember. It's about nostalgia, about going back to a time when there was less chaos. It's about finding joy in taking it slow. After all, it's in stillness that we gain clarity and see things we usually fail to notice when we get caught up in the hustle and bustle of life. For me, the real beauty is in the details. Look at the pieces up close to appreciate them. Find something that speaks to you. It's a collection that brings me calmness, and I hope it does the same to you.
When starting a new collection, where do you begin? Where do you get your inspiration?
It's always about looking for something that stimulates me, both emotionally and visually. This season, my capsule collection was inspired by the world of photographer Saul Leiter. He sought out moments of quiet humanity in the Manhattan maelstrom, forging a unique urban pastoral from the most unlikely of circumstances. His evocative photographs inspired all the colors and shapes in this collection.
What fabrics did you use for this collection?
We used a lot of versatile fabrics for this collection — wool, cashmere, linen, flannel, knits, and lightweight waterproof textiles. We also used several techniques to manipulate our own fabric and added hand-stitch details to showcase Filipino artisanal work. For instance, our jackets and bags are made for people on the go. I call them "commuter gear" — each design is reversible and comes equipped with pockets so you can easily stash your valuables. We aim to make pieces that focus on design value and functionality instead of trends.
Why is fashion important?
Fashion is a way of life. It's not just about the clothes; it's how we choose to live in them. As the late street style photographer Bill Cunningham once said, "Fashion is the armor to survive the reality of everyday life." It has the ability to unite, to create joy. Let's use fashion in every positive way.
Which designers or muses have had the biggest impact in shaping your aesthetic?
Alber Elbaz, Raf Simons, Tilda Swinton, Azzedine Alaïa, Chitose Abe, and most especially Bill Cunningham. I still dream that one day his camera will go up when I present my collection even if I know he's already in heaven. These are people I truly admire not just because of their work and talent, but also because of their way of life.
Photos by REGINE DAVID
Styled by RENEE ULTADO
Makeup and hair by
HANNA PECHON
Modeled by GRACIELA of
FARAH MODELS
Shot on location at
BASIC MOVEMENT STUDIO and PARALUMAN STUDIO