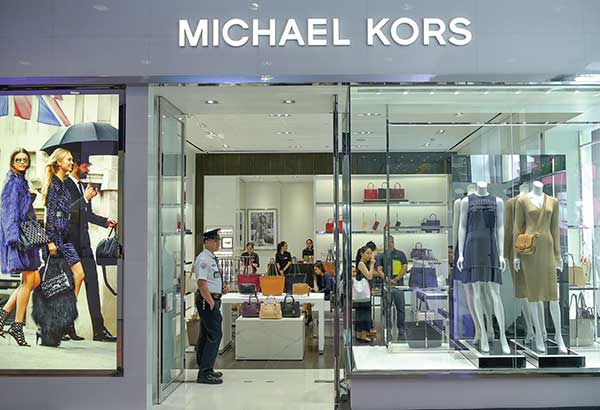 The newly renovated Michael Kors flagship store in Makati gets an upgrade with its play on metal accents seen on shelves and fixtures.
Fall in love again with Michael Kors
Many Filipinas have their hearts out to Michael Kors as their first love.
"Michael Kors has contemporary styling and great value. It is very up to date with trends interpreted in a way that resonates with every kind of style," says SSI Group president Anton Huang, reporting bags and accessories as the consistent best-sellers followed by footwear; typical consumer behavior as these are the most approachable categories, the easiest items to integrate into an existing wardrobe. Recently, however, he shares ready-to-wear is picking up nicely. "For apparel, there's growth season after season."
"As far as the lifestyle of Filipinos is concerned, it's evolving and becoming more sophisticated," Huang believes. "In the last year, we had a sprinkling of fall-winter but not the heavy items and we observed that up-to-date, ready-to-wear apparel has become more important to our customers. It's been successful."
The renovation and reopening of its flagship store in Greenbelt 5 couldn't be timelier for the jetset Filipino's holiday travels.
Which theme are you? The more classically elegant dresser? Elevate your outerwear with a slouchy trench coat or a tailored officer's coat with gilded buttons to channel a military mademoiselle or go for a bomber jacket in bouclè tweed and cognac leather. A leopard calf hair mini skirt is pared back by an oversized cardigan and oxfords.
For glam girls with rock 'n' roll flair, the rich showcase of statement outerwear continues in Mongolian fur and animal print jacquard. There's silver-tone hardware and flashes of purple on a sleek palette of black, white and gray. A textural tweed moto jacket and leather skinnies offset Victorian ruffles. Grommets and pyramid quilting on accessories and footwear give a touch of romance.
Menswear shapes and biker-chic references temper the glamorous aesthetic of Tough Luxe. An emphasis on shoulders and sleeves is rendered in peekaboo silhouettes and bell shapes. A leather moto jacket makes an appearance in this theme but with lavish fur accents. A sequined cocktail dress and jacquard bomber jacket offer novelty takes on the animal print, while pumps and ankle boots get a seasonal update with a cone heel.
Whatever your travel style may be, it is now easier to get and experience your current runway fashion fix.
* * *
In the Philippines, Michael Kors is exclusively distributed by Stores Specialists, Inc. at Central Square in Bonifacio High Street Central, Greenbelt 5, Newport Mall, Power Plant Mall, Rustan's Makati, and Shangri-La Plaza Mall. Follow @ssilifeph on Instagram for updates.