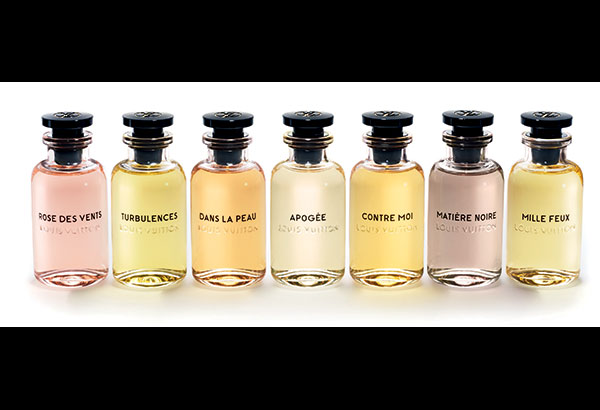 David Milan
(The Philippine Star) - June 8, 2017 - 4:00pm
MANILA, Philippines - It might be hard to believe that it's been 70 years since luxury giant Louis Vuitton has released a new parfum. There is no remaining trace or recorded formulation of the first batch of Louis Vuitton fragrances ever made — Heures d'Absence in 1927, Trio Je Tu in 1928, or Réminiscences and Eau de Voyage in 1946. In other words, Louis Vuitton's resident perfumer had to start his formula from scratch.
In 2012, Jacques Cavallier Belletrud, a third-generation chemist, was appointed master perfumer at Louis Vuitton. He's considered a rockstar in the fragrance world as he's behind some of the most iconic perfumes of our generation such as Issey Miyake's L'Eau d'Issey, Addict, Giorgio Armani's Acqua Di Giò, Jean Paul Gaultier's Classique and Stella by Stella McCartney.
Belletrud traveled the world, crossing five continents to source precious natural ingredients: magnolia and osmanthus from China, iris from Florence, Italy, agarwood from Laos and Bangladesh, rose oil from Bulgaria and Turkey, tuberose from India and vanilla from Papua New Guinea and Madagascar. And over four years, he created more than 90 potential formulations for the line, utilizing customized extracts as well as materials cultivated from on-site citrus groves and gardens. And Louis Vuitton did make up for the lost time in those 70 years, creating not just one, but a full line of seven new fragrances for women.
Rose des Vents (or "Wind Rose") is a fragrance that recreates the smell of the breeze in a rose field in Grasse, France, aka the epicenter of the fragrance world.
Turbulences reimagines the fusion of 1,000 tuberose and 2,000 jasmine plants in Cavallier Belletrud's garden during a midnight stroll. Apogée (or "Peak") is dedicated to Lily of the Valley and ikebana, the Japanese art of floral arrangement. Contre Moi ("Next to Me") is a mix of bright orange floral notes and vanilla blended in a fresh scent.
Matière Noire ("Black Matter") is a contrast between the rich depth of agarwood, fresh patchouli, fruity blackcurrant and an array of florals.
Dans la Peau (or "Under the Skin") is a tribute to the scent of Vuitton's natural leather: handbag scraps that were recycled, steeped in alcohol and infused with musk and jasmine. Mille Feux ("A Thousand Lights") is inspired by a vivid, red Capucines handbag that offers another variation on the leather scent but with raspberry accord and osmanthus flowers.
Marc Newson designed the bottle for the seven fragrances. He created the streamlined bottles that integrate a minimalist spritzing mechanism to resemble a vintage apothecary glass with magnetized stoppers. They're simple yet stunning.
Louis Vuitton's creative director, Nicolas Ghesquière, left the majority of the creative decisions to Cavallier Belletrud, but his focus on environmental sustainability was something he wanted to be sure was reflected in the fragrances. Hence, an option to refill your used bottle.
Each scent is available in a 200-milliliter bottle, a 100-milliliter bottle, or a travel spray that comes with four cartridges. There are also two sets: a box of all seven in miniature size (10 milliliters) and the pièce de résistance — a monogramed Louis Vuitton travel case that holds three full-size bottles from the collection.
* * *
Louis Vuitton in the Philippines is located at Greenbelt 4 and City of Dreams.