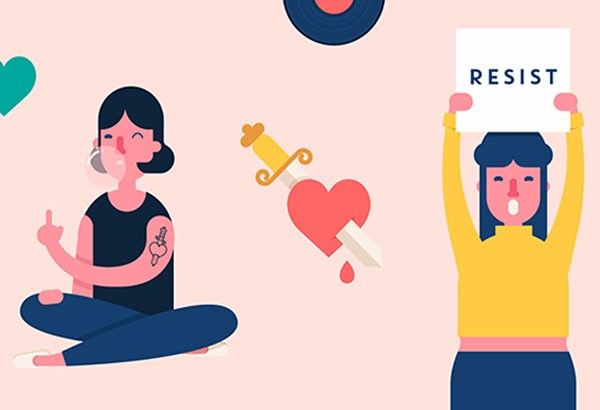 Keep tabs on Grrrl Gang Manila by following @grrrlgangmanila on Instagram and facebook!
See you tomorrow at Grrrl Meet #2?
Tomorrow, May 6, is the second Grrrl Gang Manila meet. Happening at Hit Productions in Makati from 2 to 7 p.m., the second meet is a move into action. At Grrrl Meet #1, we determined what issues Pinay women were facing, and came up with solutions. I've been repeatedly speaking about it, so I thought that this week, I'd turn over my column to three girls who were at the first meet to tell you about their Grrrl Meet experience.
* * *
Hello, vaginas exist! Just a kind reminder from me. Grrrl Gang was an affirming experience to me, especially when it came to women's health. I came from an all-girl Catholic school, and I didn't learn what I needed there. I wish I had the support of the women at Grrrl Gang to tell me that if your ob-gyn gives you the stink-eye for saying that you need birth control, it's time to find a new one.
I have a great group of feminist friends and peers who combat the patriarchy in their own ways with kick-ass zines, uterus stickers, and estrogen-driven punk rock, but Grrrl Gang gave me the opportunity to speak with women from all walks of life. Feminism doesn't exist in a vacuum; it goes hand in hand with LGBTQ rights, workers' rights, racial equality, and so many other advocacies. We talked about queer issues and the other experiences of marginalization that come with being LGBTQ. We discussed about the red tape surrounding filing sexual harassment cases and what to do about them and workshops that support women who want to run for office in a male-dominated government. I learned from mothers who shared their experiences about how having a child added another dimension to being a feminist. I'm young and I've yet to experience a lot, so I'm grateful to have met women who I can turn to.
The patriarchy stands strong by dividing women, shaming them, and pitting them against each other, so it's really important to have an inclusive environment where we can discuss without fear of being judged. I learned to create the support group that you need. Grrrl Gang is what I needed and more." — Mariah, 22
I wouldn't call myself a hardcore feminist, or a hardcore anything for that matter. I'm a plain, geeky, provincial, IT girl, hoping to make it big in the city. In other words, a dreamer. However, as much as those dreams are big, I do believe that my life would be best lived with the purpose of making the world a better place, even through the small things. One of my most ambitious dreams is to have every single person I encounter be informed of their rights in life. It's a bit of a personal thing with me because of the many times that I looked back in my life and exclaimed, "If only I knew this, that wouldn't happen."
I chanced upon Grrrl Gang Manila through my friend's timeline and thought, "Hey, they might need a bit of help." That moment led to my volunteering for them, but little did I know that with that small step of helping, I'd be taking a personal giant leap into a community that I never thought would exist in my lifetime.
With the eyes of a geek, I didn't just see a group of women on the day of the event. I witnessed leaders creating safe spaces so that others might feel free to become non-fiction storytellers. As I listened, the storytellers became warriors who recounted stories of how they won and lost the everyday battles in the war against misogyny and oppression. As the event progressed, I saw strategists and visionaries craft plans on how to make the world a better place, not just for women, but for everyone.
If, in that small space, I saw such a revelation of what the world could be for all of us, I can't even imagine how it's like to live in a world where such a community is accessible to all people.
I will continue to hope that Grrrl Gang Manila — along with the other movements towards equality, freedom, justice and compassion — will be strengthened as the days go by. — Iyah Nuestro, 24
If you are reading this, you have got to go to the next Grrrl Gang Manila meet! The last one was so much fun! The place was filled with women, each coming from a different place, a different generation (age-wise), and a different situation in life, all like-minded with me. We were asked to write on cards all the things that affect us as women, whether it be one word, a phrase, sentences or a whole paragraph. Later, that afternoon we discussed everything that each of us had put on our cards. We found commonalities in what affects us, and the whole afternoon thrived through intelligent conversations and exchange of trigger stories on how each of us started out becoming feminists. We had a lot of pictures taken to tweet, Instagram, Snapchat and post on Facebook. I personally loved this idea, because it reaches a lot more people. I want all women out there, friends or not with me, to hear us out, to let them know that there is a Grrrl Gang looking for them to nurture their already existing feminism and help them out through life, where we women must constantly deal with men and boys, society and culture.
I still have a hangover from all the brilliant ideas woven by women that attended the event to share their voices with all of us. As a young feminist, it was great opportunity to have been part of that space. We women struggle and carry the entire burden by ourselves. Grrrl Gang Manila is the place women are looking for when they need solace and companionship at the same time. There is this sense of calm security when you are surrounded by female friendship, those who share the same thoughts you have. I went home a changed woman. It was a spectrum of wisdom from the experiences of various women that I brought home with me. Courage is not always fists and canes; sometimes it is simply speaking up. Being brave does not require a weapon in hand; it only asks you to stand up. I learned so many things in one day, all thanks to my fellow females. — Jenica Castro, 19