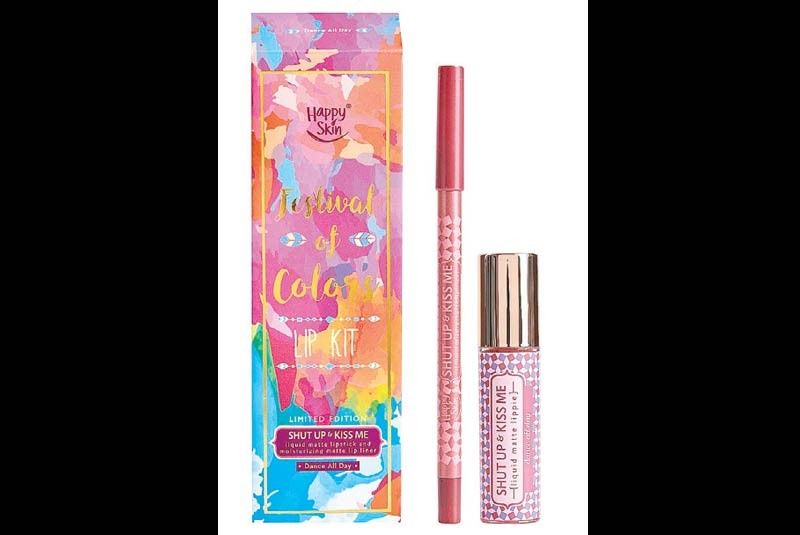 Shut Up & Kiss Me: Dance All Day liquid matte lippie and lip liner
When Happy Skin dropped its first collection for 2017 just in time for summer called Festival of Colors, one would expect perhaps a wild watercolor palette of eyeshadows and equally vibrant blushes and lippies; I expected gradients of peach leaning on orange like a majority of brands these days. The closest to this is the best-selling lippie shade Honeymoon Glow, which even errs on the warm side of peachy pink. The shade has also been with Happy Skin since day one, this time around getting a glo up in a long-wearing, surprisingly hydrating lip kit variant together with mauve pink The Morning After (the perfect MLBB, Happy Skin's claim to fame when it was launched in 2013) plus a new earthy mauve called Dance All Day. This collection is anything but a fluorescent return to beauty adolescence — and I am relieved.
The skincare-focused homegrown cosmetics brand that was a shared dream built by true-blue beauty girls Rissa Trillo and Jacqe Gutierrez is available nationwide with a following to go with it; they possess local beauty industry cred (see the Glam Squad collection, a collaboration between the brand and top celebrity makeup artists Denise Go-Ochoa, Jigs Mayuga, Mickey See, and Juan Sarte), and international franchise clout (see the Disney Princess Collection).
It goes without saying that everything is of top quality as far as skincare-in-makeup goes — that's what secures fans and regulars. "The lippies are produced in Taiwan, they are more into intense pigmentation unlike Korea which prefers a sheer wash of certain colors. But Korea is good with eyeliners, everything to make the eyes bigger. Skincare is from Japan is still the best," says Trillo during an intimate gathering of some of Manila's most beauty obsessed to launch the line. She and Gutierrez tapped the same manufacturers of certain cult beauty brands I unfortunately cannot spill, but maybe you'll know it once you try it.
"But it's really the story of each product," comments Tim Yap, commending the cohesiveness of their branding, to actresses Michelle Gumabao and Gabbi Garcia. Gumabao replies, "You can have something effective but if it doesn't match your style, you'll still keep looking for something else."
One is the packaging, exuding that fun cheekiness of being gathered with our own best friends, swapping stories and tips. "Our brand has always been known for its bright, colorful and irresistible packaging. We're building on our strength again with this collection," Gutierrez says. With the cheery packaging comes new formulas, new colors.
Makeup upgrades
I immediately gravitated to Bye Bye Blues, a brightening concealer wand. "It's another Happy Skin innovation to the 'no-makeup' look, allowing you to cover imperfections without looking covered up," Trillo says. Because sometimes the darkness isn't caused by pigmentation but shadows; we can't always rely on baking and Photoshop. A quick look through the ingredients and I spy a light-diffusing combo of hyaluronic acid (best for moisture) and niacinamide (can't go wrong with this ingredient for immediate and long-term brightening) combined with tangerine peel extract which turns into vitamin C once it interacts with the skin (it's also a proprietary ingredient in some high-end eye creams). I cannot yet vouch for its long-term effects but upon application, it does brighten. "It delivers a built-in strobing system, too," Trillo adds. It only comes in two shades, medium and light, but there's some color-correct magic in it so this limited selection shouldn't be a problem. It's also easy to blend and set — then forget.
This collection also sees a revival of Glisten Up! Cheek Sticks — taupe for contour and champagne for highlight with tapered, angled tips. "I observed how difficult it is to contour your noseline or cheekbones without it being too pronounced," Trillo shares the inception of her go-to duo for non-touring, spotlighting lightly strobed features with a soft chiseling.
Then there are the mega-sized oil blotter sheets you never knew you needed: Tickled Pink Skin Perfecting Super Absorbent Charcoal Blotting Sheets also have impurity absorbing charcoal. New packaging makes it easier to spot and grab celebrity makeup artists Denise Go-Ochoa and Jigs Mayuga's waterlining essential, the Eye Am Here To Stay 24H Gel Pencils. The Air Touch Sponge now comes in yellow and pink. Disinfect and condition your brushes with the Come Clean Conditioning Brush Cleanser which contains tea tree oil and aloe vera.
And finally, new skincare
Living up to their "skincare in makeup" mantra since 2013, Happy Skin now forays into skincare, and it actually works well with makeup. After two years of research and testing — "not on animals, but on ourselves," as everyone on the team clarifies — Happy Skin debuts their first suncare line Catch the Sun which features two matte sunscreens.
I believe that gel formulas are the future — they hydrate and set in an instant and feel like nothing. The Brightening UV Gel Cream SPF40 PA+++ takes it a step further with moringa seed oil, acting as an anti-urban pollution screen. "Skip the moisturizer in the morning and use it as a base," advises dermatologist Raissa Francisco-Pasion for those who are still not wearing sunscreen even when inside the car or by the office window. "SPF protects us from Ultra-Violet B which bounces off of glass but Ultra-Violet A has a longer wavelength that penetrates glass. You can't skip sunscreen not just to stay fair — I actually prefer myself with a tan — but you want to avoid wrinkles, sun spots, a leathery texture, skin cancer." It must also be said that the sunscreens are formulated without cancerous Oxybenzone.
I'm obsessed with the On The Go Hydrating UV Mist SPF35 PA++ which addresses every excuse we make about not wearing enough sunscreen — "a teaspoon for the face and neck, a shot glass for the entire body to get the indicated amount of protection," Francisco-Pasion says, so nope, sun protection in makeup does not cut it — and then failing to retouch. White cast is a thing of the past (this is from physical sunscreens zinc oxide and titanium dioxide which sit on the skin) and so is greasiness even while being water-resistant ("You need stickiness to adhere to the skin," Francisco-Pasion points out). I know this because I took it to the beach over the weekend. It has quite a cooling sensation upon spritzing, and I was not only able to stay protected but also glowy, not oily, despite the heat and humidity thanks to a makeup-fit polymer only found in makeup-setting spray until now. Now that I'm back in the city, I can vouch for its makeup-setting claims, too.
* * *
Happy Skin stores are located at 2/F Glorietta 3 and 2/F Greenbelt 5, Ayala Center Makati; 2/F Power Plant Mall, Makati; 1/F Main Mall, SM Mall of Asia, Pasay; 2/F Mega Fashion Hall, SM Megamall; Ortigas; 1/F Eastwood Mall, Pasig; 1/F UP Town Center, Quezon City; 1/F TriNoma, Quezon City; 2/F Robinsons Magnolia; Quezon City; 1/F Midtown Wing, Robinsons Place Manila, Malate, Manila; 1/F Bldg. 3, SM City Pampanga and 1/F SM City Clark, Pampanga; and U/G North Wing, SM City Cebu. Happy Skin counters are located inside Rustan's Shangri-La Plaza Mall and Gateway; all Beauty Bar and Plains & Prints stores; select The SM Store outlets; Landmark Makati and Trinoma; Metro Gaisano Department Store in Alabang Town Center, UP Town Center, and Metro Ayala Cebu; and Robinsons Galleria Cebu. Shop online at happyskincosmetics.com or at zalora.com.ph. Shop for at least P3,000 worth of Happy Skin products (including at least one product from the Festival of Colors Collection or the Catch the Sun line) and get the Festival of Colors Vanity Bag for free.