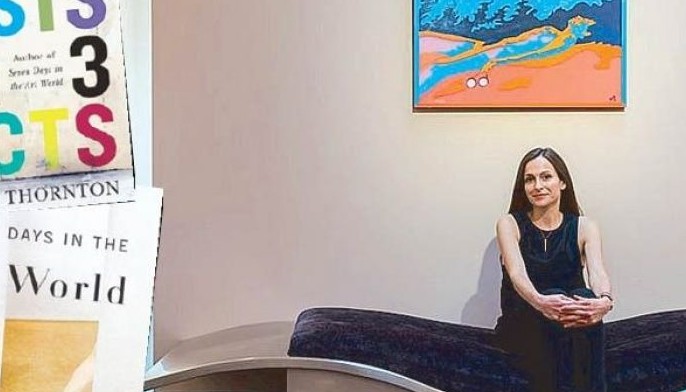 Sociologist and artgazer Sarah Thornton
Sarah Thornton deconstructs the artworld & what lies beneath
Tanya T. Lara
(The Philippine Star) - February 17, 2017 - 12:00am
MANILA, Philippines - Sociologist and bestselling author Sarah Thornton has been described as "the Jane Goodall of the artworld" — and with good reason.
Her book Seven Days in the Art World examines the inner workings of a world few of us have access to — the creativity, auctions, status and money. What's also remarkable is that the book has been translated into 15 languages when no one wanted to publish it before because "art books" don't sell. Well, hers do.
In 33 Artists in 3 Acts, she tells the stories of the artists themselves, examines their politics, how they use their influence, and the power of their art, and asks the ultimate question: "What is an artist?"
It took five years for her to research the book and spend time with artists from 14 countries on five continents. Divided in three acts (politics, kinship and craft), we get to know Jeff Koons, Ai Weiwei, Damien Hirst, Yayoi Kusama, Andrea Fraser, Maurizio Cattelan, Cindy Sherman, Francesco Bonami and Lena Dunham.
For this book, she interviewed 130 artists, eventually whittling it down to 33. "My editorial criteria resembled those of both a curator and a casting director," she says in the introduction of 33 Artists. "In other words, the artists' work (in the broadest sense) had to be relevant to my themes, but the artists also had to be willing to engage with my questions."
It offers insights into the character of these successful artists — and contemporary art — and how they create audiences for themselves.
Or as Gabriel Orozco, who read the book in manuscript form, said, "We are all portrayed in our underwear. At least some of us get to keep our socks on."
THE PHILIPPINE STAR: What got you interested in art and art history in the first place?
SARAH THORNTON: My mother was a potter who went on to study art history when I was a teenager. I sometimes attended her lectures with her. I liked escaping into the histories depicted in the paintings and I loved analyzing visual world.
As a historian, what is your position on the issue of ownership and repatriation efforts of several countries regarding their ancient art — such as the Parthenon Marbles?
My PhD is in sociology and I write about contemporary art. I am not a historian even though I love art history and have an undergraduate degree in the discipline. I have never investigated the Parthenon Marbles or done any systematic research into repatriation.
It is certainly unfortunate that, in the UK, the Parthenon Marbles are called the "Elgin Marbles" after Lord Elgin who brought the Greek statues to London in the early 19th century. The name erases the original location and commemorates the man who many consider to be a vandal.
How did you convince the 33 artists featured in your book to grant you access — was it difficult or had you known them for a long time prior researching the book?
Before I started 33 Artists in 3 Acts, I knew some of the artists well and others not at all. Seven Days in the Art World was my main calling card. Many of the artists were familiar with the earlier book. Those who had read it tended to trust me. They knew I was fair-minded, rather than muckraking. They understood that I was interested representing their point of view as accurately as I could.
What is the most memorable Art Biennale you've attended and why?
I remember events if I write about them. In Seven Days, I write about the 2007 Venice Biennale. In 33 Artists, there are scenes set at the 2009 and 2013 editions. Although I have written about other years for The Economist and Artforum magazine, I remember the moments commemorated in the books best.
What is the most memorable art auction you've witnessed and why?
Chapter 1 of Seven Days, set at Christie's, is etched in my memory because I studied it in such detail. Additionally, Damien Hirst's sale of over 200 works straight off the studio at Sotheby's was astonishing. It was called "Beautiful Inside My Head Forever" and it took place on the same night (Sept. 15, 2008) that Lehman Brothers went bankrupt. Also, the sale of Yves Saint Laurent's art in Paris in February 2009 was unforgettable. In the depths of the economic recession, record prices were made for so many 20th-century artists (such as Piet Mondrian, Antonin Brancusi, and Marcel Duchamp). It made me realize that some people had wealth that lay beyond national economies.
Do "important" artworks belong in museums rather than private homes? If yes, what would you consider "important art"?
This is a tough question. It makes me think of Diego Velasquez's "Pope Innocent X" from 1650. I saw it by accident in Rome when I took shelter from the rain by visiting the private collection of the Doria Pamphiji family. Despite being dead for 450 years, Pope Innocent X looks astonishingly alive. You can really feel the complicated consciousness behind his eyes. The painting is the source of Francis Bacon's amazing "Screaming Popes." Bacon made some 40 paintings based on the Velasquez original, which he knew only from reproductions and reputation.
However, I am thrilled that the Doria Pamphiji Palazzo is open to the public because seeing that Velasquez painting in the flesh is one of my most memorable art experiences. One of the ways to measure the importance of the Velasquez original is by assessing the impact of the other artists and works it influenced. Usually, artworks can have more influence when they are in museums, but occasionally they garner influence by other means.
If you could have one piece of art in your home, what would it be?
Gustave Courbet's "L'Origine du Monde." It is an exquisite bedroom painting — a quintessentially private work. When you put it in a public museum, it looks like porn.
How do you feel about art collectors who acquire works just because they can afford it and have no real passion for art?
I would hope that they eventually develop an appreciation for what lies on their walls.
What is your favorite museum in the world and why?
Another tough question. I have too many favorites. But, having lived in London for many years, I have a particular affection for Tate Modern.
What is your favorite place for ancient art and why?
Pompei because the scale makes it so experiential.
* * *
Dr. Sarah Thornton will give a talk today, Feb. 17, at the Roofdeck of The Link Carpark, Ayala Center, Makati, at 5 p.m. Her books are available at National Book Store. Visit www.artfairphilippines.com/talk for more details.