Asian persuasion
November 26, 2015 | 9:00am
MANILA, Philippines – Nobody does all-over contour and cut-crease makeup better than the Instagram glitterati from Dubai. The lived-in blowouts and red lip or smokey eye (never both at once) on a seemingly bare face is the domain of the Parisienne. The best highlighting creams and powders arguably come from different parts of Australia, the land of the beach babe. For a manicured kind of glossiness, Japanese and Korean beauty takes the cake, with centuries of proven tips and tricks down pat, from rituals that have their origins in kabuki, to today, with a body- and face-shrinking aisle in Tokyo supermarkets and about three times as many beauty boutiques as 7-Elevens per block in Seoul.
Both schools of beauty share similarities — a monolid is to be tucked into a double lid through surgery or tapes, and the fat under the eyes, aegyo sal, is highlighted, not concealed — but that's as far as they go. The differences, though subtle — undetectable, even, to the untrained eye — create a major change that can be as simple as opting to flick your liner downward instead of upward. Here's a primer on what's what — and how to incorporate it into your look.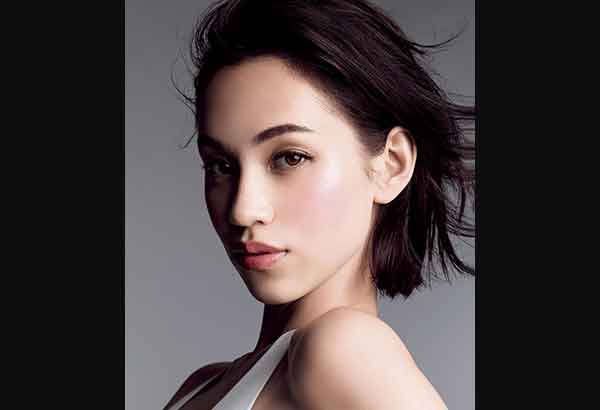 DREAM GIRL:Kawaii
It girl Kiko Mizuhara may be Korean-American by descent, but the Tokyo native's look is definitely that of her hometown: eternally youthful with plump lips and a lush blunt bob reminiscent of a schoolgirl.
Peace sign optional, the Japanese beauty ideal exudes girlishness: sweet, gentle, bordering on helpless, but also a bit coquettish. The eyes are the focal point, and all makeup done to the rest of the face is meant to draw attention back to the eyes — big, sparkly, and at one point made to mimic the look of a child about to break into tears using shimmer eye shadow before the aegyo sal took its place. Imperfections like a snaggletooth are welcome; these, too, signify youthful innocence.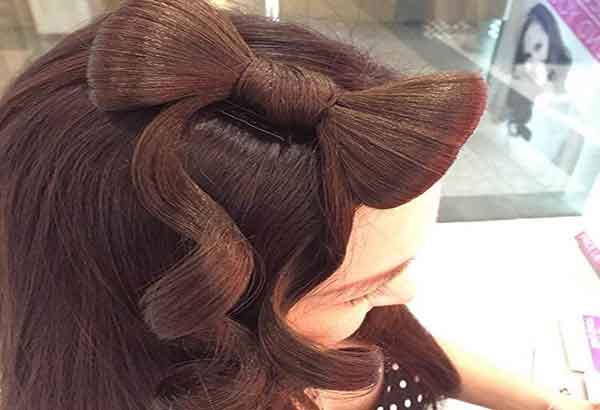 HAIR: Styled and Set
There is no singular hairstyle trend because this is where you can show individuality. Preferred colors are in the ash brown family.
Because you'll be changing your hair as often as you change your outfit, hair extensions make it easy to switch styles without damaging your natural hair. It's convenient for girls who don't know how to style their own hair; a blessing for those who don't have the length and thickness for a certain style.
Celebrity beauty secret Tokyo Posh (Power Plant Mall and Mega Fashion Hall, 0917-5767674) offers a wide range of one-piece, clip-on extensions made of natural-looking Japanese fiber. The range of styles, lengths and color is so wide, you're bound to find one or two styles you want, and because they're so light and wearable, you're bound to keep them on rotation once you try it. Best-sellers are the ballerina bun Audrey (as seen in Breakfast at Tiffany's) and waves called Blair, like those of the precocious Gossip Girl. A true Kawaii favorite, however, would be this Hello Kitty-like bow hair clip-on called Tiffany. The best part is they do what no hairstyling product can: they ensure you will never go flat or limp.

SKIN:Soft and Powdery
Unlike in Korea or China, there isn't much pressure to have rosy white skin. The approach to skincare is very mild, cleansing with oil and foam formulas and doing away with exfoliating agents. Instead, emollients like skin softeners followed by an essence and a cream improve the complexion. As with a Madame Alexander doll, the preferred makeup finish is matte.

EYEBROWS:Round, Light, and Soft
As opposed to the Korean principle of keeping it short and simple, the Japanese girl keeps her arch, but the overall shape is round, meant to emphasize — or create the illusion of — round eyes. Luckily, this is a brow shape our local brow salons can help you with. Eyebrows must be lightened to keep the focus on doll-like eyes. You can have the brow hairs bleached or tinted light brown, or include eyebrow mascara in your brow regimen.

EYES:Round and Big
Big circle lenses and dramatic false lashes are a thing of the early 2000s. Subtler options like Freshlook Illuminate contact lenses (sold at all optical stores) have a smaller diameter and come in colors that match the natural Japanese eye, dark brown and black.
A precise feline flick has its fans from all around the world (Hello, Adele?); not here. Think doll-like Bambi eyes. The key is in extending the line of your upper eyelid downwards with a black pen eyeliner (K-Palette makes the best ones, available in Beauty Bar) and finish off with coats of mascara on both the upper and lower lashes.
And while we exalt concealers, eye primers and stage tricks like baking, you're not supposed to apply stealth coverage under the eyes. You're actually supposed to add more pigment to it.

CHEEKS:Undereye Blush
You know that kind of flush you get on your cheeks when you stayed out in the sun for too long or caught a cold? That's where you swirl matte blush — about one finger's width below your eyes until the top of your cheekbones, starting from under the center of your iris. When done right, it suggests a smile even when you have a neutral expression.
It's a look that has its roots in geisha and kabuki makeup which paint on a striking touch of vermillion to accent the eyes. What appears sickly is actually meant to simulate life and excitement because it's the color children get when they play outside or make cute mistakes.

LIPS: AU Naturel
To keep the focus on the eyes, the lips are downplayed in shades that occur naturally to the lips like baby pink, nude and reddish hues, topped with a swipe of gloss to plump up the pout.

DREAM GIRL: Ulzzang
Edgy as she is pretty, idol singer and model Krystal Jung of girl group f(x) is definitely ulzzang: flawless fair skin, a small face with plump cheeks and a V-shaped jawline, high-bridged nose, round eyes with an aegyo sal (fat eye bags which are actually emphasized to mimic the look of youthfulness), straight brows, and small lips.
Having the "best face" means different things to different cultures, but in South Korean, which this term literally translates from, it is a specific look that's meant to be ethereal yet seemingly effortless. The focus is on creating natural-looking flawless skin and straight brows.

HAIR: Effortless Chic
It's supposed to look like you just did it yourself at home in five minutes, tops. If you've been getting your hair treatments weekly like the average Seoul-cialite, it should be doable. The style du jour this season is the wavy low ponytail with a teased crown. If you weren't born with wavy hair, ask for an S digital perm at the salon.
The preferred dye job among the stylish set would be in a shade of brown with orange undertones to enhance the rosiness in dewy, milky-white skin. This requires the colorist to do balayage and highlights, which can also be a starting point to gradually switching up to a total bleach job so you can have your hair painted in pastels.

SKIN:Fresh and Dewy
The beauty regimen for the face takes three hours because you will be massaging in layers upon layers of skincare, ranging from oil cleansers to essences, emulsions, serums, lotions, creams — I'm sure I missed something. These plump up the complexion so there are no visible pores or lines. Only afterward does makeup begin, with strategic and meticulous patting — never tugging, to ensure pore-blurring application — of foundation, highlighter, concealer, and colored finishing powders. Like a more flawless version of strobing, concealer is mixed with highlighter to be applied on the high points of the face and over dark eye circles.

EYEBROWS:Short and Straight
A soft, straight brow a few shades lighter than your hair color is the face framer of choice. By mimicking the brows of teenagers, it casts youthfulness to the face — the end goal of each and every K-beauty attribute.
This means taking out your arch completely. You can persuade a local brow specialist — most of them have been trained and certified against it — or DIY it with a straight razor (good luck!).
To fill in your brow, a brow pencil allows for more control in creating a straight line. Both Korean and Japanese brow pencils are usually retractable and made of powder pressed into a stick, so it has an almost chalky, matte finish. They also come with slanted tips so it's easier to draw in short strokes.
Most eyebrows dip a bit in the front, so remove that dip, then draw a straight line from the highest point of your brow and fill the empty spaces and sparse areas with powder. You can either taper the ends straight all the way or angle it down toward the end, just see what looks best on your face shape. Finish off with a light brushing of a spoolie brush and direct your brow hairs in the direction they grow in so your brows don't look too drawn on.

EYES: Almond eyes with Aegyosal
Use matte brown eye shadow to create the illusion of deeper, larger eyes and to accentuate the aegyo sal, the fat bags under the eyes. Apply it lightly on the sides of your crease, adding more on the outer ends of the eyes. Blend the edges with your fingers or a brush. Now line the bottom lash line, concentrating on the outer corners, going lighter as you move toward the tear duct. Accentuate the bags with a shimmer eye shadow, concentrating most of the highlight on the center, right under the lower lashes and in the inner corners of the eye. Take out the brown eye shadow again to create a little shadow.
Using a black eyeliner pen, line the top lid with a thin line very close to your lash line, extending a little past the outer corner of your eyes. Line the lower lash line with a pencil in gray or dark brown.

CHEEKS:A Touch of color
Keep it plump, not too rosy. Achieve this using a cream blush, patted on the apples of your cheeks.
Seen as a sign of aging, just like a cut-crease, sculpted cheekbones are a no-no. Instead, make your face look smaller by applying foundation two shades darker on the outer sides of your face.

LIPS: Just-bitten Lips
Whether you're trying the two-tone gradient lip, inspired by the tint left on your lips by sucking on a popsicle stick, or keeping it glossy with a lip gel, the K-beauty lip is small yet plump, and very vibrant.