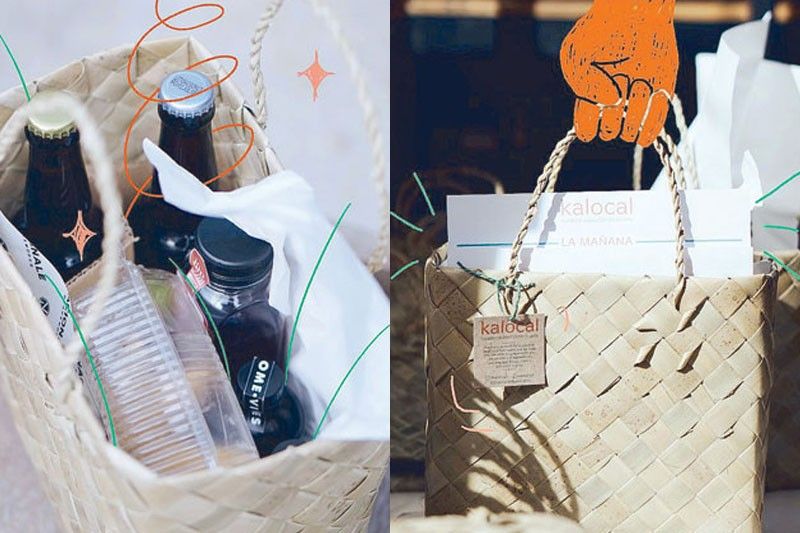 Kalocal's introductory boxes come in two flavors: La Mañana, a morning-themed selection; and La Noche, which is curated as a nightcap.
Photos courtesy of Kalocal
MANILA, Philippines — The pandemic has hit all of us hard. Many businesses and entire industries have been put on hold or worse, are going under and consequently, the people in "non-essential" lines of work have had to turn elsewhere for income.
This includes Nicole Sarmiento, Regina Suarez and Kat Romero, who, pre-COVID, worked together organizing events. Living in lockdown, however, hasn't stopped them from mounting a new business altogether. The three have recently launched Kalocal, a subscription box service that aims to help small businesses, lots of which have also popped up during quarantine.
Kalocal basically puts together a range of products from various businesses and sends them out to customers on a monthly basis. They have two types of boxes: La Mañana ("the morning"), which contains things like coffee and pastries, and La Noche ("the evening"), which include cocktails, beer and more. This business model allows customers to sample a brand's products before ordering more, saving them the hassle of spending on something they won't end up liking. In turn, Kalocal also helps out small businesses by putting them in front of customers.
We spoke to Nicole (who also heads the event production house Red Ninja Productions) about how the idea for Kalocal came to be, what it's like to mount a new business amidst a pandemic, and what customers can expect from the subscription boxes.
Young STAR: How did the idea for Kalocal come about?
Nicole Sarmiento: We were in an online inuman session when I brought up the idea of wanting to create subscription boxes to help out local businesses. Apparently, Regina had already thought of doing the same thing, then Kat said she wanted to help out and be part of the new project. So that partnership was formed.
For me, personally, the idea hit me when I realized that I was having a hard time choosing what cookie I wanted to order and from which online business. I didn't want to waste money on something I didn't like or buying too many of the same kind of cookie but from different shops.
What is it like mounting a new business in a time of crisis?
I think the lockdown has helped push the more creative side of us, so a lot of the ideas in this new business aren't things we usually would apply to our events. We've had more time to really research and study how subscription boxes work so we can make sure that we operate smoothly once we launched. We're actually pretty excited about mounting a new business so we can get a bit busy again.
How do you guys choose which businesses to feature in the boxes?
We have a group chat where we send screenshots of local businesses then agree or disagree if we want to feature them. It's funny now because I think we've been targeted by ads on Instagram, so it kind of became a little easier to search for suppliers. Then we have a directory that we use to choose which cookies we want, our coffee, or cocktails, etc., for the month's box.
Tell us more about the La Mañana and La Noche boxes.
We actually sent out a few test boxes last July 21 (the first batch of orders will go out tomorrow, Aug. 8). La Manaña is for those early birds who need their coffee, pastries, tea — we've tapped Mika's Cookies, Frank & Dean, Jacob's Well Chai, and Natureal Juice (which is from Davao, by the way!).
Then La Noche, you can think of it as a nightcap or Friday night box where you have bar chow, cocktails, beer. For this we've tapped Love Guru's Samosas, 19p, someyoung, and Monkey Eagle. So basically you get certain products depending on which tier you subscribe for. We also have our top tier, which is the Mayon. This includes a special premium product, and we partnered up with Nacionale Bladeworks for that one.
What other kinds of boxes do you hope to have down the line?
We actually have a list of other boxes that were approved during our brainstorming sessions but we wanted to first focus on La Noche and La Manaña. We have boxes like PMS Boxes where girls can have things they're craving for, Date Night boxes where we send two boxes for a couple and they can use the products there for their dates. We even discussed healthy boxes or maybe vegan/vegetarian boxes. We also had hobby boxes because we do know that small local businesses don't just offer food; there are also accessories, housewares, and a lot of other things. So hopefully, we'll be able to create boxes that will cater to those products as well.
* * *
For prices and more information, follow @kalocalph on Instagram. If you have a small business and want to partner with them, email kalocalph@gmail.com.