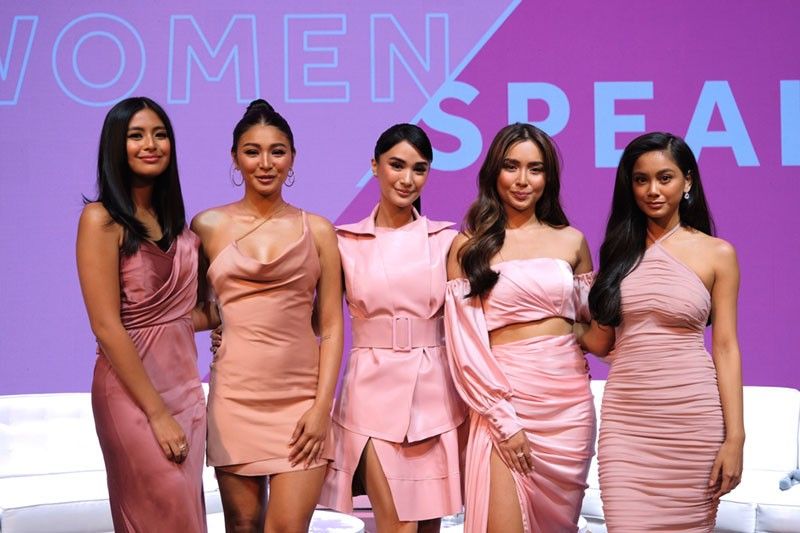 Gabbi Garcia, Nadine Lustre, Heart Evangelista-Escudero, Kathryn Bernardo and Ylona Garcia shared some tips on how to be more confident.
Bea Amador
(The Philippine Star) - September 13, 2019 - 12:00am
MANILA, Philippines — Here's a fun fact: I was almost a TEDx speaker. I applied as a joke, and surprisingly got through a series of tests. But on the final round, when I was asked to perform my talk in front of a panel (two people, really), I chickened out. Five minutes before I was supposed to come in, I was having a panic attack in the bathroom. I kept telling myself: "Why the hell did I even do this when I know I am not a speaker?" Long story short, my anxiety-riddled self was all sorts of a mess in front of the panel. I look back to that moment with regret. What if I had had enough confidence to do that talk? What if I had just believed in myself more?
This is what the Pond's #SeeWhatHappens movement is all about: empowering Filipinas to take a risk, to leave their hesitation and self-doubt, and to have confidence in themselves. The Pond's Women's Speak Forum last Sept. 4 featured Heart Evangelista-Escudero, Nadine Lustre, Kathryn Bernardo, Ylona Garcia and Gabbi Garcia — women who exude confidence and are standouts in the showbiz industry. They looked back on the times when they doubted themselves, and shared some tips and tricks on how to combat these inhibitions and achieve our goals. Here's what we learned:
Change is scary, but necessary.
"The most rewarding gift that you can give yourself is growth," Kathryn shares. Before she accepted her role in Hello, Love, Goodbye, she had her qualms: "What if the fans don't support me? What if I'm not good enough?" Change is the only constant thing in this world, and in order to better ourselves, we have to accept and embrace growth. You'll never know what you can achieve if you keep holding yourself back.
You can't please everyone.
There are plenty of "damned if you do, damned if you don't" situations in life. You have to remember that at the end of the day, your happiness matters more than how other people perceive you. Blot out the noise from the haters, and do your thing.
There is no shame in asking for help.
Having a go-to person to run to when things go south is a gift. There is no shame in calling your mom when you're in need of a push, or having a sleepover with your friends when you just had a mental breakdown. We can't always do things alone, and knowing when it's time to ask for help is a sign of wisdom and maturity.
It's okay to be imperfect.
There's always a part of us that will crave perfection, especially at an age where perfection seems to be so ubiquitous in social media. But what is perfection but a marketing ploy that leads to self-hate? Heart has some advice for you: "You have to remember that perfection is not of this world. Just be yourself."
Make mistakes, and learn from them.
Have you ever made a mistake that made you feel so worthless? Well, same here. It's hard to wrap our heads around the fact that mistakes are a necessary part of life because how can we appreciate our triumphs when we've never failed before? Take risks, make mistakes, and learn from them.