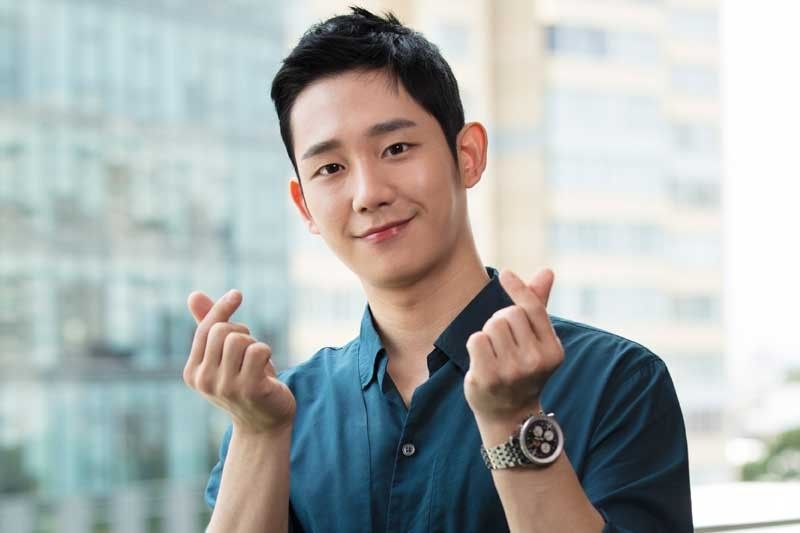 K-cutie: Jung Hae-in makes his leading man debut in Netflix's Something in the Rain.
Crossing over to the K-side
Discover the appeal of K-Dramas with one of Korea's rising stars, Jung Hae-in of 'Something in the Rain.'
MANILA, Philippines — It's official: I'm a K-Drama convert. Not that I was against it before or anything; it's just that I never really found a reason to get into it. All I knew about Korea's entertainment culture was that they are really into their version of teleseryes, and bands. They love their K-Pop bands. That all changed, however, in a matter of 24 hours in Bangkok, where I had the opportunity to interview Jung Hae-in, the leading man of Netflix original seriesSomething in the Rain. Not because he's cute (he is cute), but because the series is pretty darn irresistible.
Flying into Bangkok (the K-Drama is pretty popular there) knowing next to nothing about this guy, I took it as an opportunity to watch the show on Netflix with fresh eyes. Something in the Rain follows Yoon Jin-a (played by Son Ye-jin), a career go-getter who works at a coffee company. The brother of her best friend, Seo Joon-hee (played by Hae-in), is back from a three-year sojourn to the States, and the game company where he works just so happens to have moved to Jin-a's building while he was away. They bump into each other, get a meal (the series is also known as Pretty Noona Who Buys Me Food), and catch up.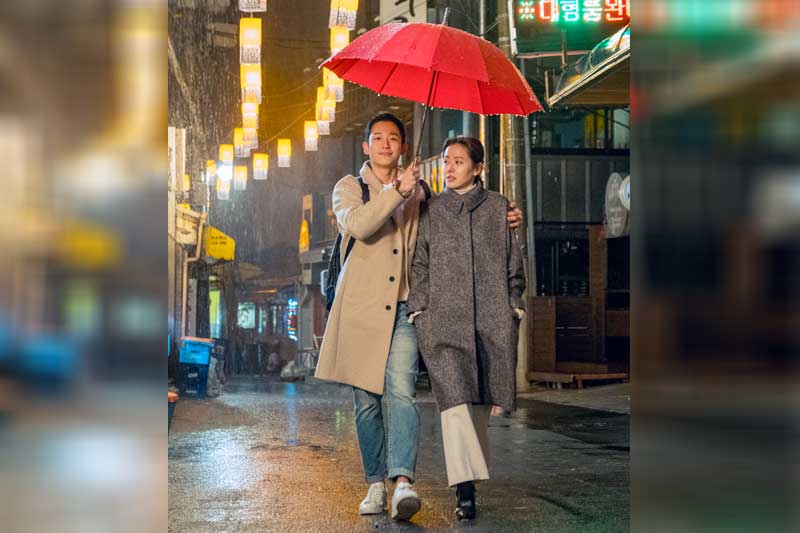 Under my umbrella: Something in the Rain follows Yoon Jin-a (Son Ye-jin) and her best friend's younger brother, Seo Joon-hee (Jung Hae-in)
When you think about it, that's pretty much what the series is about (trust me, there's a lot of eating and a lot of drinking soju). But what you get in between is a romance delivered in a slow, slow burn. The romance between the two leads develops over the first few episodes, and with each episode being over an hour long, it's a really slow burn. It's not at all boring though, and what keeps you hooked is seeing Jin-a and Joon-hee fall in love in real time. You see all those stolen glances, small gestures, hinting questions. Yeah, you know those.
Both Ye-jin and Hae-in deliver very believable performances, which will make you look like a fool smiling to your phone on the plane, or roll around your bed screaming in kilig. It's a pretty good feat considering this is Hae-in's first lead role in a series. Hae-in's only been acting for a few years, debuting after he finished his mandatory military service. (His baby face totally betrays his age though. I mean, drop your skincare routine, bro.) Although Hae-in has starred in a number of romantic and romcom series, Something in the Rain is his biggest learning experience yet. The hardest part of playing the lead, Hae-in says, was "to truly trust the other people in the drama." Once trust is established, then everything comes naturally: "Your reactions, your movements, the way you speak, it all comes naturally," he said.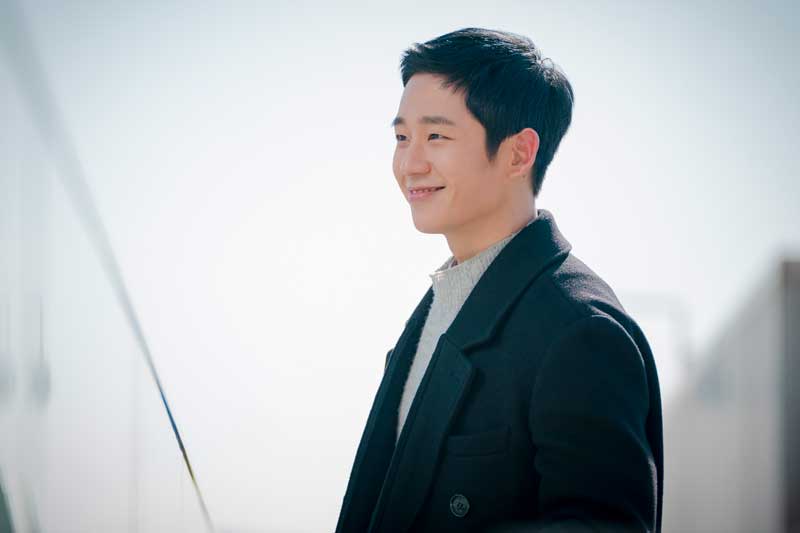 Funny bone: While Hae-in and his character Joon-hee share many similarities, Hae-in admits his character is "a bit more humorous".
Throughout the interview, Hae-in seems very grown-up and mature, something he shares with his character Joon-hee. The difference though, which Hae-in admits with a chuckle, is that he's not as funny as Joon-hee. "That's probably because (Joon-hee) studied in the US, and that's why he's a bit more humorous, a bit more witty, and a bit more free," Hae-in observes.
The series also taught Hae-in about the importance of getting the right fit when it comes to roles. "When an actor finds a role that is right for them, if it has the right fit, you can act much more comfortably and with ease," he says. "So I realized for the first time that the right script, and the right drama and the right role are important."
I ask him if there was a specific turning point that made him decide to pursue acting, and he says it was almost accidental. He's very thankful about being able to act, he says. Apart from honing his craft as an actor, Hae-in's goal is pretty simple: to make people happy. "I want to be recognized by the audience as someone who delivers joy and happiness to them," he says, "So that they can escape from whatever (they have going on) in their daily lives, so they can just enjoy watching."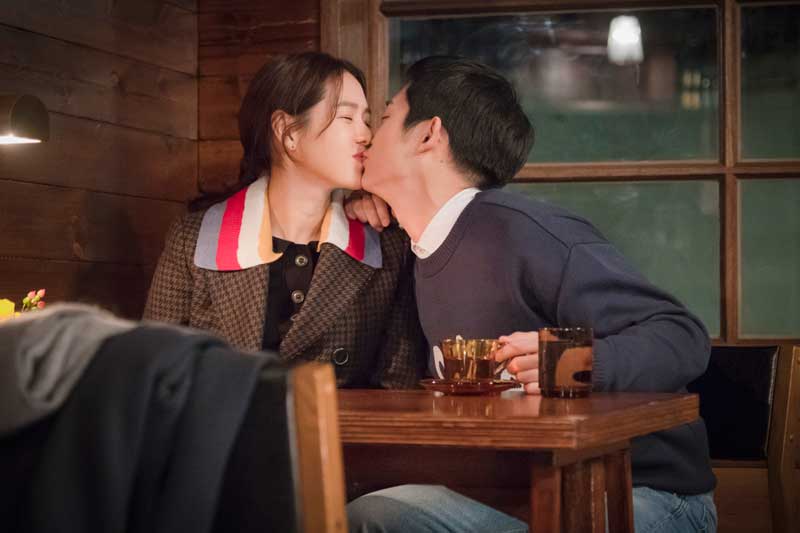 In the mood for love: Something in the Rain manages to be relatable anywhere in the world because of its universal theme of love.
Even though the show is Korean and set in, well, Korea, it's a story that everyone will enjoy, because of its universal theme of love. "It's not just a Korean thing, we're talking about love, which is something that anybody in the world can really relate to," Hae-in says. "And I also believe that our OST had a lot to do with it as well."
Hae-in credits Something in the Rain to his rising success, and although he has been enjoying some popularity, he stays pretty humble. Since the show premiered, "a lot more people recognize me," he says. "And they're really cheering me on as well. There are a lot of great expectations for my next drama or my next project, and I feel a sense of responsibility. But it's a good thing." There's a lot more to expect from Hae-in, and from the looks of it, he will be more than willing to step up to the plate and meet his fans' expectations, kilig included.
* * *
Something in the Rain streams on Netflix. For more information, visit Netflix.com.