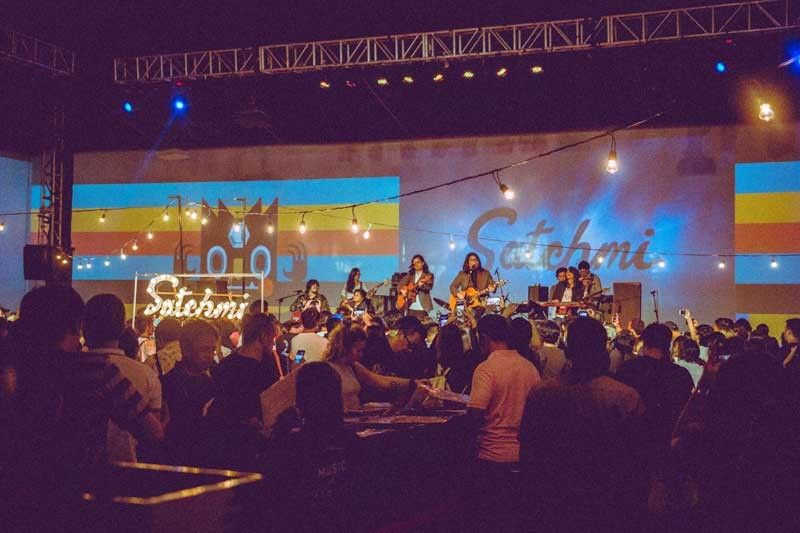 Maybe the night: Come for the vinyl records, stay for the live music.
Photos by Tin Sartorio
Satchmi Vinyl Day unboxes bigger acts and even bigger discounts for its sixth year.
MANILA, Philippines — Satchmi Vinyl Day has come a long way from their first pop-up at Bonifacio High Street back in 2013. The venues change, the records come and go, the musical lineup is always fresh. But if there's one thing that you can always count on, it's the warm local music community. We're seriously all friends here, and now, in its sixth year, we can only expect bigger surprises and even bigger discounts. From someone who's been there since day one, here are some tips to keep in mind before this year's Satchmi Vinyl Day on June 16:
Be an early bird
Attending previous Satchmi Vinyl Day celebrations taught us to 1) come early, and 2) no, seriously, come early. For the records, for the goodies (Film Folk, Customthread, Audio Technica, etc.), for parking, and for that coveted center spot in front of the stage. Crate digging will start by 12 p.m., but Satchmi Club loyalty card members get an hour head start (gates open for them at 11 a.m.). Admission is free, but arriving during prime time (say 7 p.m. onwards) means dealing with long registration lines and only catching the last chorus of your favorite band's last song for the night (#TrueStoryBro). You can skip it by pre-registering on the Satchmi Vinyl Day Facebook event page (click the link under "Tickets") or — again — come early.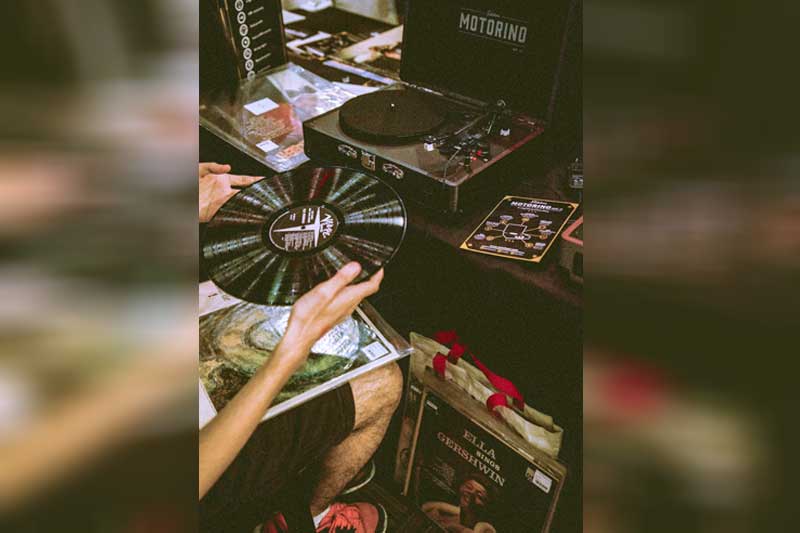 Happy digging: Vinyl records are on sale up to 50% off.
Get your hands dirty (not literally)
Nothing compares to the thrill of digging through record crates and being surprised at what you find. Yes, you can easily search for records on sites like satchmi.com or go through your tito's Facebook album of vinyl records he's giving away. But chances are, you also might not know what records you want until you spot them IRL. Satchmi, especially during its annual Vinyl Day, has a lot of that in store. Did I mention that records are on sale up to 50 percent off? You may even preview select records on demo turntables on the day of the event, or finally purchase that Motorino you've been eyeing for as much as 20 percent off.
Come for the vinyl records, stay for the live music
Different music formats should never be compared, only enjoyed best with great company and maybe a cold drink or three. Vinyl Day has brought all kinds of music lovers even closer with not just records but also live music, and this year is no exception. Young STAR faves Ben & Ben, BP Valenzuela and She's Only Sixteen will be back on the Satchmi stage, together with acts like Quest and Munimuni. Get ready to be blessed by OPM legends andwich as they perform a headliner set that's guaranteed to be nothing short of their recent 20th Anniversary concert.
* * *
Satchmi Vinyl Day 2018 will run from 12 p.m. to 12 a.m. on June 16 at The Axon, Green Sun, 2285 Chino Roces Ave. Ext., Makati. Admission is free. For more information, visit www.satchmi.com or follow them on Facebook, Twitter (@satchmi) and Instagram (@satchmiteam).