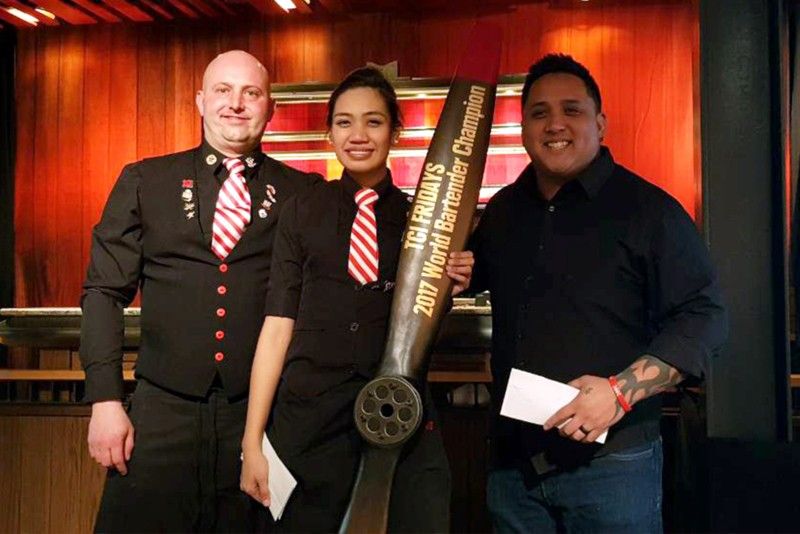 Servin' up: Jholan Peñafiel had to best some of the sharpest TGIFridays bartenders in the Asia-Pacific region before making it to the world championship in Texas.
Pam Musni
(The Philippine Star) - April 13, 2018 - 12:00am
TGIFridays' 2017 World Bartender Champion Jholan Peñafiel is raising the bar.
MANILA, Philippines — Jholan Peñafiel has never competed in a bartending competition. In fact, before her stint with TGIFridays, she had never bartended before. A BS HRM graduate, she previously worked at Harbour View Bistro as a receptionist. And when she first entered TGIFridays, she worked as a host and not as a bartender.
"Na-challenge akong mag-server nun, kasi sinabi ko mas masaya pag mas maraming tables ang (na-serve), at (parang) mas mabilis ang oras. Nakaka-challenge kasi magpa-share ng dining experience," she says with a smile. "Then, nasabi ko nalang na okay mag-bartender, kasi napaka-challenging niya… at parang mas nag-eenjoy ako pag may bago at mag-aral lang nang mag-aral."
So her winning the TGIFridays 2017 World Bartender Championship is an impressive feat. Before that win, Jholan had to best some of the sharpest TGIFridays bartenders in the country and, indeed, the Asia-Pacific region. The achievement becomes more impressive when you learn she perfected her tests in the compulsory round, where contestants must prove their skills through mastery of TGIFridays' 150 recipes (in the Philippines, only 25 are served nationwide), all the while showcasing their speed and accuracy when it comes to pouring drinks.
One could say it's Jholan's continuous desire to learn that's brought her this far, a passion that's part determination and part curiosity. "Gusto ko talagang pumasok ng TGIFridays nag-aaral palang ako," she says, citing a bar tour to a TGIFridays branch as the inciting moment. "Parang ang saya ng ambiance, ang ganda ng uniform. (Noon palang) feeling ko nag-wowork na ako. Kaya nung pumasok naman ako, talagang na-fefeel ko siya, and parang na-chachallenge akong hindi pwedeng host lang ako — kailangan sa time na 'to, iba nang ginagawa ko."
But one could also say it's the support and guidance of her colleagues at TGIFridays that pushed her to better herself — a squad that includes Rizza Umlas, the 2015 Champion.
Rizza has come a long way since her historic win. Being the youngest and first female winner in the 27-year competition, she now works as the bar manager for all TGIFridays branches in the Philippines. "(When you're in) a managerial position, ito yung tipong maghahanap ka ng time to flare outside (your work)," she notes. While this means she can't work in the field as much as she used to, she still makes it a point to practice when she's near the bar to ensure she stays sharp as ever.
When asked about her future plans, though, her answer is not so much about her own professional achievement as it is a desire to see other people succeed. "Nung nag-bar manager ako, yung goal ko is makapagpa-champion ng isa pa," says Rizza. "At nagawa ko. So kailangan pa natin magpanalo ng isa pa. Always breed champions."
On that note, she shares a glance with Jholan, joking about how they need to have a third champion contender along for the ride once Jholan returns to Dallas. After all, beyond their champion status and superficial differences — Rizza speaks with more reservation, Jholan with more animation — the two share the same hardy self-sufficient nature and desire to pass along what they've learned to others.
This is apparent in the way they talk about the competition and their approach to bartending at TGIFridays. For them, it isn't so much about upping the game or dazzling with superfluous creations. (Neither Jholan nor Rizza read up on competitors, nor do they feel the need to be overly flashy when the competition comes.) Instead, it's as simple as focusing on your progress, understanding what's required of the game, and honing your skills in the time-honored techniques.
But most importantly, they have each other's backs, perhaps something gleaned from TGIFridays Philippines' supportive culture. And it's something that goes beyond their own support for each other. After all, if there's something these two know, it's that fostering excellence doesn't stop within one's personal circle. You've got to share it. Champions breed champions, after all; and stellar women beget stellar women.