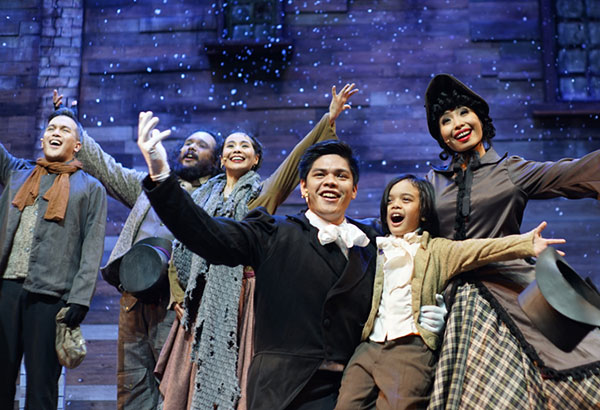 Christmas together: 9Works Theatrical hopes to embolden the Filipino Christmas spirit of family, forgiveness, and truth. Photo Courtesy of Jan Mayo
MANILA, Philippines — We Filipinos love our four-month Christmas. (Every "ber" month is already Christmas month!) Just the thought of it brings about a cheery montage of cherished family traditions played to Jose Mari Chan's Christmas In Our Hearts. And as if Filipino Christmas wasn't already, like, the best — it's about to get even better thanks to the hardworking elves at 9Works.
Charles Dickens' yuletide classic A Christmas Carol is back with a vengeance, just like good ol' Jacob Marley. Although staged just last year by 9Works Theatrical, director Robbie Guevarra promises more grit, and more spirit. With everything from the choreography to the lighting design taking a new direction, 9Works' goal is pretty straightforward: make it better than last year's.
The cast boasts both fresh and familiar faces, with veteran Miguel Faustmann at the helm as old Scrooge himself. Joining him are Noel Rayos as Jacob Marley and Mr. Fezziwig; Franco Laurel, Nico Dans and Rissey Reyes as the Ghosts of Christmas Past, Present and Future; Jon Abella and Tricia Canilao as Mr. and Mrs. Cratchit, Laurence Mossman as Young Ebenezer, Arman Ferrer as Fred, Mitzie Lao as Emily, and a ton of other talented folk.
A timely reminder, A Christmas Carol shows us that despite the occasional nightmares we've been living through as a nation, there is still hope for humanity. 9Works hopes to embolden the Filipino Christmas spirit of family, forgiveness and truth, not only this Christmas, but in the Christmases yet to be — until their yearly shows find a place in our traditions, right next to the glazed ham and queso de bola.
* * *
A Christmas Carol opens on Dec. 7 at the Globe Iconic Bonifacio High Street Amphitheater. For more information, contact Ticketworld at 891-9999 or visit ticketworld.com.ph.