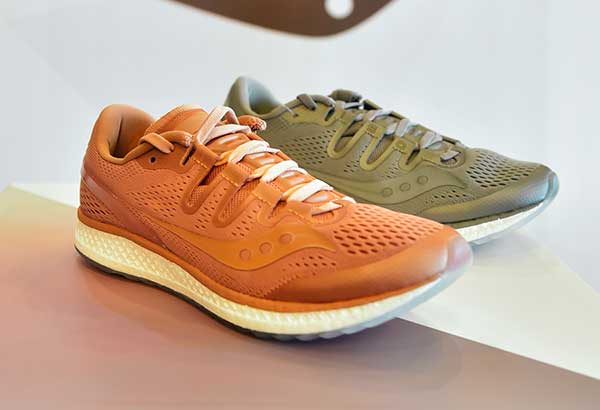 Work and play: Functional versatility and fun colorways make Saucony the ideal sports and casual shoe.
Shoes that feel like freedom
Jam Pascual
(The Philippine Star) - October 12, 2017 - 4:00pm
MANILA, Philippines — Even before running became a mainstream sport, Saucony was on the frontline making running shoes, having been founded two years after the first Olympic marathon. That was 1898, by the way, back when spiked cleats were considered, like, feasible things to wear. We know better now, but that's mostly because Saucony committed itself to knowing better.
And because this Boston-based brand was one of the first names to run the game, Saucony also dedicates itself to supporting and sponsoring running enthusiasts. Consider Team De Rosa, a fast-rising triathlon theme with a roster including actor Jake Cuenca who, perhaps not content to play a triathlete in Ikaw Lang Ang Ibigin, decided to be one for real. There's also model and fitness blogger Victor Basa, and even musicians such as Sugarfree's Ebe Dancel (who's actually done a 21k race) and Yael Yuzon (who has completed the Marathon du Médoc, a French race with wine stops, which is brilliant), both of whom look more svelte than the average rockstar. Team Saucony supports both full-time athletes and people who just run for the fun of it. The point: running is a sport anybody can get into and enjoy, and Saucony proves that by making shoes anybody can rock with.
This season, a new shoe demonstrates Saucony's philosophy of openness and accessibility. The Freedom ISO is the brand's latest fall offering, and the first-ever show to have the full midsole of Saucony's Everun Continuous Cushioning technology. Translation? A sturdy shoe that provides smoother landings for every footfall and better bounce with each takeoff. The Freedom ISO is comfortable and responsive, allowing you to really get the most of every step and stride during your run.
What's also neat is the fact that Saucony doesn't stop at utility. The Freedom ISO looks pretty great as well. Take your pick from color options dusty rose, gray, tan, charcoal black and white gold — they're all bound to look good while you're circling the perimeter of the city park. You might also wanna get your hands — er, feet — on the Freedom Runner, which looks equally good at both a marathon run and in a cafe.
Too often running can seem like a drag and a waste of energy, and sometimes that happens when those hopeful about pursuing a fitter lifestyle get the wrong pair of shoes. But Saucony is a good place to start, and the Freedom ISO is a shoe that doesn't just care about the sport, but about the human beings who put their trust into running to change their lives.
* * *
Saucony stores can be found in Glorietta 3, SM Department Stores, and specialty stores such as Toby's, Runnr, and Olympic Village Pioneer.