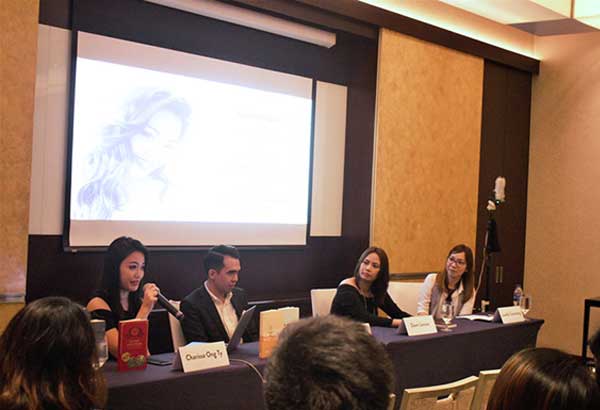 Strike it out: Authors Charissa Ong and Kota Yamada (first two from left) talked about their self-publishing experiences at National Book Store's Readers and Writers Festival last Aug. 26.
MANILA, Philippines — Can't get your book published? Then publish it yourself! At least, that was the straightforward answer for authors Charissa Ong Ty and Kota Yamada. Since posting their first typewritten poems on Instagram, the two have won readers over with their unabashed vulnerability. Similar to international sensation Lang Leav (whom Charissa cites as an influence), Charissa and Kota's poetry possesses a rawness that empowers young souls to do what is possibly the most difficult thing — be honest with themselves. Young STAR got to sit with Charissa and Kota, the creative forces behind Penwings Publishing and Yamada Publishing.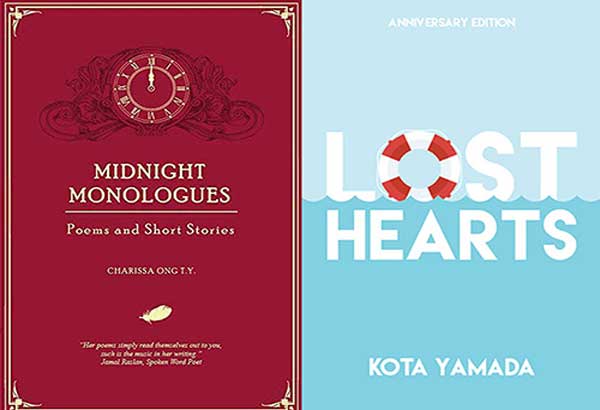 Independence day: Charissa and Kota's books are self-published.
The Curious Case of Charissa Ong Ty
"It's a very Taylor Swift thing — I broke up with my boyfriend, wrote a book, published it and sold it," Charissa replies when asked how she seriously got into poetry. "Before that, I actually wrote poetry to him. I was like the hopeless romantic and he was the serious guy." (So really, like Taylor Swift — except, you know, not evil.) She remembers scrolling through Instagram and asking herself: How do I improve myself? "I wrote my own stuff and put it on Instagram. I knew nobody was going to read it, so I didn't have that fear of like, 'Oh, what if people don't like it?'"
Plot twist: people read it and people liked it. She's now a best-selling author in Malaysia. Even when she was starting out, she'd receive messages from readers all over the world telling her their stories.
"When they tell me their stories, I get inspired by them. I wrote for them, and I wrote for myself. It just helped us both cope with life."
From what she says was her small dream of just helping people heal, she found that there was yet a greater need she needed to cater to. "On average, Malaysians read one book a year. It's really sad. The literacy level for English is just high in the cities, where you have internet access," she says. "That's why it's kind of my mission. It feels very far-fetched, but I just wanna get more Malaysians to read, which is actually happening with my book."
But when the 25-year-old isn't writing, managing Penwings Publishing or going on book tours, she's learning the erhu, or Chinese violin. "I have this thing where I have to learn something new every year. Last year was pole dancing — I'm still doing it now. Next year I might be learning sign language."
The Picture of Kota Yamada
"My dad used to bring home VHS tapes of Disney movies. That's what got me started on seeing stories for what they are."
Ever since boyhood, Kota Yamada's been hooked on a feeling. After dabbling in visual arts and music, he has found his home in poetry. "I moved on to poetry because it felt freeing. I was going through a lot and it was the only kind of friend that gave me a helping hand."
Today, poetry still serves a cathartic function: "I'm still dealing with my demons."
He says, "I wanted to be honest… I wanted to be their voice. I wanted to write poetry in such a way that they're freer."
He wants his readers to be able to share their stories on Facebook without fear of being judged. "Stories like I was left by my dad, or I was left by my boyfriend. It doesn't have to mean that they relate to it. It just means they have a minute to spare to feel something most people are afraid to feel. We live in an escapist world. In a way, it's slowly giving them a way to act on it also."
And by putting up Yamada Publishing, he's doing just that.
"Writers are reclusive. Some of them aren't ready for people to read it — so I'm just waiting for them. I'm doing a service for people who can't publish themselves," he adds.
He's a huge fan of Seth MacFarlane. "I love the fact that I'm watching Family Guy right now because of the writing, because of Seth MacFarlane. He's a genius." And because he's a fan of Family Guy, you know I just had to ask. "Do you watch Rick and Morty?" To which he replied, "…Pickleee Rick!"
* * *
Charissa's Midnight Monologues and Kota's Lost Hearts and It Was Rather Short Lived are now available at National Book Store. Follow Charissa at @cotypoems and Kota at @kotayamadaph on Instagram for your daily dose of verse.