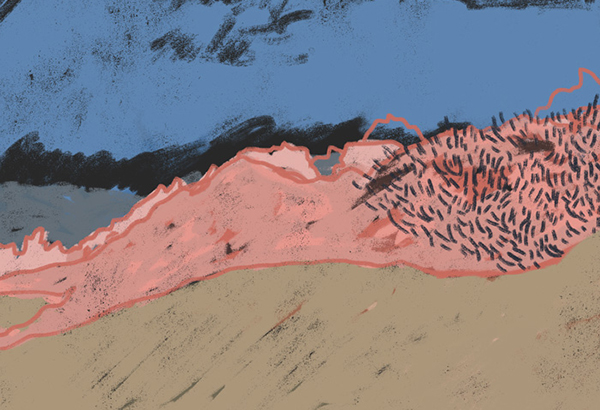 Power players: The characters in the storyline of this mystery game are real employees of the Ayala Museum. Art by Carina Santos
Hair today, hair tomorrow
I come from a fairly hairy family. Human, sure, but hairy.
You'd think that body hair wouldn't be on the radar of concerns for a person barely in her double digits in age, but in grade school, I found a disposable razor and ran it through my hairy arms, puzzled at the strands that stood their ground, and then later, puzzled also at the resulting razor burn. Although I've left my arms alone since that incident, I started shaving my legs some time before high school, ignoring warnings of the risk of them growing back into an even thicker forest.
My hair issues unfortunately did not end there. The makeup artist who made me up for my grade school graduation photo asked if it was okay to "fix" my caterpillar eyebrows, taking a razor blade to my face even before I could mutter a response. Before I had my pits lasered — something I'm still not sure was the best move on my part — my favorite after-school activity was propping a mirror on the bed and plucking each strand of armpit hair. It was painful. It was gratifying. It meant that I didn't have to endure background snickering should I raise my hands in the midst of unforgiving teenage girls. Upon closely inspecting the hairiness of my arms, someone I liked in college yelled, "Oh my God, you're a bear!" To this day, I second-guess wearing shorts or a dress, because I haven't taken care of my leg situation. Sometimes I opt to wear pants, despite the suffocating heat, although recently I've found that often I'm too tired to bother giving a sh*t.
How did I get here? When did I start hating how I looked? Did I covertly learn some coded language that attacks ample-haired folk like myself? Who told me to feel bad about body hair?
Countless people before me have learned to live with unfair beauty standards, and it's still very much in play today. Most people succumb to these standards and constantly fold themselves to fit in with certain beauty ideals, while remaining invariably unhappy.
Now that I'm older, I've tried to get at the root of my quest to being hairless — only one of my many issues to unpack — and I found that I couldn't even answer if I was averse to my body hair because I, through no external forces, disliked it, or if I disliked it only because I was told to. Do I even dislike hairiness, at all?
I grew up thinking that being balbon somehow signaled some anti-dalagang Pilipina image, something I find myself not really even wanting to be. But, when you're hairy, you're told that you look manly or dirty or unkempt, even if that's not the case at all. Body hair, for whatever reason, is the antithesis of femininity, which young girls are constantly raised to aim towards.
I've also found that people who say they find "'yung natural lang" as the most attractive tier of beautiful never really mean that when they encounter au naturel yetis like me in the wild. "Why doesn't she shave?" is likely the question coming from a lot of people, but really, why do I have to? Body hair just grows because of androgens, which is a hormone that all of us have. I have a lot of body hair probably because I inherited an abundance of androgens, who knows? And if I'm fine with the way I look then that, ideally, should be enough.
Because no form of body hair removal — be it via depilatory cream, laser hair removal, IPL, hot wax, cold wax, single-hair plucking nonsense or a razor — is 100-percent pleasant. Do you understand how torturous a Brazilian wax is, to mind, body, spirit and wallet? Why do we do this to ourselves?
We've lived long enough to attest to the pattern of standards constantly changing. What was attractive now isn't what was considered to be the ideal then. And I feel like the solution isn't really to change the mold of attractiveness or to simply skew it towards a different body type or characteristic. All that does is exclude even more people and set up more standards of impossibility.
We ought to accept that we don't fit into a single mold, and that that's okay. The sooner we realize this, the easier it will be to find ourselves on the path of love and acceptance.
We have so many "societal norms" to unlearn. Before we can get to a place of acceptance — or even better, a place of celebration — we ought to recognize that we currently bear the burden of living with untrue views and impossible standards. If we don't learn how to live with — and love — the all-too-human qualities that many still perceive as flaws, we'll never get anywhere.