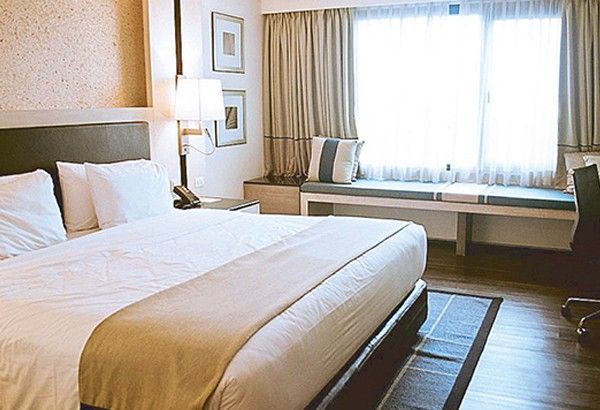 Settled at SEDA: The comforting vibe of the room instantly puts you in vacation mode once you step inside.
Ina Jacobe
(The Philippine Star) - November 25, 2016 - 12:00am
MANILA, Philippines - Bonifacio Global City (BGC) is one of the cities that almost every hip millennial aspires to be at. From convincing your whole family to try yet another "artisanal" restaurant to eat at to finally setting up shop your dream start-up company — BGC has all the fun and the functionality to accommodate all your needs.
But aside from being cool and modern, BGC's overall sense of place is so different from the usual city life that everyone knows of. It is an accepted fact that Manila is generally not a walkable city, that's why the thing I love the most about BGC is that everyone walks everywhere. I've worked here for two years and for someone who hates walking in the city, I've practically covered 50% of the area by foot (c'mon, it's a huge city). Basic amenities are within an arm's reach (or okay, maybe a block away) but walking is not really much of a bother to anyone who resides or work here given its tidy environment.
True to its name, BGC's standards are indeed global when it comes to its highly-operational setting. If you're not the type who likes walking under the sun (we understand, it's a tropical country), the city provides a bus shuttle service that can bring you around the area. It boasts of a great number of notable restaurants, a variety of boutiques to shop at, and even a modern museum you can go to with your family. The best part? You don't even have to deal with traffic while you're here… 'cause everyone (even the dogs) walk. The convenience and upgrade of the usual Manileño lifestyle it provides make me want to move there immediately and indefinitely.
I've been meaning to take a quick sabbatical to prepare for the final wave of holiday rush workload for this year. So when I heard that they needed a representative for the Mastercard BGC Holiday Experience, I called dibs immediately. But wait, I've seen so much of BGC I practically know it as if it was the back my hand. So what else is there that it can offer to me?
Settled at Seda Hotel BGC
Welcomed by their staff's warm smiles and a gracious snack bounty, we, the guests instantly felt the Filipino hospitality trait that Seda is known for. Accessibly located at the middle of the city, Seda is only a few steps away from the many dining and retail places at BGC. Suggested we rest before our staycation begins, we were ushered to our hotel suites to settle first.
I was put off by having to brave the rainy weather that day but my mood instantly changed when I got inside my room. There was a surge of comfort and calmness that puts you in vacation mode in a snap.
By 4 p.m. we were chauffeured by Volkswagen to Mind Museum to experience their latest attraction, The Science Circus. A festive façade of colorful exhibits that showcased different activities welcomed the guests. The Mind Museum team encouraged us to personally experience the booths as it was not only for kids but also for adults such as us. After the tour, we watched the "Frozen Science" show where our assigned scientist showed us different tricks with dry ice and explained the science behind it. Afterwards, we were given free time to quickly tour the rest of the museum.
Okay, fine. In all honesty, I always pass by the Mind Museum but I haven't really found the time (in those two years) to visit it. Of course, like that one kid in your class field trip, I got accidentally left behind by the group because I enjoyed my solo tour so many. Blame it to the good sir who took so many photos of me in the Static booth.
Powered by MasterCard, the ultimate BGC experience wouldn't be complete without a shopping spree. I looked forward to this activity the most because I could do some treat yo self shopping before I spend all my money buying people Christmas gifts. But since I was too busy checking the revolving planets in the museum, I missed the chauffer and had to go to go to our next destination by foot. Without any umbrella or raincoat to protect me, I once again braved the rain to go to the newest Uniqlo store in BGC. (Don't worry, it was just a couple of blocks away.) Have you heard? It's the biggest Uniqlo branch in the country. After an hour and some serious store hopping and window shopping, I finally bought a travel bag from ROX.
By 6:30 p.m. we headed back to Seda Hotel for our dinner and cocktails at the Straight Up Bar. As we got there, the earlier batch of guests were raving about Seda ham. It looked as if it tasted like a classic Pinoy Christmas — rich in flavor and drama-free. Unfortunately, I wasn't able to try the ham myself because I am highly-allergic to honey. But in case you want to experience it yourself, Seda will be selling their ham for the holidays.
It was a treat to enjoy my dinner facing a fantastic view of BGC. After a quick chitchat with the bosses and the other guests, I was ready to call it a day. With my wine glass in hand, I said good night to them and went directly to my room like that one tita in your family reunions. I fell asleep as soon as I got to my bed. It felt good to be able to sleep like a baby again after a long while.
Feeling rejuvenated the moment I woke up, I excitedly went to the breakfast buffet at the second floor of the hotel. In contrast to the rich dinner last night, I was pleasantly surprised by Seda's healthy breakfast buffet menu. They offered oats, whole grain bread, greens, and fruits. I had the usual bits of bacon and garlic rice but I also enjoyed my serving of papayas.
But alas, all good things come to an end. The overall BGC experience was short but was very exciting and fun. It goes to show that there is always something new to try and enjoy in this place. Being in an organized and vibrant city such as BGC takes you away from the usual worries of the metro even just for a little while.