How can you become an instant pop culture icon before you even turn 13?
A bubbly personality, for starters as Millie Bobby Brown showed last weekend when we got to meet her at this year's Asia Pop Comic-Con at SMX. All weekend long and all over the convention floor, men and women, young and old came out with shaved heads, wearing peach-colored dresses and denim jackets to cosplay as everyone's new favorite telekinetic, Eleven.
The overnight sci-fi sensation took over the Internet as Millie became an instant star thanks to Netflix's '80s-set series Stranger Things. The Spanish-born British actress was all cheers and laughs when Young STAR got to interview her at the Conrad Hotel Manila. Despite the long trip and obvious jet lag, Millie had a bright and sunny disposition that was infectious as hell — the complete opposite of the shy and quiet Eleven. The 12-year-old breakout talked to us about what Winona Ryder got her for her birthday (a super cool ring), going to school in between shooting (and loving it), and why she doesn't really have a dream role.
YOUNG STAR: Hi, Millie, it's such a thrill to meet you and we're huge fans of Stranger Things. In the show, your character Eleven loves Eggo waffles, so we have to ask: are you yourself a fan of Eggo waffles? What's your favorite food?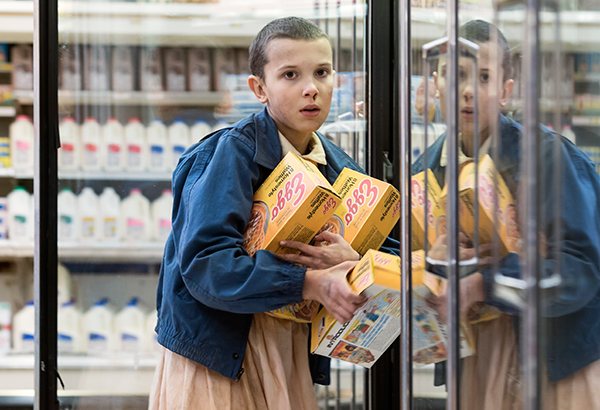 Cool down: Millie Bobby Brown plays Eleven in Stranger Things.
MILLIE BOBBY BROWN: I liked the Eggos! Everyone mistakenly thinks that I don't like it but I like the Eggos! I like the blueberry flavor; I've tried that. And I'm usually not a big fan of stuff like that but it's pretty good. It's just the amount of times I had to eat it. (Laughs) The thing that got to me was the Benny's Burger scenes where I'd have to eat the burger and I was like, I can't. That was my one "no" thing and I told the Duffer Brothers, "Please don't make me eat. If there's a next season please don't make me eat and have Eleven just starve herself." (Laughs) If you ask the boys, I like healthy things. I like salads. I just eat little and often throughout the day and yeah, the boys are very different. They like candy and donuts and I'm like, "Why would you eat such a thing?" Winona actually introduced me to a veggie burger and I was "Um… no, that doesn't taste too good." (Laughs) I'm gonna stick to In-N-Out!
Stranger Things took off almost overnight and we all became fans of yours as well as the entire cast. A couple of weeks ago, your co-star Shannon Purser who plays Barb tweeted that she'd love to play the fan-favorite Marvel superhero, Squirrel Girl. We want to know if you have any dream roles yourself?
You know, I read a lot of scripts like every week so I'm just very open-minded. I love comedies. I love romances. I'm really open-minded. I love all different types of scripts. It's funny actually because I'd always (end up) in sci-fi thrillers and I'd be like "Oh, I'm back here again!" (Laughs) So I don't really have a dream role. Whatever comes I'll take it.
In your recent interviews, as well as looking at your Instagram, we learned that you're a health buff and you often train at a legit MMA gym. You clearly know your way around action so if we hopefully see you in a second season of Stranger Things, would you want to use your MMA training and have Eleven kick some butt?
If there was a second season, yeah, it'd be cool! I go to the gym almost every day. I do boxing, Thai boxing, and Jiujitsu. I'd like Eleven to use her powers, like physically. I'd love to see Eleven do that!
* * *
Stranger Things is currently streaming on Netflix Philippines.