Why 'So You Think You Can Dance' has become important again
I am a self-confessed dance aficionado. Note: I am not a dancer. Also, I am a self-confessed fan of So You Think You Can Dance, the show that started it all alongside American Idol. Dance, after all, tells us so much without a single spoken word. Just pure movement. And emotions. Who knew there was so much contained in silence?
A lot of amazing dancers have passed through the show since it premiered over a decade ago. Travis Wall was a runner-up in season two and eventually became an Emmy award-winning choreographer. Dancers like Twitch have gone on to become superstars, playing sidekick to Ellen DeGeneres and even hamming it up in Magic Mike. And of course, we've seen the spotlight shift towards choreographers who have become stars themselves. Mia Michaels. Sonya Tayeh. Tyce Diorio. The list goes on.
But admittedly the brains behind it all, Nigel Lythgoe, has struggled to keep the show afloat and keep up with the times in recent seasons. Shakeups in format to allay increasingly demanding audiences have given rise to a "Street vs. Stage" version, which was less than successful in both acclaim and ratings. At one point, they even had to rely on ratings gimmicks, like bringing out a parade of celebrity judges — some of whom had no right sitting at the judges' table, harping on these dancers about their technique. (#ShutUpKatieHolmes, #ShutUpManyOtherCelebrities.)
Recent arm-twisting by the Fox network saw the show adopting a "next generation" format, meaning adjusting the age bracket of the contestants from those ripped hip-hop and contemporary dancers who have often been the show's trop brass and ratings drawers, to pipsqueaks and li'l leaguers who you'd most likely encounter in Little Rascals.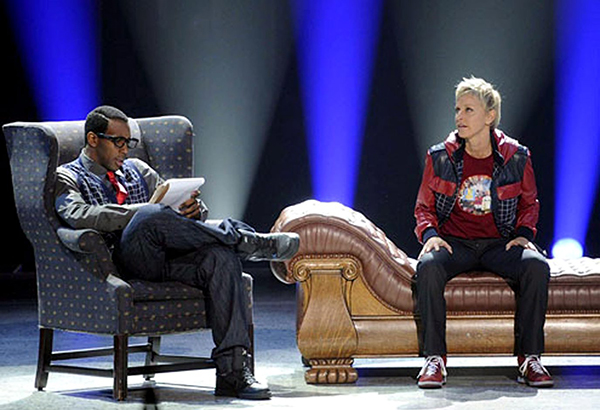 Sittin' pretty: Former contestant Twitch has performed alongside celebrity Ellen DeGeneres.
I admit, I wasn't a fan of this format change. Apparently, neither was Nigel. I liked my contestants old. "Old" meaning adult and having minds of their own. In fact, one look at the pilot of this latest season and the show was booted off my download list faster than I could shout Gotham and The Vampire Diaries. But coming into the live shows (of course the first few are always auditions), I found myself bawling like a kid after most, if not all, of the performances. What the hell was happening?
Permanent judge Jason Derulo, who seems to have softened his jerk status from previous seasons, put it best in one of the post-routine critiques: "This is the kind of show that we need in the world right now." I thought long and hard about that. And then I realized, seeing the kids paired off with all-stars like Comfort and Robert Roldan, and then rise to the occasion because of their commitment, had restored what dwindling faith I had left in humanity.
So You Think You Can Dance is shot in the US but is viewed all over the world. It's credited with bringing mainstream attention to the art form that had long taken a backseat to the ubiquitous singing competitions. But what the show's new format reminds you of is the purity of a child's intention and how kids need to be guided and be given the best of mentors.
Of course, there is skill involved, and the finalists undergo rigorous screening before being chosen for the live shows. On a side note, it's crazy how talented and positive these kids are. But watching the first of this season's live shows made me realize that, with all the change happening in the world right now, from the Brexit to the hotly contested elections, it's somehow comforting to see the world through kids' eyes again. Or better yet, students needing instruction and learning the ropes in a new society.
You know how at some point in our history, everything gets sorted out for us into dogmas, absolutes and truths? There's only one good, one status quo, one truth and we all just sort of side with it, or side against it. You are either an insider or an outsider. These days, there are more than two sides to each story and you sort of have to discern for yourself which one you agree with, and be able to stand up for it. In short, it's all become relative. And in a post-Obama world, relative is the new relevant.
Watching So You Think You Can Dance's newest incarnation, I suppose, reminded me that I can't possibly know everything at this point in my life. None of us can at any point, IMHO. But it welcomes us to watch with humility, just as those kids do, with the will to learn and open myself up to possibility of learning, to get closer to wherever it is I want to go.
It's good to have guidance, as evidenced by those life-changing and life-affirming routines. I'm not talking about Paula Abdul, or even Nigel who has gotten cheesy over the years (though his heart is certainly in the right place). But I'm talking about having a mentor by your side who brings out the best in you, and presents you with options, possibilities and restraints. At some point, the training wheels have to come off. And perhaps this is the time in our history when we finally have to grow the eff up and decide things on our own. Now, excuse me. I have some growing up to do.