Jonty Cruz
(The Philippine Star) - April 7, 2016 - 10:00am
MANILA, Philippines - They say sequels are always harder than the originals. So with this year's Madrid Fusion Manila — the follow-up to last year's inaugural Asian edition of the international gastronomy congress (the original Madrid Fusion started back in 2003 in Madrid) — there's more hype, anticipation and appetite than ever before. Last year's launch focused on the theme of "The Philippines and Spain: A 300-year Gastronomic Journey" and featured the very best chefs from all over the world, as well as our very own including JP Anglo, Bruce Ricketts, and Gaita Fores, just to name a few.
The Madrid Fusion congress is basically the culinary equivalent of Comic-Con. MFM 2016 promises to further strengthen the collaboration between Madrid and Manila more than ever with this year's theme of "The Manila Galleon: East Meets West," a throwback to the historic Galleon Trade which is celebrating its 450th anniversary. The three-day event has a lot in store, including talks by renowned pastry chef Miko Aspiras of Scout's Honor and Le Petit Soufflé among others, Leah Kohen of Pig & Khao from the United States, as well as Spain's Joan Roca and Jordi Butron. Aside from the talks, Madrid Fusion Manila will also have specially curated lunches featuring local chefs and ingredients, all sourced from all over the Philippines. Young STAR got to sit down with three of the chefs, all under 30 years old, who are being featured in Madrid Fusion Manila for the very first time.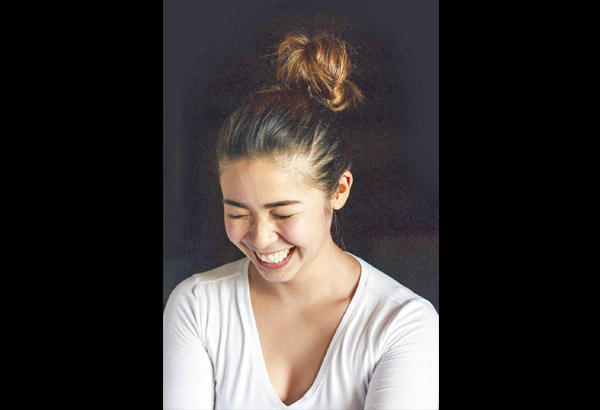 Nikki Misa, 27
Pastry chef de partie at Raffles and Fairmont
YOUNG STAR: How long have you been working?
NIKKI MISA: I've been working at Fairmont for three years, but I've been a pastry chef for five years.
When did you first start making pastries?
Actually when I was younger, I used to help my mom na in the kitchen, like she used to bake basic stuff. She wasn't a baker but she could make, like, basic cookies, brownies and pies. I thought baking was more fun than cooking other kinds of food. I remember I'd ask my mom if I could mix the brownies or if could I measure the ingredients. I just found it more fun.
Can you tell us what you're making for Madrid Fusion?
Well, we were asked to make a dessert for 100 to 200 people and we had to use a specific ingredient. They gave us honey and we're making brulee'd honey cake. Honey is kind of vague but we wanted to highlight the Philippine honey, which has a different profile compared to the honey from other countries. Ours is more woodsy. The organizers are giving us Palawan honey. It was challenging since honey's very simple. It was challenging to think of how we had to preserve the flavor of the honey and not have it overpowered by the rest. It had to be the star. So what we're doing is a brulee'd honey cake soaked in honey and carabao milk. It's an almond cake and we're topping it with honey butter and honeycomb. Honey is really tricky because once you cook it, it kind of just becomes a sweetener. The trouble is that once you warm it up or mix it, often it loses its purity. Now we're going to try and not really cook it for people to try the honey.
What's your favorite cake?
I love cheesecakes. I love cheese. I try and incorporate different kinds of cheese sa cheesecakes. The most popular one I make in Fairmont is the queso de bola cheesecake. I also make a manchego cheesecake with burnt butter and the recent one I made was with brie and lemon. The brie so far has been my favorite because it's very light, very mild.
How do you see our local cuisine now? Do you think it's underrated? Overrated? Static?
I think it's just underrated. The foreigners I've met who've eaten Pinoy food, they realize na ang sarap pala. It's very flavorful. Compared to other Asian cuisines, I guess ours isn't as colorful presentation-wise. I think Filipino food just needs more promotion. You don't need to change anything. We don't need to change the look because it's our culture. Promotion lang talaga.
You've won competitions and get to be part of Madrid Fusion. Where do you see yourself going in the next few years?
Honestly, I want to go abroad for a while to learn. I think there's so much to learn from traveling and working elsewhere para when you come back here there's more to teach and offer. I want to go to Australia since Australia's cuisine is kind of booming now. They're modernizing kasi and they're moving away from the French way and are now kind of more playful and fun. Maybe I can leave in like two years and then come back with more knowledge talaga.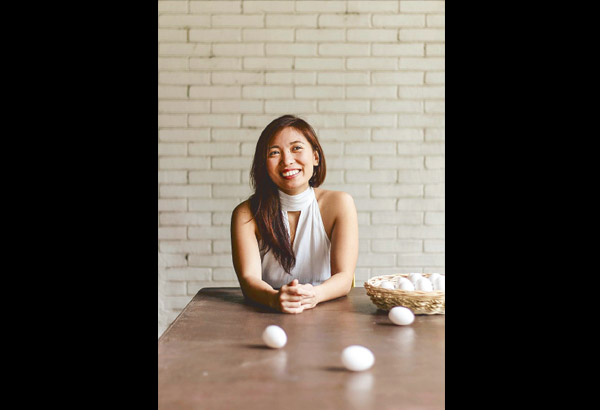 Kristine Lotilla, 25
Pastry chef, part of Tasteless Restaurant Group, co-creator of Scout's Honor, Le Petit Souffle, Milk Trade, Garde Manger, Freezer Burn
YOUNG STAR: Could you tell us a little bit about your career as pastry chef?
KRISTINE LOTILLA: I worked at Fairmont and Raffles for two years and then chef Miko Aspiras asked if I wanted to go into business with him. I felt like the hotel path wasn't for me so I took the opportunity to start something with Miko. So yeah, at 24 I left my stable job, which was scary, but it was a leap of faith that I'm very thankful I took.
You opened Scout's Honor and partnered up with chef Miko. How was that like?
What we did, kasi in theory we thought cookies are relatively easy to do and because we both have professional careers as pastry chefs. We were like, "Hirapan natin ng konti para hindi tayo magagaya." (Laughs) The nice thing about Miko and I is that we're opposites, so we know how to level things out. Usually we run through ideas and it's always fun working with Miko. Kasi he always thinks outside the box and since he's older than me he kind of became my mentor na rin, 'cause I did leave Fairmont at a relatively young age to put up a business. So he was the one who really guided me to deal with all sorts of things. I actually owe a lot of my growth to Miko.
There's been a lot of press about Pinoy food but it's mostly the culinary and savory dishes. Would you say that Pinoy pastries are underrated?
Yeah, I think Pinoy pasties are underrated because there's so much potential for us to experiment with Filipino pastries. No offense, but there's just this certain mentality that we prefer having foreign pastries. Like kunwari, puto. There will be some who'll be like, "Ay, puto…" But actually, done right, puto can be really, really good. I think we have so much potential with it. Even with Filipino ingredients there are actually good ingredients but since we tend to always think that foreign ingredients are always better parang sayang yung potential ng Filipino food and ingredients. I remember last year's Madrid Fusion, Miko did a chocolate kakanin and everyone who tried it enjoyed it. I think there's so much potential and kudos that Filipino food is being recognized but sa Filipino pastries, we're still gonna try hard to push that.
You're working with Nikki at this year's Madrid Fusion. Could you tell us more about the dish you're making?
What I'm looking forward is how we can use the honey, something relatively simple and try to incorporate much more technique into it. And I really love working with Nikki because she was actually one of my partners in a competition before and I've worked with her well in Fairmont. So with this one, we really tried to think of something that will really enhance the flavor of the honey, which sometimes is hard since honey is kind of subtle but you know it's exciting na parang for once it's something we love doing together, we get credited for it. We're just going to enjoy it and hopefully people will actually like what we'll do. Some of the techniques we'll do are inspired by the trips we've had together, so it's purely Nikki and me!
After all the work and preparation for Madrid Fusion is done, what's next for you?
When I'm a lot older, I guess I'd want to teach. I'd like to see how it is to teach people like our staff and seeing how much it benefits them having to grow. I'd want to give the people an opportunity to enjoy what I do and eventually do their own thing and be good at it and knowing that the Philippines has a good chance at doing pastries. I don't want to be selfish with the opportunities given to me. Usually di ba pag-restaurants you try and hide the recipes from your staff para hindi sila umalis or whatever so parang they don't fully understand it, but our theory is that we try and teach as much as we can and we try to be good to our staff para we know it's not only our growth but theirs. It's good karma. In the long run I just want to see people enjoying Filipino pastries, be able to make good pastries, and be able to use local ingredients para then when local farmers see that the Fiiipinos are actually using their ingredients the quality goes up. I think kasi one of the reasons why the quality doesn't go high is nasanay na tayo na ganun lang and eventually I want to push for something better. I think we have so much potential that we aren't just tapping into.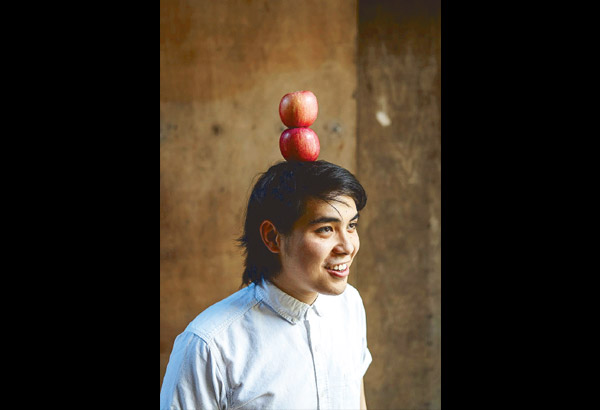 Gab Bustos, 23
Chef and co-owner of 12/10, The Girl and The Bull
YOUNG STAR: Can you give us a quick summary of your career so far?
GAB BUSTOS: In 2012, my mom opened a bed and breakfast in BF. There was space there and she decided to open a restaurant. Super classic, like continental food, just the usual stuff like steak and mashed potatoes, sea bass, pasta, all of those things. When she opened, I decided to work for her there, to handle it, work in the kitchen, and be exposed to the business. Siguro from there that's where I gained kitchen experience, how to deal with stocks, the restaurant operations. Basically it wasn't doing very well, the crowd in BF didn't dig it, and then towards the end this Japanese chef dropped by and decided to help out. According to his story, he's worked in Michelin-starred restaurants in New York. I've done some research and there's not much (about him) but I know he studied in New York and he was based in San Francisco, etc. I owe him a lot because he really taught me basics, the techniques, how we make our sushi rice. At that time, we went to the market and that's when he introduced the idea of doing stuff that was fresh from the market, like having a menu that can change daily or weekly, depending on what you have versus having a long menu. Doon talaga nag open yung mind ko and that's where I learned the techniques. And then one day parang dinampot nalang siya ng barangay officials. We never saw him since then. (Laughs)
That's such a surreal story. Do you remember the guy's name?
Chef Paul Onami. A lot of people in the industry know him naman. He used to do private dinners I think for, like, big-time people. A lot of established people know him. I just don't know what happened to him along the way. I never saw him since. He helped me out for, like, three months. Every day he was there and he stayed at the bed and breakfast right above the restaurant. That's how he survived. Like "Sige, I'll just offer my help in exchange for a place to stay." Surreal talaga.
How have you grown in the last few years? What have you learned about food or cooking in general?
Right now the biggest change for us, I guess we feel more connected with the food and the process now. With 12/10 it's an izakaya so we just don't serve the food but the beverages as well. So we had Elliot Faber, the beverage director of Yardbird recently, and we had a sake training for our staff. It was really for us to learn more about it and come up with our own sake menu. For us, it's really going to the root of it, learning about its origins, the culture, not just like the ingredient or what it tastes like but more, really, the history of it, the hows and whys. When you learn something at that level, like for example with sake, if you know the process, it changes the way you experience it. I guess for us that's what's exciting. At this point you see it differently, like you see the beauty in everything. Even just like the simple pleasure of drinking good wine, even if you're just at home, it's exciting kasi you learn. Even with food it's like that now. It goes beyond just ordering something. (Laughs)
You're getting the chance to be part of Madrid Fusion at such a young age. Do you see this as more of a success indicator that you've made it or is it more of an opportunity for you?
It's an opportunity talaga. I guess how we think and how we deal with things, for lack of a better term, it's never good enough. Not naman na what we do is never good enough but it's more about na we have to keep pushing. I mean the moment you say, "I'm here" or "I've made it," that's when you crash eh. Of course, it's an honor to be a part of it, and there's a lot of pressure because you have to deliver. Overall it's an opportunity, it's an experience, and no matter the outcome we know that after Madrid Fusion we will be better. I mean I know I've never served 300 guests before. I'm excited for it though and after that I'm sure it's going to be a learning experience for us as a team. Experience talaga is the best teacher and to be able to be a part of it and hear the chefs and see the chefs, there's a lot we can learn.