The sweetest jam
Up Dharma Down and other bands play for the benefit of a seven-year-old boy named Gelo.
What is the purpose of music? If someone asked me that outright, I would feel like doing several things, one after the other: shaking my head, sighing, and, ultimately, ignoring the question altogether. Music needs no purpose, no justification. If we are lucky, it is made — or we make it.
Some nights, though, there is an answer, and it can be a pretty clear one. Last May 15, at B-Side at The Collective, there was Jam for Gelo.
"Jam for Gelo began as an idea from Soundesign sound engineers Carlos Tañada (of Up Dharma Down) and Moks Vitasa (Jollyrogers) to help raise funds for Gelo, our receptionist Yvette Acebedo's 7-year-old son, who was diagnosed with Severe Aplastic Anemia earlier this year," says Celine Angue — a studio producer and associate creative director of Soundesign Manila, and one of the gig's organizers.
"Gelo currently goes through a weekly blood transfusion, which costs around 20,000 pesos a session, and will eventually need to undergo a bone marrow transplant, which will cost about a couple million pesos for the procedure alone.
"It actually started out as a hopeful 'What if we do a small gig' sort of plan," Celine says. "Since most of the sound engineers here are from different, well-followed bands, why not set a date to have them all play together? The planning process kept on from there, until eventually, two months after, it became a lot more than any of us ever expected."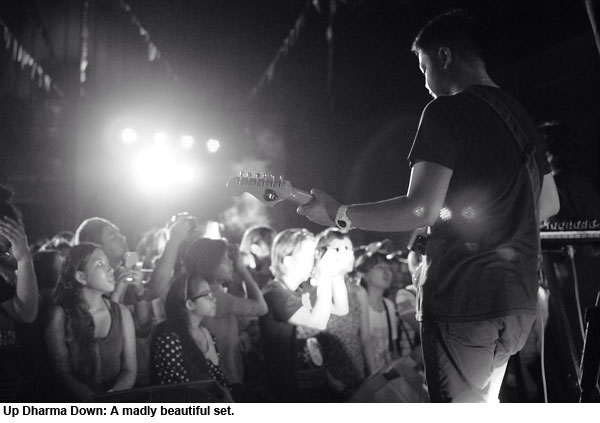 The gig's lineup was drawn from the Soundesign ranks, with some friends. "All these bands agreed to perform at no cost just to support the cause." It turned out to be an eclectic and balanced array of acts: "What was interesting though was, these bands had a natural blend of sounds. The first six bands (The Squibs, Jollyrogers, Pope, Nyctinasty, Mayonnaise, Salamin) ranged from alternative, to a bit of pop, to full-blown rock. Then came Quest with his intensely uplifting pop/ R&B/ hip-hop fusion. Up Dharma Down came in last, with their madly beautiful and generously extended set."
For the people in attendance, and especially the team involved, "The whole event was one long highlight," says Celine. "It was generally awesome seeing seemingly normal officemates perform as the rock stars that they actually are on stage." Tickets were sold out—"More wrist bands at the entrance were made on-site just so more people could come in. As per our record, about 600 people joined us that night, not counting the guest list, and the ones who had their tickets reserved but were not able to come." Everyone from the office, not just the people in bands, pitched in. "It became a family event and we all did it for the love of our little hero."
"Because of the event, Yvette was able to start an official bone marrow savings fund, which we will still try to help her fill," says Celine, happily. "We do have plans to organize another gig. We know that we have started something very promising, and we have been motivated by it."
What is the purpose of music? At its best, in different ways, it heals and it helps. It reminds us that we are human.
* * *
For people who are willing to be blood donors (particularly those who are type O -/+) or offer monetary support, they may get in contact with Yvette Acebedo at 0925-500-1093, or message Soundesign through their Facebook page: www.facebook.com/soundesignmanila.