The Strokes have paved the way for a 'New Abnormal'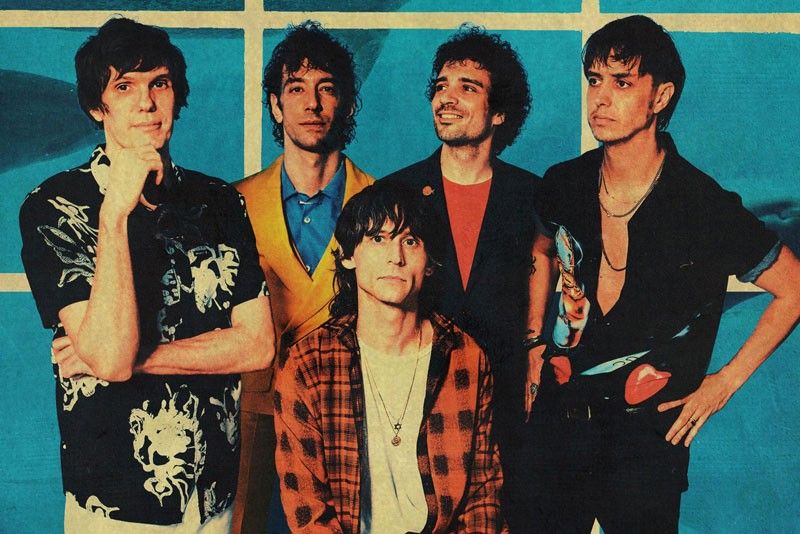 My undergraduate thesis was a stylistic analysis of The Strokes frontman Julian Casablancas' lyrics supported by a corpus linguistic study centered on the word "wait." This meant building a corpus — also known as a collection of words — out of his songs, tracking how frequently "wait" appeared in them, and breaking down the meaning of each track through a stylistic theory to find the relevance of the word to the songwriter, and to determine why he used it so much.
I'll spare you the details; the important thing here was that when I uploaded Julian's lyrics to the corpus analysis software, I was able to determine that "wait" was, indeed, the word that occurred most frequently in his songwriting. (Minus the more common pronouns and articles, of course.)
And the point here is: waiting is kind of a recurring theme when it comes to the Strokes. Even when you're a listener. Especially when you're a listener.
Their sixth album came out last week, released four years after their "Future Present Past" EP, seven years after their previous album "Comedown Machine," and almost 19 years after their groundbreaking debut "Is This It." That's a lot of time. That's a lot of waiting. It began to seem almost mythical, like it would never actually happen. Wouldn't it have been just like the Strokes to have their final track be a half-somber, half-mumbled ballad titled Call It Fate, Call It Karma, after a line from Ghostbusters?
But they continue to beat the odds. The nine-track album is called "The New Abnormal," and in its greater moments, it showcases the best of the Strokes together and apart. Since they adopted a more collaborative (if initially volatile) songwriting process on "Angles," certain Strokes tracks have been easier to pinpoint as the work of a certain member, from guitarist Albert Hammond, Jr.'s frenetic and unpredictable energy to drummer Fabrizio Moretti's loopy but sophisticated deviations. It's nostalgic but in the moment, familiar but something nobody else could have done.
Single Bad Decisions, in particular, is practically a mashup of the Modern English classic I Melt with You and Billy Idol's Dancing with Myself — a perfect example to cite when mentioning the album's laconic description, which is basically this: It wouldn't be out of place on the soundtrack of Disney's 2005 teen-hero film Sky High, and it kind of works.
You can't say it for sure, but you can guess that the Strokes actually had fun with the creative process; it's not just something to do for a paycheck. There are New York City Cops-style ad libs between the members left on multiple tracks. For a band that's known for unaffected Manhattanite cool, it's refreshing to see that the Strokes care. They care so much that part of the album's promotions included performing at a Bernie Sanders rally. The guitars are intricately tangled as ever, complementing '80s synths and falsetto — but there are also instances of crystal clear vocals, to match the equally unfiltered lyrics. They border on confessional, which is something new for a band that's preferred to keep it vague and esoteric.
Another thing that sounds just like The Strokes? The fact that after everything, they happen to have dropped their long-anticipated album in the middle of a global pandemic that has drastically changed how we live. They've always been stuck with generational labels and expectations pinning them to the zeitgeist, their work and existence always seeming to signal the beginning or end of something. And with such an aptly titled album, they might have just done that again.
The songs were written pre-quarantine, but some of the lyrics can't help but hit hard: "I just wait for this to go into circles," Julian sings in Brooklyn Bridge to Chorus. "And the distance from my room, is anything so necessary?"
At six minutes and 15 seconds long, Endless Summer is the longest track on an album that averages five minutes per song. Having been raised on new wave karaoke sessions, I instantly recognized its sampling of The Psychedelic Furs' The Ghost in You in the chorus as Julian croons, "Summer is coming, it's here to stay." The familiar melody elicits a feeling of deja vu, adding weight to its overall effect of dissonance — the song sounds bright and full of possibility, but it's actually more about feelings of ennui, of the pitfalls of boundlessness. It's inescapable. You want it to be over.
Last I heard, only two members remain in the city that they arguably define as much as it defines them. Final track Ode to the Mets, which is just under six minutes long, cements the fact that you can take a Stroke out of New York, but you can't take the New York out of the Stroke. It's a fitting outro, and also a little too close for comfort in these times: "Gone now are the old times, forgotten, time to hold on the railing," the lyrics go. "So pardon the silence that you're hearing. It's turning into a deafening, painful, shameful roar."
When I was working on my thesis, my adviser told me to study the sociocultural background of each album I was analyzing, i.e. what was going on in the world at the time of its release? I didn't understand the significance of it at first — the state of the world in the aughts felt like too broad a topic to include — but it ended up helping me make sense of a lot of the lyrics with the added context. And it's helping me make sense of this album, at least in relation to what we're experiencing right now.
There's always been something vaguely apocalyptic in certain Strokes songs, like Ize of the World ("young adults to modernize / citizens to terrorize / generations to desensitize … cities to vaporize") and The End Has No End ("one by one, ticking time bombs won / it's not the secrets of the government that's keeping you dumb"). They welcomed the new millennium with "Is This It," and now they're welcoming a new decade. Their music has seen their generation — and the ones that have followed — through war, and disaster, and collapse, and now this pandemic. Their Gen X nonchalance has grown the heart and spine needed for political dissent.
When I first heard that they're calling their album "The New Abnormal," it sounded contrived, commonplace. Old. But now it's almost prophetic, in a tongue-in-cheek kind of way, of course.
I'd been wondering whether the so-called tradition of "wait" in Julian's lyrics would continue with this new era. And when lead single At the Door was released, there it was: "Anyone home? Have I lost it all?" he sings. "Lying on the cold floor, I'll be waiting. I'll be waiting from the other side, waiting for the tide to rise." Another few instances to add to my corpus. A continuation of a cycle I've never minded.
Listening to this album, in the house I haven't left in over a month, I turn pensive, restless. It goes too well with the aimlessness I feel as the days blur together, slow and everlasting. But somewhere in there, there's also purpose, drive, and just the tiniest bit of spite: we will make it past this, by sheer force of obstinacy at the very least. What's Ode to the Mets about, anyway, if not rooting for the underdog?
As always, as ever, we wait.