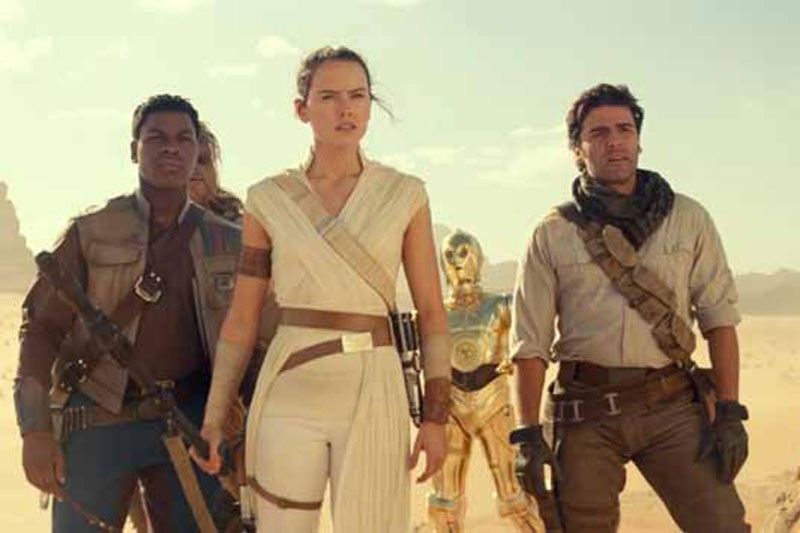 Star Wars: The Rise of Skywalker concludes the story that was set to motion in The Force Awakens, where Rey (Daisy Ridley), Finn (John Boyega), Poe (Oscar Isaac), and the rest of the Resistance must end the Sith once and for all.
'The Rise of Skywalker' brings the fanservice — for better or worse
Fiel Estrella
(The Philippine Star) - December 21, 2019 - 12:00am
This week, a Twitter user by the name of Ali Arikan posted, "It's May 25, 1983. I'm about to watch the final Star Wars Film. It's May 17, 2005. I'm about to watch the final Star Wars Film. It's December 20, 2019. I'm about to watch the final Star Wars Film." The tweet does a great job of summarizing what the Star Wars experience has been like for the past 40 or so years. That is, we've been here before — and we'll likely be here again for decades to come, if Disney's newfound fatigue-inducing penchant of running its universally beloved titles to the ground is anything to go by.
As it is, our current end is Star Wars: The Rise of Skywalker, the third and final installment to the new trilogy that began with The Force Awakens and the ninth overall in the Skywalker saga. (You can't call it anything else — director J.J. Abrams made sure of that.)
As the trailers suggested, Emperor Palpatine (Ian McDiarmid) has risen from the grave, and he has tasked Kylo Ren (Adam Driver) to bring Rey (Daisy Ridley) to him — and to the Dark Side — once and for all. When the Resistance gets word of this new threat, Rey, Finn (John Boyega), Poe (Oscar Isaac), and Chewbacca (Joonas Suotamo), along with trusty droids C-3PO (Anthony Daniels) and BB-8 race to find the artifact that would lead them to Palpatine's whereabouts, so they can end the Sith for good.
There are new planets and new allies — some of them pleasant and welcome surprises — and even a new droid buddy in D-O, who spins about on one wheel and greets our heroes with a warm and polite, "Hello." The dynamic between Kylo Ren and Rey, especially with the Force connection established in The Last Jedi, continues to be refreshing and intriguing as they both struggle with internal battles between Light and Dark and who they really are. Unlike the last film, most of the action sees the core trio of Rey, Finn, and Poe together, and we finally get to see how they really work as a team.
It becomes immediately clear, however, that this movie has a mission of its own. You can feel it course-correcting from the path laid out by its predecessor, from doling out subtle retcons to undoing big reveals in ways that are clumsy and lazy. Even its own hard-to-swallow twists are taken back not long after they occur — literally proclaiming to the viewer that this time around, they're being too careful to upset the far, far away galaxy's status quo. (And its finicky fans.)
Reception has been varied among the general public when it comes to The Last Jedi, but it's better to divide a crowd for something subversive than to do the same thing but for pandering and coloring inside the lines. And reception for The Rise of Skywalker has not been that warm at all, shaping up to receive the lowest Rotten Tomatoes score for this trilogy.
The Last Jedi, at least, dared to strive for something new — and almost succeeded. It was setting up a brave new story that would have deviated from the Skywalkers and the Palpatines and other names we've already heard over and over. The movie that follows ignores these setups, and can't even resolve the conflict and questions it raises, such as when Finn desperately tells Rey he has something to tell her during a near-death situation.
The plot moves in a series of expositions and hasty, shoehorned reveals, but it apparently has no space for realized character development or seeing crucial scenes through to their full potential. Rose Tico is all but cast aside. Finn and Force sensitivity remain vague and unaddressed. The big moments do not feel deserved, like they could have gone somewhere but didn't venture far enough.
Star Wars has always operated on nostalgia, but here it basically functions as a crutch. The winks, nods, and callbacks are sweet, but feel insincere and fail to elicit strong emotions — the movie too aware of being a finale for its own good. It all feels like there was overthinking regarding the approach to please the fans, and the result is convoluted and soulless. It's still an adventure — but the end, when it comes, shouldn't be as much of a welcome relief as it is for The Rise of Skywalker. You shouldn't be glad it's over.
One can't help but think that the young farm boy we met in the beginning of A New Hope, who killed what time he could at Tosche Station and longed for a way out of his dead-end existence, to see anything beyond the binary sunset on his unremarkable planet, would never be able to live with himself if he took the safe way out.