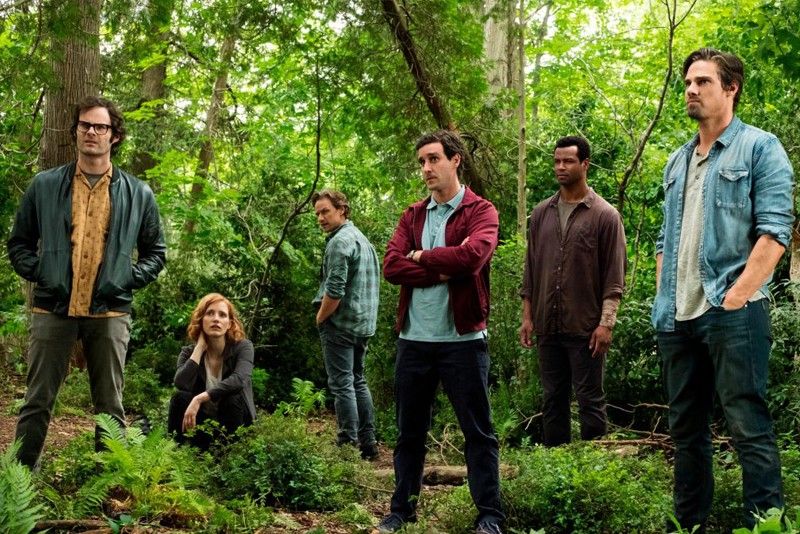 'It Chapter Two' brings the Losers back to Derry for a final showdown with what scares them the most — and a final reckoning with what it means to grow up.
Fiel Estrella
(The Philippine Star) - September 7, 2019 - 12:00am
MANILA, Philippines — With a talented young cast, committed practical effects and tension-filled terror that went beyond jump scares, and a refreshing new take on the iconic creature Pennywise, Andy Muschietti's 2017 adaptation of It very well may have redefined horror for the 2017. It made over $700 million in the box office — practically unheard of for a horror film — and has since become highly regarded as one of the best interpretations of Stephen King out there.
Its sequel, to no surprise, has been highly anticipated, especially following the fan-favorite casting of Jessica Chastain as the adult Beverly, with The Disappearance of Eleanor Rigby co-stars James McAvoy and Bill Hader taking on adult Bill and adult Richie respectively.
It Chapter Two finally arrives in theaters two years after its predecessor, set 27 years after the events in the first film. The Losers are all grown up and have gone their separate ways: Ben is a successful architect, Richie is a well-known comedian, Eddie is in risk management, and Stanley, Bev, and Bill are all married, the latter having become a writer of horror fiction. Mike is the only member who never left Derry, and nobody else remembers having lived there or what transpired in the summer of 1989. When a series of deaths and disappearances start up again, he gives his old friends a call and reminds them of the pact they made together — to defeat It once and for all.
One of the main draws of the sequel is definitely the terrific cast, which also includes Isaiah Mustafa, Jay Ryan, and Andy Bean. Not only do they resemble their younger selves, they also do a good job of recreating certain trademark behavior and even the chemistry between characters. Hader absolutely steals the show, and it's not just because he's the comedic relief. His impression skills shine through in particular: he's able to mimic pretty specific ways in which Finn Wolfhard, the young Richie, would deliver his lines. (For Saturday Night Live fans, Hader's infamous Jabba the Hutt impression also makes a delightful cameo.) James Ransone, who may be familiar to some as Deputy So-and-So from the Sinister movies, also maintains the same frantic energy as Jack Dylan Grazer does in the role of Eddie.
At 170 minutes, It Chapter Two is only around 15 minutes longer than It, but there are moments where it starts to drag, weighed down by scenes that feel a bit too clunky and expository. Some character-specific reveals are well-done, but the mythology surrounding It feels overstated in its delivery yet still under-explained. Still, Chapter Two makes it work, not without fantastic set pieces and sequences that show off the abilities of Bill Skarsgard as Pennywise along with the practical and special effects departments, including scenes involving a funhouse and the iconic Paul Bunyan statue (finally!).
The decision to split the novel into two movies was strategic not only in terms of plot and length, it's also good for callbacks and some fun gags that make viewers feel nostalgic, like 27 years have actually passed and not just two. There's a lot of great parallels and bookending of memorable scenes, and a particularly hilarious casting gag involving Eddie. The horror is less urgent and it may not hit you as hard as the first, but the comedy and character development make it well-balanced. (You may find yourself asking, "What's with all the Meg Ryan references?")
But the movie's most nostalgic aspect is also what makes it unquestionably the work of Stephen King: ruminations on memory and growing up. Between trying to save their hometown and rid it of the monster that's been plaguing it forever (not forever, Mike would counter, just millions of years), the Losers are also rediscovering what they loved about their childhoods and each other, no matter how difficult and scary those years were, as well as the importance of believing in something, such as your own invincibility. It's what keeps you rooting for them, because you feel like you've been through it all with them as well.
It's easy to want to forget when things are awful. But it's choosing to keep the good parts with you, and how they've made you who you are, that makes you brave.