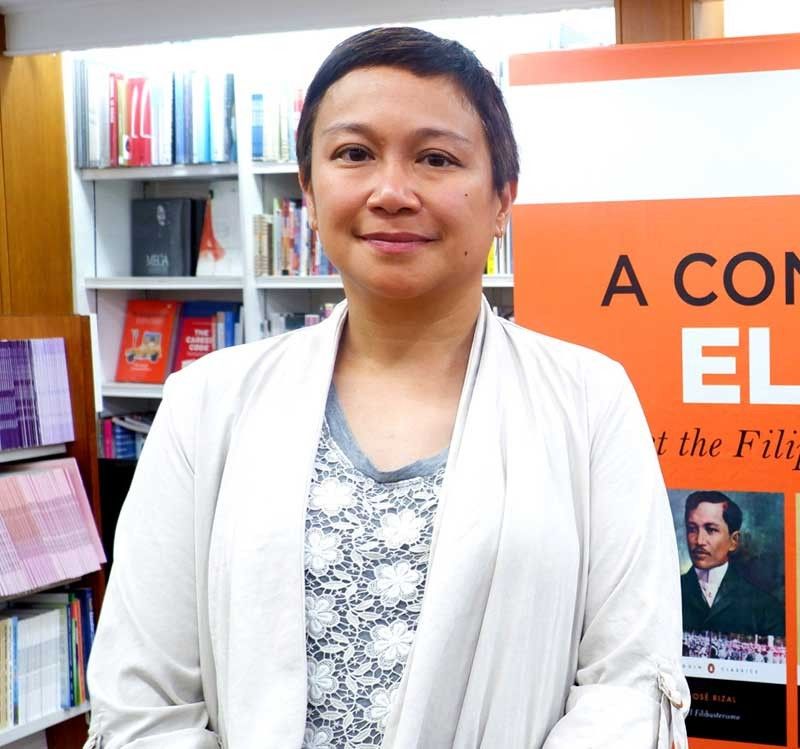 Elda Rotor recently came to Manila to give a talk about the makings of a literary classic, and to launch the "Loving Pinoy Lit" essay writing contest.
For Elda Rotor, the Filipino vice president and publisher of Penguin Classics, representation and diversity are the key to keeping literature alive.
There are 1,900 titles in the Penguin Classics series," Elda Rotor begins when asked about the challenges of handling the legacies of such storied writers and their work. With four editors working with teams in marketing, publicity, sales, art and production, it can be intimidating, but that's also part of what makes it rewarding. "Coming into the brand and working with people, I learned that most of them already have a memory of Penguin Classics in their lives, usually from classrooms. I'm a total student of Penguin Classics; I find a real sense of joy in learning about an author or reading an author's work."
As vice president and publisher, Rotor — who was born in Makati and has worked in publishing for over two decades — has been pushing for more diversity and representation, including works from Filipino writers. Today, the Penguin Classics library includes five titles from the Philippines: Noli Me Tangere and El Filibusterismo by Jose Rizal, Doveglion by Jose Garcia Villa, The Woman Who Had Two Navels and Tales of the Tropical Gothic by Nick Joaquin, and America is In the Heart by Carlos Bulosan.
Rotor was in the country to give a talk on what makes a classic, as well as to announce "Loving Pinoy Lit," a Penguin Classics essay-writing contest in partnership with National Book Store. It is open to all junior and senior high school students residing in the Philippines, and implores them to write in English or Filipino about one of the five Filipino-written Penguin Classics so far and examine why the book remains relevant today.
"It will provide an opportunity for all of us to get a sense, to kind of take the temperature of young minds right now," she says of the contest. "I also feel like it's a great opportunity for young people to think critically of their literary heritage, and to sharpen their critical skills and to take what they've learned from their teachers and apply it to these books."
In this interview, Elda Rotor discusses the importance of reading in difficult times, how publishing benefits from marginalized voices, and our relationship with paperbacks in the digital age.
SUPREME: What constitutes a Penguin Classic?
ELDA ROTOR: A Penguin Classic, to me, is a book of high-quality production, which is thoughtfully prepared with editorial apparatus by an expert or a professor or a writer, to help guide the reader into the experience of reading the book. It's a book with excellent production elements to it, beautifully designed, but it's also a book, I would say, that connects a community across generations, so it could be meaningful in very unique ways to each reader, but there's a timelessness to the work itself that it is something that people will tend to revisit over and over again through time.
How important is it to engage with and consume literature, especially the classics, in tough times, like what we may be experiencing now?
We all need ways of dealing with trauma and stress. Whether or not we meditate or do yoga or do sports, we also need a release and an escape with our minds. It's interesting to observe the types of books that people reach out for, whether they be poetry, or adventure, or even books by Hannah Arendt and Marcus Aurelius. We pay attention to (why they reach for them) and guide those readers to other books like that — finding ways of connecting with that urgency.
Our relationship with reading and print has changed a lot in the digital age. What have you observed in today's readers? Do they take print for granted, do they appreciate it more?
I think that years ago there was probably a concern about ebooks, but I feel like paperbacks are still preferred. We're really open to providing books in any format that anyone chooses. What we've noticed in the industry is that audiobooks have exponentially grown, and that's exciting. If anything, we have your attention, because it's a book, no matter whether you're listening to it or reading it. I think, though, that the assumption that young people prefer digital is wrong, I think there's also the nostalgic sense for analogue life, and it's more fun to mark up a paperback. You really can't do that with an ebook.
What current movements in literature and publishing do you find exciting and noteworthy?
I really like the idea of bringing the light to modern marginalized voices. I think it's time for that, I think it's time for writers of color, more LGBTQ writers, writers who have not necessarily been the default to get the attention to be published more, and I think that editors and publishers have been paying attention to that because their audiences are so hungry.
That's also how we keep Penguin Classics relevant, I think: the choices of books that we're publishing. I feel very strongly about representation and inclusivity, so we really have been focusing editorially in areas where we don't see enough representation of classic literature from around the world or around the United States from non-Anglo writers, in particular, like Asian American writers or Latino writers. We want to do more of that. We have a long list of African-American classics. I think everybody appreciates the idea that you can connect to books, not knowing that you do have something in common with the author's work.
* * *
Penguin Classics are available at National Book Store branches. For more information on the "Loving Pinoy Lit" contest, visit nationalbookstore.com/lovingpinoylit.