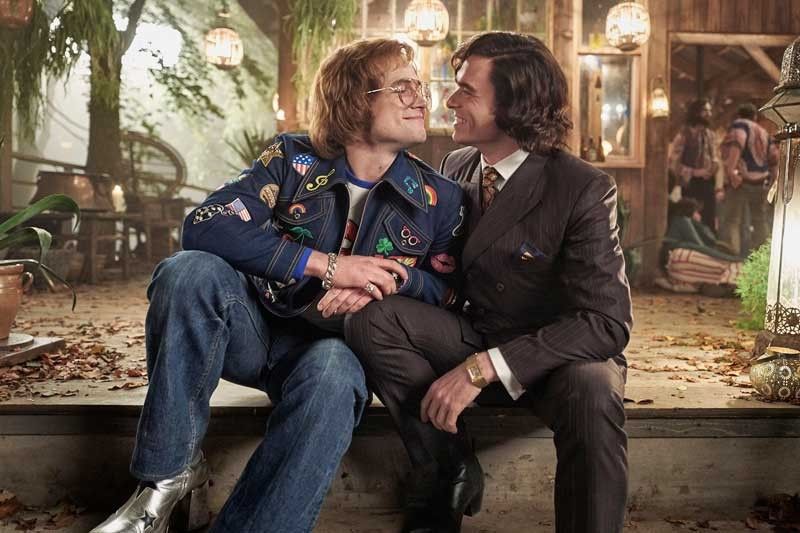 Rocketman stars a brilliant Taron Egerton as Elton John and Richard Madden as his manager and lover John Reid.
Hold me closer, tiny dancer
With grace and honesty, 'Rocketman' maps out the journey Elton John has taken to become a soul man — and provides refreshing LGBT visibility along the way.
There's a smattering of laughter from the audience during the first few minutes of Rocketman, where a single-minded Elton John, played by Taron Egerton with equal parts grace and brilliance, bursts into what appears to be an Alcoholics Anonymous meeting in complete stage getup: an impressive, fiery number, with giant wings and pointy horns. There is a pause afterwards, highlighting the absurdity of the situation, but once he begins talking, and those in the room respond, he becomes just another person living, and sharing, his truth. And then the music begins.
There has always been an air of larger-than-life to Elton John. And Rocketman — the biopic that tells his story from a childhood spent falling in love with the piano to rock 'n' roll excess and, fortunately, beyond — delivers a send-up to an icon that's as eccentric and sentimental as he is.
Director Dexter Fletcher is no stranger to musicals and recounting the lives of fascinating individuals, having also helmed Sunshine on Leith and Eddie the Eagle (and finishing off Bohemian Rhapsody after Bryan Singer was replaced). It helps that Egerton leads a strong cast that includes Richard Madden, Jamie Bell and Bryce Dallas Howard.
Using the rehab session as a framing device, the film doesn't shy away from theatrical flair and unfolds in a series of spectacular set pieces, from a somber underwater sequence to a room full of people literally levitating at John's historic first performance at The Troubadour in LA. A fittingly more subdued moment would be the writing of Your Song, which he performs on the piano in the home where he grew up, with only his family and songwriting partner Bernie Taupin in the room. Each song is not only a highlight of the artist's discography, but also a reflection of characters' emotions, convictions and conflict.
At its heart, this movie is about identity. And Rocketman doesn't shy away from every important aspect that makes Elton John who he is, including his sexuality and whom he has loved.
It's refreshing and adds another layer of vibrancy to the film, but more than that, it's arguably necessary. A number of other biopics of iconic gay and bisexual musicians have a tendency to be ambiguous or casually gloss over these real, lived experiences — even ignore them altogether — or treat homosexuality like it's taboo, malicious, something to be ashamed of. By erasing this part of who they are or were, the resulting work does little to respect their legacy.
In contrast, the queer elements in Rocketman, which includes nudity, are realistic but also affectionate, never sensationalist or played for laughs. It has been banned in Samoa for this exact reason, but in the Philippines, which is quite conservative, it has been screened uncut. LGBT media remains a target for censorship and age restrictions. Even chaste same-sex kissing scenes are cut for television, and it's time to question this and turn it on its head.
The gentle sincerity of Rocketman, despite hurdles it can't control, is a crucial step towards progress in honest LGBT visibility and normalization, especially since it's a major production opening wide among the big summer blockbusters. It goes beyond relationships and intimacy — there's the matter of coming out to the people closest to you, feelings of isolation and misplaced guilt, struggling with doubt and loathing, and striving for self-acceptance. By highlighting these experiences, both the good and the bad, the movie tells its audience that everyone is valid and deserves love, and people who can relate can realize that they're okay, and they're not alone.
In the film, a shy piano player named Reggie Dwight asks, "So how does a fat boy from nowhere get to be a soul man?" Effervescent and striking, with characters that sparkle just as much as the man's elaborate and eccentric fashion sense, Rocketman maps out the exact path he has had to take to become Elton John. And as he learns, it's not just about changing your name and trying to become who you want to be — the most important step is embracing your true self, and surrounding yourself with people who do as well. Who can be a soul man, after all, without a soul?