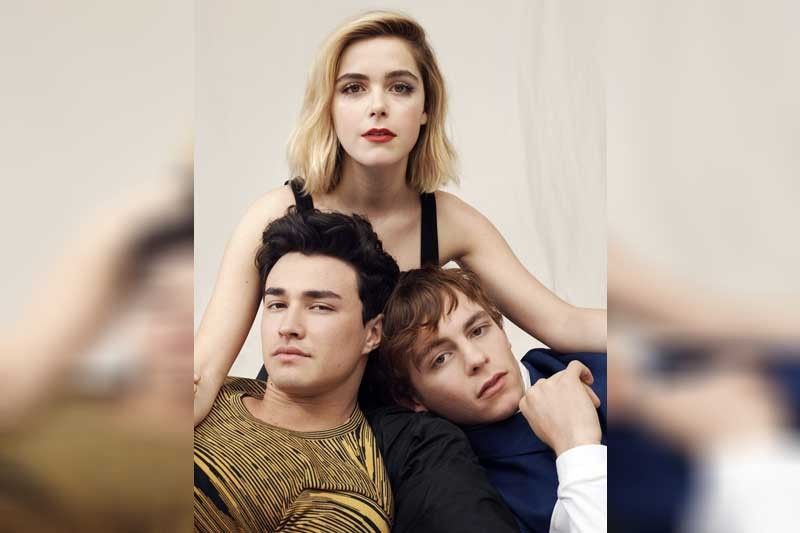 Three's a crowd: In Chilling Adventures of Sabrina, Kieran Shipka plays Sabrina Spellman, torn between (left ) Nick Scratch (Gavin Leatherwood) and Harvey Kinkle (Ross Lynch).
The stars of 'Chilling Adventures of Sabrina' get candid about what's new in part two, growing with their characters, and a brewing love triangle.
Last year, Chilling Adventures of Sabrina won over a cult following with its sweet and tender portrayal of teen romance, unflinching feminist angle, and perfect balance of Bewitched-like charm and genuine horror. It's a refreshing take on everyone's favorite half-mortal Sabrina Spellman — and it's made leaps in representation and tackling social issues without being too "wink, wink, nudge, nudge" about it.
The first 10 episodes were a timely Halloween event, followed by a holiday special. This month, Netflix has released part two: nine new episodes that continue Sabrina's story and directly explore the fallout of part one.
"When we initially met Sabrina, she was much more in touch with the mortal side of herself than with her witch self," explains Kiernan Shipka, who plays the title character. "The tables completely turned (at the end of part one), so we're able to see her come into her own in a really powerful way."
All 20 episodes were filmed back-to-back over the course of almost a year, which, according to Kiernan, "totally helped," adding, "It felt like a full arc was created."
"Absolutely," agrees Ross Lynch, who plays Harvey Kinkle, Sabrina's mortal ex-boyfriend. "I've really enjoyed learning how to work in an episodic format, where everything in the story happens so fast."
"It was also really valuable and fulfilling to get to know the cast so well," he adds. "I've learned a lot from all the actors. As we got to know our characters better, and each other, we developed chemistry on and off camera. And because we filmed for so long, I got to implement a lot of the things I was learning along the way."
"Staying involved with (my) character and the story for that amount of time was incredibly beneficial," says Gavin Leatherwood, who plays Nicholas Scratch, a classmate of Sabrina's at the Academy of the Unseen Arts. "Near the end of filming we were all exhausted but we all had strong understandings of who we were and where we were in the universe. It's been an absolute blast."
All three actors have strong words to describe part two, from Kiernan's "intense," to Gavin's "exciting," to Ross saying it was a "wild ride."
"There are so many moments where you literally don't know whether a character is going to make it out alive or not," Kiernan teases. "And I'm talking main characters!"
"It's bigger and badder in every way," Ross says. "Sabrina is a witch now and is going to the witch academy, while Harvey and the other mortals are left wondering where she went." With a wink, he adds that they get into a little trouble of their own.
One thing Gavin found surprising about the new episodes? "Honestly, my involvement." While in part one, Nick was more of a static and expositional supporting character, part two explores his backstory and gives him more to do — including becoming another love interest for Sabrina. The complicated romantic entanglements between the show's characters become a major focal point for part two, which, according to Kiernan, represents Sabrina's continued exploration of her duality.
"The tensions are definitely higher between Nick and Harvey as Sabrina and Nick get closer," Gavin explains. "Nick envies Harvey and his ability to understand love, and he believes that Sabrina can teach him what it truly means to love."
"I love a good love triangle in a show, I'm all about it," Ross says, adding that Roz, one of Sabrina's best friends played by Jaz Sinclair, may also experience some swoon-worthy moments. "I'm excited to see it!"
Their sister show Riverdale has done a couple of musical episodes, and Ross is no stranger to the genre, having performed in bands and starred in Disney's Austin & Ally as well as Teen Beach Musical and its sequel. "Yeah, the whole cast can sing," he says in response to whether he'd like to see their show do its own musical episodes. "I think we could give Riverdale a run for their money. I'd be interested to see what (showrunner Roberto Aguirre-Sacasa) would come up with for Sabrina."
"I'm hoping there are ways to utilize our various musical talents and showcase them throughout the series," adds Gavin, who's something of a musician himself.
Part of why Chilling Adventures is fascinating and endearing is its distinct setting — or lack thereof. Characters dress like it's the '60s, discuss Neil Gaiman, and aren't typically seen around modern technology. It's a technique that lends an eerie sensation of being lost in time, also notably seen in the horror film It Follows. Asked for other anachronistic elements they'd like to see in this version of Greendale, Kiernan answered '90s fashion and payphones, while Ross quips, "I would love to see Harvey get some cowboy gear. Some revolvers, maybe a cowboy hat... No chaps, though!"
But what makes Chilling Adventures of Sabrina so groundbreaking is its above-mentioned commitment to subverting traditions and expectations — it's queer-friendly and diverse, unafraid to challenge how the real world is portrayed in fiction and address issues and topics that are actually experienced by and important to young people. Not only does it normalize these experiences, it also fosters and encourages acceptance and positive affirmation.
"Roberto and the rest of the writers do a great job of continuing their stride in those categories," Ross says. "We have lots (more) topics to discuss in part two."
The show "really champions its own characters," Kiernan adds. "Everyone is portrayed as complex human beings with journeys to go on and stories to tell." That, she says, "is inherently a powerful statement."
* * *
Chilling Adventures of Sabrina is streaming on Netflix.