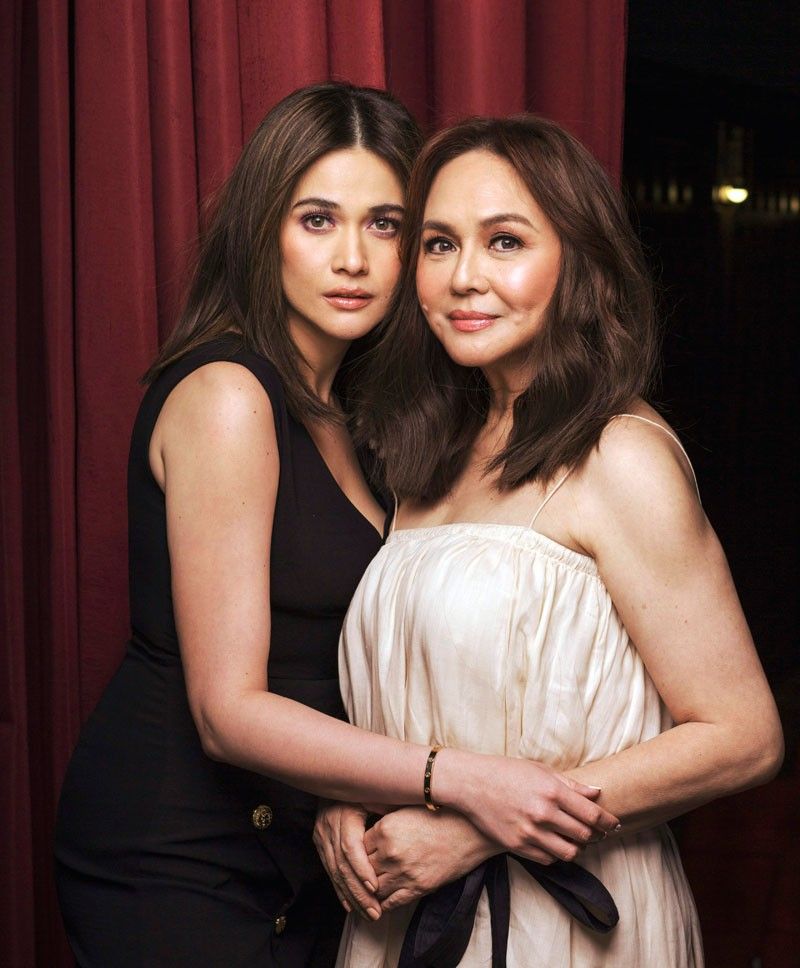 Bea Alonzo discovers her inner scream queen and Charo Santos goes back to her roots in the supernatural horror film Eerie.
Photo by Joseph Pascual
Bea Alonzo and Charo Santos star as the opposite ends of a Catholic school horror story in Mikhail Red's 'Eerie'.
MANILA, Philippines — When Charo Santos lets out a big, boisterous laugh from the stage of a small and near-empty theater, the whole room laughs with her. At first, it's her fake laugh — delivered on cue for the photographer taking the portraits. But because of how quickly and gamely she turns it up to 11, it becomes real in an instant, and suddenly the dozen people surrounding her are laughing, too. No one seems more amused (and vaguely impressed) by this than the woman right beside her: Bea Alonzo, with whom she stars in Eerie, a new film by Birdshot prodigy Mikhail Red.
There is decidedly less laughter in Eerie, Red's take on classic Asian horror and an ode to the sort of urban legends that are common among universities and Catholic schools in the Philippines. (You know the ones: they're the stories that your classmates used to tell each other at the school fair, about a specific bathroom stall or a specific part of school that you shouldn't visit at a specific time of night.)
Eerie tells the story of Pat (Alonzo), a young guidance counselor and the voice of compassion at the nun-run Sta. Lucia Academy for Girls. Pat's the type of guidance counselor who students turn to for advice; the friendly adult in whom they confide their troubles and transgressions. Pat also happens to be clairvoyant, so when Sta. Lucia is rocked by a mysterious murder case to which the only witness is a ghost, she finds herself in a unique position to get to the bottom of it.
"It's my first time to do a horror movie," says Alonzo, who readily admits to some initial apprehensions. "I came from doing mainstream [movies] that mostly are love stories. So during the pitching, medyo nag-iisip pa ako: Is it the right time to actually do one?" Her doubts were assuaged, though, when she read the script. "It's a story that I couldn't say no to," she says.
Naturally, diving into a genre for the first time comes with its difficulties. "Nahirapan ako, because in real life, matatakutin talaga ako," she confesses. "And nahirapan ako, because Pat is a very, very sad character. So nag-draw na lang ako dun sa, 'yung pagkatao niya na maraming regrets. Because of course, lahat naman tayo, may pinagdaanan na ganun."
Whatever it is that she tapped into, it's clear that Alonzo pulled off the transition. "Bea had the right balance of grace and determination," says Mikhail Red. "She's a very technical actress, and even though it was her first role in the horror genre, her performance proved that she's a versatile performer."
At odds with Pat is Sor Alice (pronounced ah-lee-che, played by Santos), the stern mother superior and principal of Sta. Lucia. As a woman of God and the head of a Catholic institution, she represents Pat's polar opposite: the strict figure of authority, to whom observance of rules and adherence to tradition are paramount.
"Ma'am Charo naturally has the 'authority figure' onscreen presence," says Red. "She's like the Philippines' Meryl Streep, and she delivered exactly what I wanted: an intimidating and complex persona, an iconic performance." Together with Alonzo, he says they "worked together in crafting morally ambiguous and emotionally conflicted characters."
But as opposed to Alonzo, Santos is no stranger to the genre. Her very first movie, 1976's Itim by Mike de Leon, tells the story of a woman possessed by the soul of her dead sister. Santos also starred as a nun in De Leon's Kakabakaba Ka Ba? in 1980 — suffice it to say, she's had some experience in films that deal with religious themes.
For Eerie, though, she drew from her personal life. "I came from an all-girls Catholic school run by nuns," she explains. "So nag-resonate sa akin 'yung character na medyo disciplinarian, quite stern, very strict with rules, very traditional. They go for discipline, they go for character formation, but sometimes they're dismissive of the human side." Sor Alice's contrast with Pat represents one of the film's main conflicts, and also something of its subtext. "This is a horror movie," says Santos. "But beneath the genre is actually the conflict between faith, which I represent, and science, as represented by Bea's character."
While their characters in Eerie are meant to contrast, Santos and Alonzo don't seem quite so different from each other in real life. Back at the theater, in between frames and fake laughs, the two chat and trade stories, appearing to get along like sisters. Perhaps it's because they also happen to share a similar point of emergence in their careers with Eerie: Alonzo, branching well out of the confines of the rom-com genre, and Santos, completing her second post-retirement film, proving that she's still got it in spades. They're both icons and veterans in their own ways and rights, mutually aware of each other's achievements.
Santos, for her part, says that in choosing new projects to take on, she's at a point where she can let loose. "I want to have fun. I don't overthink things anymore," she says. "I'm relaxed, but I'm still very open to learning new things. It's a joy to always discover new things, to learn from new experiences, to work with young people. It broadens your understanding of the changes in the landscape, and allows you to see things from a different perspective and not be boxed in."
Meanwhile, Alonzo says that working on Eerie has reinforced in her the value of respect. "Respeto, sa lahat ng paniniwala ng tao," she says, referring to the film's story. But she also talks about respect in a realer sense. "Having respect for a filmmaker who's younger," she says, referring to the 27-year-old Red, and "having respect for someone who's been in the business for so many years," referring to Santos. "Respect for everyone."
Together, Santos and Alonzo tell stories of strange encounters they've had while working on Eerie. There's one about a clap that cued them in perfectly for a troublesome scene, which delighted the crew until they realized that they couldn't figure out who clapped. "Sabi nila, napagod na daw 'yung multo sa kaka-retake," jokes Alonzo. There's another about a promotional guesting in which Santos, who says she has a "sense" for this type of thing, just felt that a presence had joined them. "Nagtaas 'yung balahibo ko eh! They're here!" she recalls. But while both ladies shudder at their own anecdotes, neither seems truly fazed by ghost stories. They easily laugh off the goose bumps and move along, fearless, confident, and ready to step up to the plate.