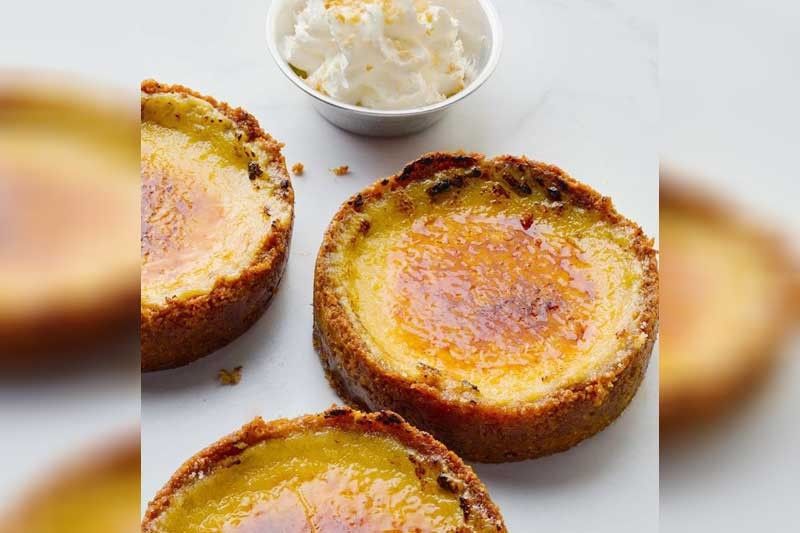 Manam Cafe's menu includes exclusive treats like the refreshing calamansi tart.
Manam Cafe has opened a new location that serves up your classic merienda cravings with the quintessential twist.
MANILA, Philippines — Tall mirrors that resemble French windows, original pieces inspired by Filipino culture and the pop art movement, and the words "Umagahan," "Tanghalian," "Merienda" and "Hapunan" line the walls of Manam Cafe's newly opened store in The Podium. The high ceilings and muted color palette (with tasteful pops of color) make the bright and pleasant space perfect for slowing down to unwind and indulge in casual conversation. There's also an upstairs area if you're really looking to stay awhile.
Manam Cafe makes good on the above four words with the diverse yet distinctly familiar Filipino menu it's become known for, from traditional heirloom recipes to modern and out-of-the-box spins, now with even more twists. It opens at 7 a.m., which means you can order from the breakfast menu available at select locations, including silogs and chocolate or ube champorado, also known as warmth in a bowl.
We all know nobody can replicate Mom's cooking, but getting your favorite ulam for lunch here is the next best thing. For merienda, you'll never go wrong with the crispy palabok (pouring the sauce is the best part!) or the filling sisig pancit canton. If there's room for dessert, and there always will be, have your fill of all kinds of rich and zesty flavor profiles, some of which can only be found in the store. The crumbly buko pie is unbelievable, and the calamansi tart crackles as you cut into it.
And if you just can't choose between sweet and savory, the ensaymada 'wiches are your best bet. Choose between melted three-cheese or a chorizo patty served between gooey and soft sliced ensaymada. It's good enough to share, but then again, would you really want to?
The new store is also the first Manam and Manam Cafe location to have a take-out counter, for when you need your fix to-go. Just make sure to come back next time — for coffee with pals, perhaps, or even a much-needed big family brunch.
* * *
Manam Cafe is located at G/F The Podium, ADB Avenue, Ortigas Center, Mandaluyong.