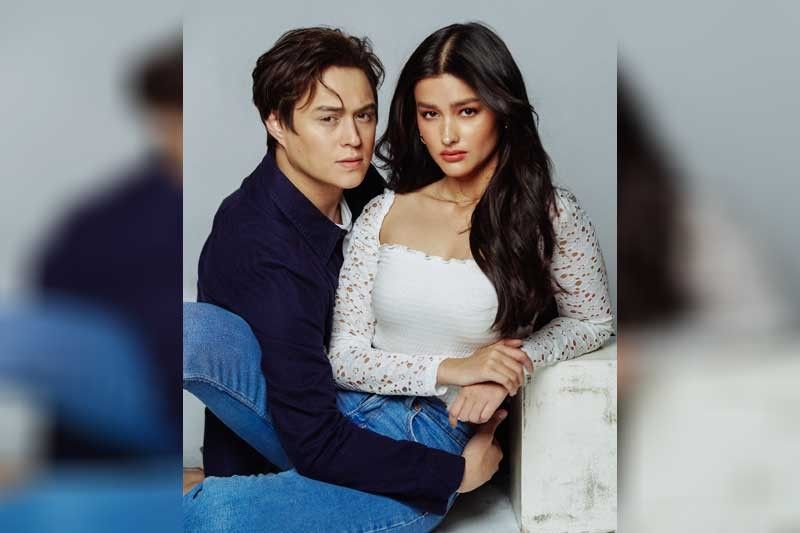 In Alone/Together, Liza Soberano and Enrique Gil play a young couple who see ups and downs through their college days and their lives as working professionals.
Photo by Patrick Diokno
Gaby Gloria
(The Philippine Star) - February 16, 2019 - 12:00am
LizQuen is all grown up and ready to conquer.
MANILA, Philippines — It's no secret that all widely successful love teams go through similar phases. Everything starts with two budding stars getting paired up for a test project. If they hit it off, it leads to a primetime teleserye, then a box-office hit, and so on. Eventually, interviewers, talk show hosts and fans speculate: are they, or aren't they?
To preserve the kilig, the two play coy and deny relationship rumors (only to fuel them, of course). The love team's final evolution: from onscreen pairing to real-life couple.
For Liza Soberano and Enrique Gil — known together as LizQuen — the time for their "reel to real" reveal finally came last weekend, on the heels of their promotional stint for their new film, Alone/ Together.
During a round of Vice Ganda's Kuryentanong challenge, the host asked, "So, kayo na ba?" to which Enrique replied, "Yes." Screams ensued.
Officially, they've been together together for over two years, but this was the first time they'd acknowledged their relationship in public. "It wasn't planned, man," says Enrique, when I ask if they'd talked about it beforehand. "Vice has his ways. He caught me in a trap. Magaling siya."
At our Supreme shoot, the two don't speak to each other much — an observation that I bring up with Liza during our interview. "It kind of feels unusual for me because I'm really not into PDA," she says shyly. "I'm not comfortable with the whole idea and even talking about our relationship so that's something I'm going to have to get used to now because I know that a lot of people are going to ask how it started."
Reel to real
That LizQuen is the last of their batch of teen love teams to admit their relationship status marks the end of an era of speculating. Our favorite love teams are growing up right before our eyes, in the same way that we see local cinema maturing.
It makes sense, then, that the pair are now venturing into more complex roles.
If Forevermore saw us giggling over the puppy love between Agnes and Xander, Alone/Together will make you look back on your own relationships and wrong life decisions. The film follows the relationship of two young lovers from their college days up to their lives as working professionals.
Covering such topics as losing your one great love and facing the challenges that life throws your way, it has all the real-life elements that you'd expect from an Antoinette Jadaone-helmed project. Only this time, it has Liza as Tin, an idealistic UP Art Studies major out to change the world, and Enrique as Raf, a UST Biology major whose only dream is to graduate.
To prepare for their roles, the pair went on immersions, with Liza sitting in on a class and eating at Area 2, and Enrique talking to doctors at a hospital to find out how to make their characters believable.
Enrique also reveals the secret to all the raw emotions we saw them bring out as Tin and Raf: support from each other. "I think we bring out the best in each other. Not only because we're in love in real life. But, it really helps, I think," he says knowingly. "When she's having a hard time motivating herself to cry, I'll just say a few words, hold her and she just feels ready to cry and say okay, we're ready."
Liza is also all praises for her partner, admitting that dramatic scenes are the most difficult to film because they require drawing from personal experience. "That's the good thing about working together with Quen because we kind of know what helps us (get) trigger(ed), emotion-wise. He's really able to talk me into like feeling that emotion that I need to feel or be in."
Alone together
The Alone/Together teaser (which as of this writing has over 1.5 million views) sparked loads of theories when it was released, some turning into backlash after the full trailer came out. The main question on peoples' minds? Could Alone/Together be romanticizing cheating?
"I don't want to say that cheating is okay, but these two people — they're each other's great love and they know that they're not in the right relationship at that moment," Liza explains, pointing to all the warning signs you see. "Throughout the movie, yes, these two exes are seeing each other behind their current partners' backs but there's always this consciousness that what they're doing is wrong. They try to limit themselves, to stop themselves."
If anything, the lesson that the film is trying to convey is something that we all learn as we grow older. As Enrique says, it teaches us "that love is hard, and it's never too late." His delivery makes me recall how he once said he waited for Liza, at the request of her lolo.
"Sacrifice is one thing and it's never too late. You're worth more than your mistakes. And don't ever think of who you were. Always think of who you should be." (*Cue moody instrumental music*)
When we spoke to the couple back in 2017 for My Ex and Whys, we asked Liza about what she knew about love. Back then she said she was clueless. When I ask if the same rings true now, she is more confident. "Quen kind of taught me what love is and what love should feel like and be like."
The lack of interaction during the shoot isn't a cause for concern for the two, who've mentioned in other interviews that they are each other's great loves. And I guess when you're practically glued to someone else for over five years, it's normal to not be all over each other.
LizQuen IRL is a relationship past its honeymoon stage, and it shows. The past two years without any pressure from the public seem to have helped them build their foundations, to go through all the ups and downs in private.
The couple at the shoot today seem stable and comfortable with each other. At one point, Liza (a self-proclaimed BTS stan) requests for Enrique to play something from the K-Pop group during the shoot. Enrique doesn't give in, but with a look that says, "I love you but we listen to that all the time, can I play my music just this once?"
A self-aware pair
So what else do we expect from LizQuen, now that they've done all you expect from a love team? With Alone/Together proving that the two are more than just pretty faces, there's no telling what else they're set to achieve, both as a couple and as individuals.
Talking to Liza and Enrique, the future isn't as clear-cut. In a rare moment of hyper-awareness you don't usually get from young actors, they both agree that fame won't last forever.
Acting-wise, Liza's still got Jerrold Tarog's Darna in the works. And aside from watching Run! BTS episodes and fangirling over Jungkook during her free time, Liza's also focused on earning enough to ensure a comfortable future for herself and her family. She's also working towards her BS in psychology, and hopes to maybe even become a psychologist and write a book one day. Meanwhile, Enrique says that he's passionate about business — he's about to sell his first build-and-sell house, and will soon be releasing a new soap line.
That's not to say that we won't be seeing more of the couple on screen. "We've always been very realistic and we know that at one point we're going to have to separate," says Liza when I ask about their future. "But we're still a love team, so even if we work with other people, we will always and back and end up going back to each other."