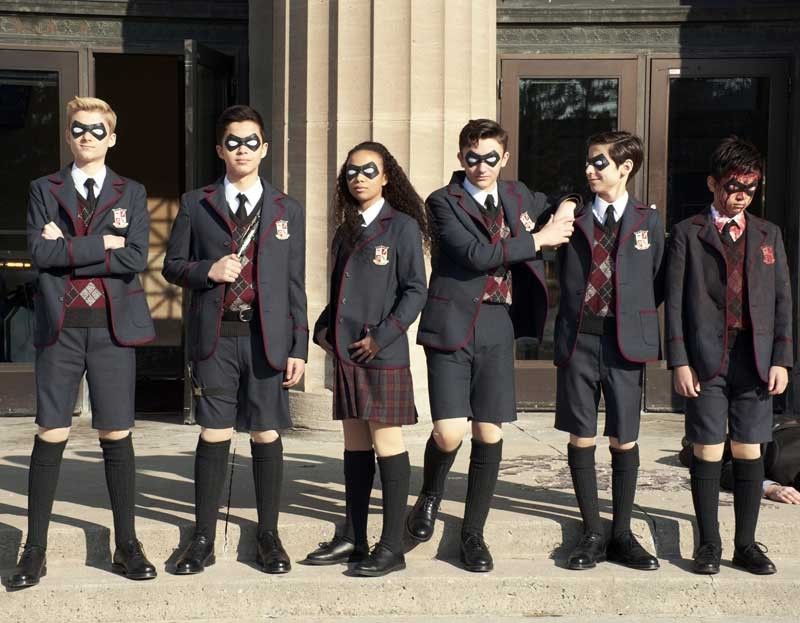 Based on the comics written by My Chemical Romance alum Gerard Way, The Umbrella Academy introduces a new gang of superpowered misfits led by Ellen Page, Tom Hopper, and Robert Sheehan.
Andrea Ang
(The Philippine Star) - February 9, 2019 - 12:00am
'The Umbrella Academy' is the crowning moment of your high school emo phase.
MANILA, Philippines — Gerard Way is a hero to a very specific generation — that is, that sweet spot of emo obsessives during the years his band My Chemical Romance was actively influencing our eyeliner choices. He eventually went solo, and while his imprint Young Animal launched in more recent years, his gothic oddities and Freddie Mercury-like poetics were always steeped in comic books.
Way looked up to all the contemporary comic book greats — Moore, Miller, Morrison — and he was a DC Comics intern way before he was orchestrating black parades. It makes sense that his 2007 debut The Umbrella Academy, for all intents and purposes, falls squarely into the superhero genre — and for that, the new Netflix incarnation will for sure turn off those who aren't interested in domino masks or apocalyptic consequence. Whether onscreen or in graphic novel form, its premise is the type of thing that goes over supremely well in comic book nerd board meetings: seven kids are adopted by an eccentric billionaire, and their superpowers are used to save the world, until they go their separate ways. We've seen variations of this storyline in Watchmen, in X-Men, in Runaways — but now with a surprising tenderness that harks closer to Wes Anderson styling than Superman postulating.
Much like the way Kingpin filled up the frame in Into the Spider-Verse in a way that a live-action version could never do, Netflix's Umbrella Academy depicts their family dynamics and emotional destruction in ways that the comic book medium was unable to. Music is the key: there is an incredible point in the first episode where the kids start dancing to '80s bop I Think We're Alone Now in what seem to be unchoreographed efforts by the actors — Ellen Page is particularly adorable here — until they're interrupted by a time traveler ripping through the multiverse. Adaptations are always tricky, and this one takes Way's freakish plot twists and artist Gabriel Ba's surrealist style to tell, more than anything, a coming of age story, rather than a "save the world" epic. The CGI fight scenes are nowhere near the expanded space of Infinity War — and that's refreshing.
Even if it doesn't follow the source material too closely, Netflix's The Umbrella Academy is still very much a perspective owned and championed by Gerard Way — much to the delight of everyone, not just those of us who had an "emo phase." It helps that the kids, sporting British boarding school-type uniforms and tired eyes, look distinctly like Way did in his My Chemical Romance prime — much, in fact, like we did as 12-year-olds, locking ourselves into our rooms after school to blast Helena.
* * *
The Umbrella Academy comes out on Netflix on Feb. 15.