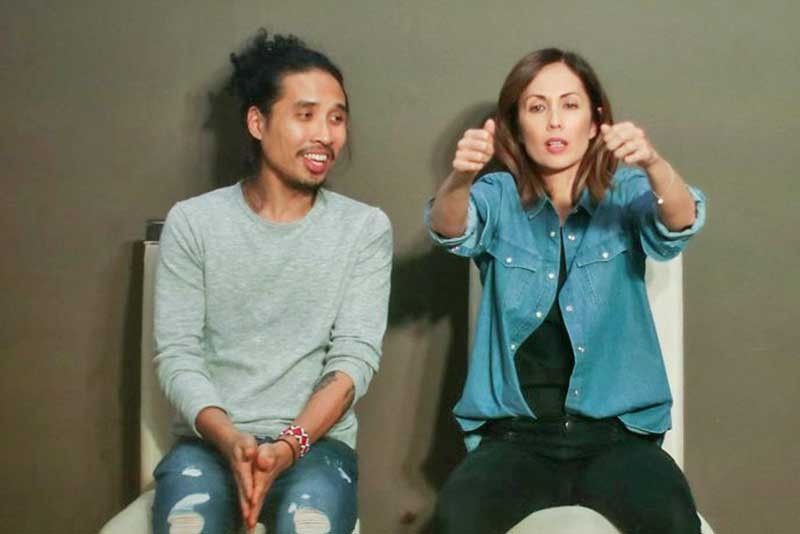 In Every Brilliant Thing, Teresa Herrera plays a woman who, as a little girl, begins listing every brilliant thing in the world to prove to her depressed mother that life is worth living.
How the Sandbox Collective's 'Every Brilliant Thing' is changing the mental health conversation in the country, one luminous performance at a time.
In 2018, Teresa Herrera sent a Facebook message to Toff De Venecia, founder of the Sandbox Collective, about a play that had blown her away. "Have you heard of Every Brilliant Thing?" she wrote. And De Venecia had — in fact, he had been considering it as a follow-up to the Sandbox production of Himala: Isang Musikal. He, too, was blown away.
It was kismet, De Venecia says: "This was the universe telling us that we had to do the show."
Every Brilliant Thing opened on Feb. 2 at the Zobel de Ayala Recital Hall of the Maybank Performing Arts Theater, where it runs every weekend until the end of the month. Written by Duncan McMillan, who also wrote last year's Sandbox stunner Lungs, the play opens with a little girl who, following an attempt made by her mother to take her own life, starts a list of "every brilliant thing" to remind her why life is worth living. As she grows up, the list evolves into a coping mechanism as well as a document of her coming-of-age.
The work was developed by McMillan with comedian Jonny Donahoe, who based parts of it on his own life. While previous versions of Every Brilliant Thing have usually gone with a male lead, Herrera takes the helm for this production, collaborating with director Jenny Jamora and producer Kakki Teodoro, who also performs as her alternate.
The play's comedic roots are apparent — as it is a one-woman show, the genuinely funny parts of the monologue feel very much like standup routines. It's interactive and transformative, inviting adaptations to change the settings and references to create more resonance. (In this case, Jamora decided to make changes to reflect the performers.) There is also audience participation, which calls for shedding inhibitions and improvisation. As a result, no single performance can ever be exactly the same.
Herrera had not had any improv experience aside from acting class when she began working on Every Brilliant Thing. "It's really teaching me to listen to people (and not to) miss the moment," she says. "My rehearsal process was working from the inside out, really stripping down fears, stripping down self-consciousness, getting raw, being vulnerable to access the character."
The play marks her return to theater after eight years. In that time, she says, "I've grown, I've evolved." Now a mother with two kids, she adds that she no longer second-guesses herself, which she channeled into her performance. "The life experiences have made me richer as a person, which I think only spills over to whatever you do creatively. I followed my instincts, I followed what felt right. If it didn't feel right, I would try something else."
Covering tough topics like suicide ideation, depression, and even manic and obsessive behavior, Every Brilliant Thing deals with the subject of mental health with surprising grace and sensitivity. "That's the first thing that really struck me," Herrera says. "It's a very uplifting play, and I'd never seen a play like that about depression, you know?"
"I didn't even realize that it was about mental health when we selected the material," says De Venecia. "It was more of, it made me feel something." The structure of the show — wherein every single person in the room might become a part of the show one way or another — appealed to him. "It's precisely the nature of the show that reveals how we should be approaching the subject of mental health — all of us, together, in one room, talking (about it) because it's important."
Every performance of Every Brilliant Thing is followed by a talkback session, a safe space where audience members can ask questions and share their own experiences with mental illness with people involved in the production and mental health professionals on hand. In a 2017 interview with the London Evening Standard, Jonny Donahoe observed: "The show allows you to feel very vulnerable at the end, so people have been very generous, and they've shared a great deal about their lives."
Herrera finds the added layer provided by these discussions valuable. "It's such a moving piece about mental illness," she explains. "We wanted to make sure that we told the story authentically and we handled the subject matter responsibly, so the talkback allows for that. If anyone got triggered, or if you have any issues, there's a mental health professional here to answer your questions."
By addressing its heavier themes directly with the audience, the talkbacks help ease some of the stigma around mental illness, especially in the Philippines, where it's not yet sufficiently addressed. Hearing somebody ask what seems like an obvious question about mental health (e.g. "How do I help a loved one suffering from depression?") or share what they've personally gone through, followed by reassurances and educational advice from the experts on hand, will not only teach empathy and compassion — it may also provide concrete solutions and save lives.
"Our hope is that we just make it easier to talk about it, start a discussion," says Herrera. "The whole idea is we should be able to sit and look at each other and say, 'Let's just sit and talk about it for a second.'"
* * *
Every Brilliant Thing runs until Feb. 24 at the Maybank Performing Arts Theater, Bonifacio Global City. Tickets are available via TicketWorld.