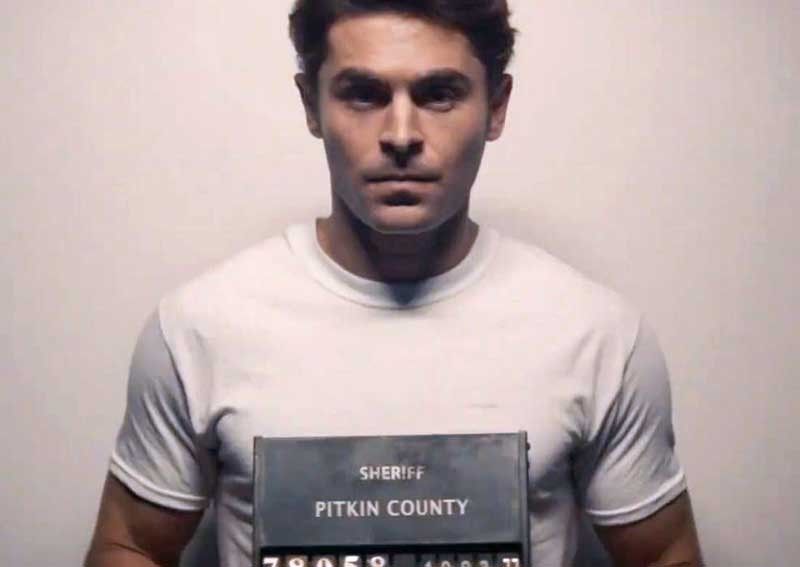 Zac Efron plays one of the most prolific serial killers in history in Extremely Wicked, Shockingly Evil and Vile.
We don't need to talk about Ted Bundy
With a new docuseries and a Sundance biopic both out this year, the renewed fascination with Ted Bundy is just another side effect of the ongoing pop culture trend of being really terrible to women.
Ted Bundy, renowned serial killer from the 1970s, is now everywhere.
Netflix released Conversations With A Killer: The Ted Bundy Tapes, which is a docuseries featuring never-before-heard interviews with the man himself. Around the same time, a film titled Extremely Wicked, Shockingly Evil and Vile premiered at Sundance Film Festival, starring Zac Efron in the role of Ted Bundy.
The history of shows and films that have been rooted in true crime runs deep: everything from series like Making A Murderer to The People Vs. OJ Simpson, even down to Law and Order: SVU or the very first season of CSI. There is a genuine interest from audiences wide and far (present company included) to understand what makes a man who would violate someone else so willingly and egregiously tick. When the trailer for Extremely Wicked came out, I received a message from a friend who absolutely adores Zac Efron, and it said, "I'm worried that I might fantasize about a serial killer."
What we know
Here's what we know about Ted Bundy: he is described on his Wikipedia page as "an American serial killer, kidnapper, rapist, burglar, and necrophile who assaulted and murdered numerous young women and girls during the 1970s and possibly earlier." He was said to be methodical, observing the ability to cover his tracks the way one would think to today, decades prior to DNA and forensic advancement in investigating such crimes. His first recorded kill had him at 27 years old, but suspicions were that he started as early as the age of 14.
In the book by Stephen Michaud and Hugh Aynesworth (the research material around which the Netflix special revolves), they talk about how Ted Bundy was preoccupied with the idea of possession. Starting out as a burglar, he was thrilled by the idea of taking something and owning it. This would later apply to his view on sexual assault. Murder, he initially committed as an easier way to commit his crimes without much resistance, but later enjoyed as a means of what he called "ultimate possession."
He preferred young Caucasian women between the ages of 15 to 25 who wore their hair long and parted in the middle — rumored to be the same type as a young woman who ended a relationship with him, often referred to as Stephanie Brooks. His initial MO was to bludgeon them in their sleep, and then violate them in multiple ways. He then escalated to faking injuries and asking for help, where he would then subdue his victims using a crowbar or blunt instrument that had been previously stowed. In several instances he would also take the corpses to secondary locations where he would dress them up in different clothes, apply makeup, and engage in sexual acts with them until decay made it entirely impossible.
Erasing the women
Ted Bundy was often referred to as handsome, but in the most nondescript of ways. Law enforcement at the time described him as difficult to pin down, because he had such a chameleon-like quality that even his smile would change his whole face. He was described as someone who never looked the same in any two photos. Part of Bundy's appeal at the time was that he looked like someone who'd help get your cat out of a tree, but was accused of such terrible things. And because his adoring fans at that time didn't have the resources that we have today, there was a deep willingness to be "charmed" and a curiosity rooted in the desire for sensational entertainment. It was scary, but that's also what made it exciting.
However handsome Bundy may have seemed at the time, there's neighborly handsome and there's Hollywood handsome. Busy Philipps, in her late-night show Busy Tonight, had a segment called "Stop Fantasizing Over Ted Bundy.'' She went through a list compiled on Twitter of hot guys from the '70s, "none of whom were murderers": Al Pacino, Bruce Lee, James Earl Jones, and personal favorite Harrison Ford. She also noted, "I prefer Zac Efron's double life in High School Musical. You know, sometimes he sneaks away from a basketball court to sing a song."
In our curiosity to understand the man, he has been undeservedly glamorized to the extent of being put next to one of Hollywood's most recognizable and attractive faces. We tell audiences that he's worth watching and worth studying; and despite having Lily Collins as his love interest in the foreground, all the women fade in our quest to see what's inside his head. To process this kind of depravity in a way that doesn't make us sick to our stomachs, we ourselves list these victims as the mere thirty-something unlucky ones. We don't take stock of each of their names, where they were from, who they loved, who lost them, and who in their easily lost lives are still mourning the way in which those lives were taken. And in doing so, we give too much credit to our fascination and not enough to the fact that he brutally committed crimes against women, and that's what we should be holding on to.
Tell a different story
We live in a time of #MeToo gaining the traction that it has, and still without Harvey Weinstein being held accountable for his crimes. We live in an era where trans women are being erased, where hate crimes are rising in number and brutality, and where a slew of men are up in arms by a razor commercial trying to discuss the redefinition of masculinity.
The fact is that while a filmic account of Ted Bundy through the eyes of someone close to him might seem interesting and a hell of an acting piece for someone like Efron, it's not the story we need to hear right now, or really maybe ever. Bundy had his time and his trials and his fan base, and the stories we need to be telling now are not of how fun it was for him or how incredible he was as a sociopath. It is the greatest disservice to the human race to make murder and rape sexy. We need to move forward and elevate the discussion on humanity, rather than looking upon men like Bundy with secret admiration, now more than ever.