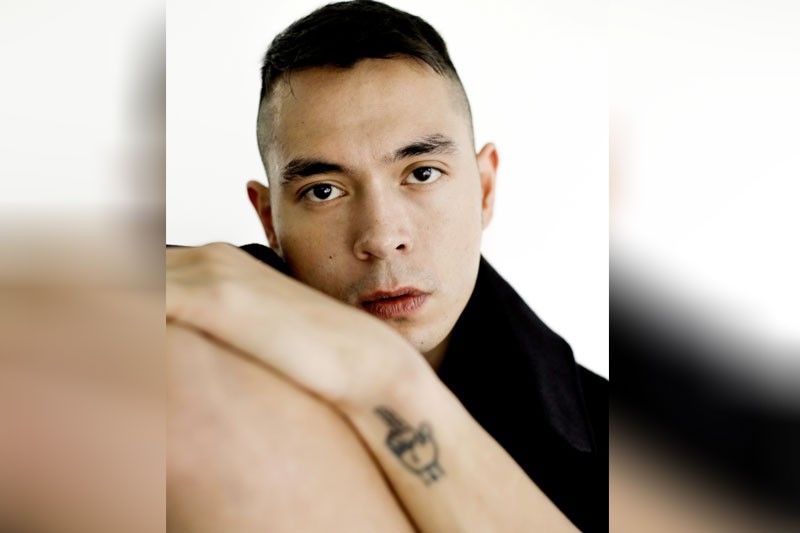 Jake Cuenca stars alongside Sab Jose in Duncan MacMillan's Lungs, staged by The Sandbox Collective and 9Works Theatrical. Lungs runs from Sept 22 to Oct 7 at Power Mac Center Spotlight, Circuit Makati.
Photos by REGINE DAVID
Jake Cuenca and his many faces
MANILA, Philippines — Don't think of Jake Cuenca as the spoiled mama's boy-slash-soldier Dave from the 2009 teleserye hit, Tayong Dalawa. Nor is the actor the insidious demon Lizardo from last year's Metro Manila Film Fest entry Ang Panday. In an industry that tends to highlight binaries, and where actors are seen as an extension of their characters, Jake Cuenca is neither good guy nor bad.
Since his appearance on teen show Click in 2003 and his subsequent move to ABS-CBN, Jake is undoubtedly one of this generation's most recognizable stars. With fair skin, a chiseled physique and a piercing gaze, the actor's physical attributes are industry-approved, yet there's something about Jake that's almost like a chameleon — someone who can switch from a menacing tough guy to dashing hero in a blink of an eye.
"I always look for something different in my roles. I don't like doing the same thing over and over again," Jake shares, adding that the last thing he'd want is to be pigeonholed into one role. His knack for switching up characters for variety also spills over to his personal style, which he says is influenced by his current roles. "If they need me to look like a leading man, then I'll look like it. But if I'm a villain, or they need me to look like a rock star, I'll grow my hair long," Jake elaborates.
Still, perhaps no other role is as nuanced or complex as his theatrical debut in Sandbox Collective's adaptation of Lungs, a two-person play by English playwright Duncan MacMillan. Described by The Guardian as a "distinctive, off-kilter love story" that is "brutally honest, funny, edgy and current," Lungs is an intimate conversation between a couple, a dissection of their relationship as they decide whether or not to have a child amidst the complications of today's world.
It's an undertaking that's been long overdue for Jake, who studied theater and performing arts in the United States a while back. "To be in theater was (my) goal ever since," Jake notes. "That was my advice to younger actors in showbiz — if you're not getting any roles in TV and film, do theater, because it's the purest form of acting. I almost felt like a hypocrite because I'd never done theater; I studied it but I never did it." The actor laments that his packed schedule during his younger days simply didn't allow him to do theater. Now, however, he's ready. "I'm ready for this at this time in my life. They'd offered me plays before, but I just didn't have the time to (do it) — now, I don't get overwhelmed with a very hectic schedule anymore. When I decided to do this play, I really made time for it." Jake adds that having reached this point in his career allows him some leeway to take on special projects that he wouldn't have gotten away with in the past. "I started in this industry 16 years ago, struggling. To be where I'm at right now, I'm very blessed and thankful, and to have the opportunity to do all of it and experience all of it, I'm very lucky," he says.
Aside from the right timing, Jake also calls Lungs the perfect first play, finding himself in his element with the project. "If you had put me in a musical, then I'd really be outside my element," he says, adding Lungs "is more up my alley because it's straight acting. It's also very intimate, more or less like looking at a relationship under a microscope. (The play) was more close to home than anything else." And speaking of being close to home, Jake admitted that part of what drew him to the material was how he related to it personally. "(When) I first read it, I was like, 'Wow, I've been in this situation so many times before.' It reminded me a lot of my last relationship in terms of dealing with someone who has anxiety, and trying to understand that and the over-processing of things. So it was something I related to a lot."
With 90 minutes of pure, uninterrupted dialogue, much of the story and energy rests on the shoulders of Jake and his co-star, stage actress Sab Jose, who was most recently seen in the musical Eto Na! Musikal nAPO. Jake has nothing but good words for his co-star, describing their working relationship as easy. "Obviously we had to build chemistry together, which wasn't hard at all… Basically when we first met we were strangers, and now, (for our roles) we're in the middle of a four-year relationship. (So) going through a whole relationship, that was the challenging part in the beginning. But it was very easy because Sab's really cool."
Unlike his roles onscreen, he didn't have to look far for reference. Where television roles tend to be homogenous and clear-cut — leading man, scorned suitor, psycho killer — his onstage character is more grounded, with more gray areas, which makes him all the more relatable. "For this one, I didn't really have to go outside the box. Not like the roles I've been doing in TV or film where I'm playing a psychopath, or a killer guy… I really didn't have to go far off-base, I just went with really myself, I found myself within the script."
Try to fit Jake Cuenca into a box and you might end up disappointed. He's neither hero nor villain, yet he is the sum of all his roles combined: complex and multi-faceted. And that's the best anyone can aspire to be.
* * *
Watch the full video of our behind-the-scenes interview with Jake Cuenca on our Facebook page www.facebook.com/philstarsupreme/. For more updates, follow us on Twitter and Instagram @philstarsupreme.
Styled by DAVID MILAN
Produced by KARA ORTIGA