Liz Uy Chooses Love
August 11, 2018 | 12:00am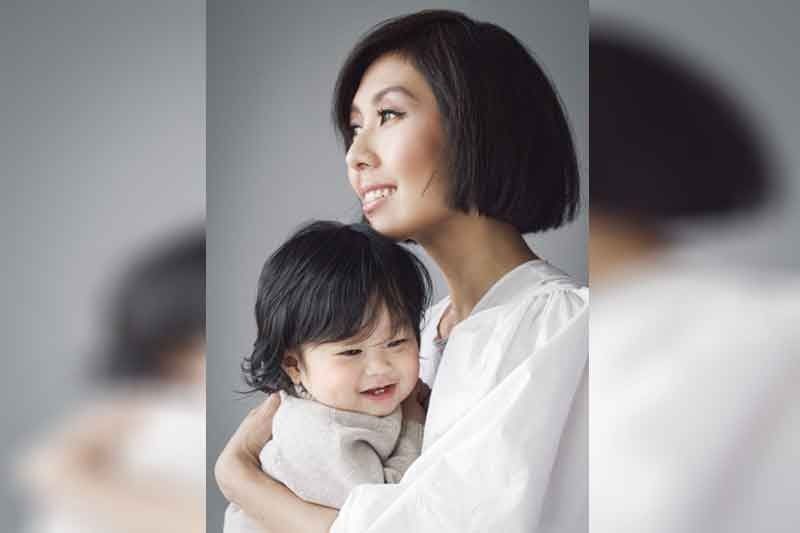 This feature is Liz's way of showing Xavi that hate doesn't have to be met with hate; that you can stand up for yourself and your family with kindness and dignity. 'I want him to always choose love over hate. Always.'
The key thing you must understand about noted fashion stylist Liz Uy and me is that we are not friends. In fact, the most vivid memory I have of her still leaves me wondering whether she had given me and my former teammates a sincere compliment or a sarcastic insult. I was a young editorial assistant then, the rowdiest one in a team of rowdy magazine editors. That day, in the middle of our group's noisy conversation, Liz appeared at the end of our aisle looking every inch the Preview fashion editor: high-cheekboned and caramel-skinned, her blonde-streaked hair in loose waves. She wore a purple sleeveless top, a printed white skirt, and sky-high heels. (Her shoes alone probably cost at least thrice my depressing EA salary.)
Even inside the office, she kept her white Jackie O sunglasses on. "Ang saya niyo, 'no?" she addressed us, smiling brightly. Caught off guard, our collective response was awkward laughter. But there was no need to think of a comeback. The stylish apparition was gone as quickly as she appeared. I never saw if her smile reached her eyes.
Cream Rises
Years after that encounter, I watched from the sidelines as Liz Uy became a brand. From being a respected fashion editor and the preferred stylist of A-Listers, she transformed into a celebrity herself. Liz first piqued wider public interest when she dated actor John Lloyd Cruz (a.k.a. the National Boyfriend), and curiosity about her escalated when then-President Noynoy Aquino pursued her. People wanted to know the mysterious woman who left both Popoy and the country's Commander-in-Chief smitten.
The clamor led to magazine covers with accompanying articles that tried to distill the essence of the often-seen, rarely-heard stylist. Writers had their angles and distinct ways of telling her story but one detail kept emerging: Liz Uy worked her ass off to get to where she was.
Though she was not an actress like her friends Anne Curtis, Isabelle Daza and Solenn Heussaff; or a model-host like bestie Georgina Wilson, Liz held her own when label-obsessed Philippine media dubbed the five of them the "It" Girls.
She raked in fans across social media platforms and scored endorsement deals that ran the gamut from clothing to banking. She parlayed her talent for dressing people up into her first book StyLIZed, which became a bestseller. Producers deemed her life interesting enough to document via E! Network's reality show, It Girls, an original series that focused on the personal highs and the lows of Liz, Isabelle, Solenn, and Georgina.
Despite the influx of younger stylists who charged less, she remained on top of her game and changed it in significant ways. After achieving her goals here, Liz set her sights on distant shores and chased bigger dreams with her uncanny tenacity. Thanks to a formidable body of work and impressive online presence, her name reached the radar of fashion heavyweights like Vogue, Harper's Bazaar, The Coveteur, Into the Gloss, Style: Singapore, Matches Fashion, The Sartorialist, and Net-a-Porter.
But the best was yet to come. In 2017, she became the first Filipino creative to be signed by Society Management, the talent agency that represents supermodels Kendall Jenner and Adriana Lima, as well as digital stars Vanessa Hong and Hikari Mori. Through Society, Liz got to collaborate with luxury brands like IWC, Jimmy Choo, and Gucci. It seemed like there was no limit to how high she could go up fashion's Mount Olympus.
Until February 5, 2017, that is.
Unexpected Gifts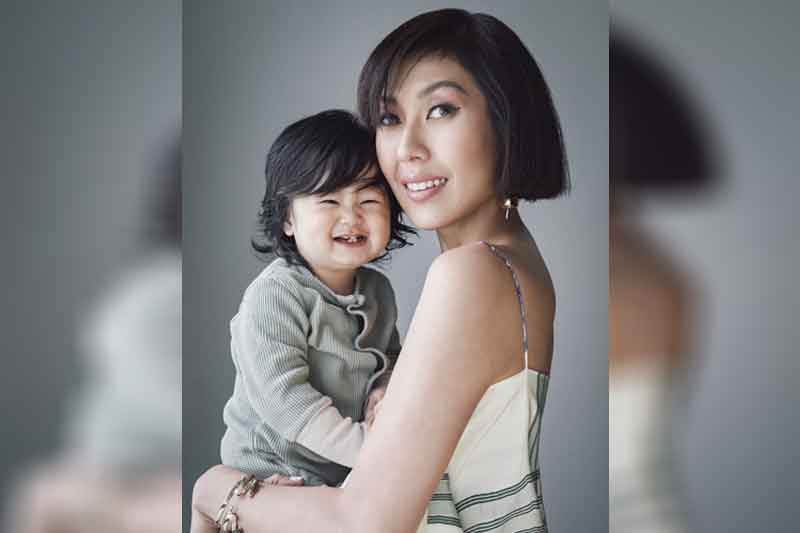 Xavi softened her edges and made her more compassionate. He has brought profound joy and completeness to his mother and their whole family.
On that day, three days before New York Fashion Week and three days shy of her 35th birthday, Liz found out she was pregnant.
"I cried," she admits. "I wasn't ready." Liz and her partner Raymond Racaza — who was by then already estranged from his wife, and who has since been annulled — were not planning to have kids. They were career-driven individuals content with their childless set-up. The news left Raymond shocked yet happy, but in Liz's eyes then, her life was over. "At 35 ang kapal ng mukha ko to not be ready, 'di ba? But I wasn't," she says. "I was being selfish. I was just thinking of my career."
Liz called the one person in the world who could help her make sense of the chaos she was suddenly facing: her mother. In her mom, she found the support and clear-eyed advice she needed. Her mom pointed out that a baby is always a blessing and that the love she and Raymond had was powerful enough to see them through whatever difficulties that lay ahead.
I meet Liz's partner in their cozy home one balmy April evening. He opens the door, greets me with a firm handshake, and tells me the woman of the house will be down soon. It's easy to see why Liz would be attracted to him. Beyond his intelligent eyes and triathlete frame, the guy radiates warmth and kindness. Though clearly apprehensive about this interview, he is gracious and cooperative, answering my safe questions about the nature of his work.
A few minutes later, my subject bounds down the stairs. She doesn't have a stitch of makeup on. Gone is the long, blonde-streaked hair I remember vividly. She's sporting a black bob and is smiling serenely. This time, without the sunglasses on, I can see that her smile is reaching her almond eyes. Liz is wearing a plain cotton shirt and jeans, and is walking around barefoot. She gives me a hug and proceeds to the kitchen to put the finishing touches on her famous brownies. She apologizes about dessert not being ready, but I assure her it's fine. I arrived a little earlier than our agreed time. Over a Thai feast — pad thai, chicken satay, and killer tom yum — the controversial pair, who, until this moment, had kept silent as the world hurled hurtful accusations their way, talk about their you-and-me-against-the-world love story and their little family.
When Liz met businessman Raymond Racaza in May 2016, she was a 34-year-old workaholic who had all but given up on finding "The One." She was perfectly fine with the idea of spending the rest of her life with her fabulous gay friends. "Naging hopeless rin ako eh," she admits. "Kung hindi ako bigyan ng partner, okay na rin. Mabubuhay naman ako with the bekis." In that state of contentment and resignation, Liz met the love of her life quite serendipitously.
Isabelle Daza introduced Liz and Raymond to each other casually at a business meeting and the two connected immediately. They found themselves talking the entire evening, the conversation flowing effortlessly. He asked her about her glitzy life in fashion, she grilled him about what it's like heading a start-up tech business. Liz told him she had just gone through a breakup, and he laid down his cards right away, saying he had come from a marriage that didn't work, and that he has a daughter he loves more than life itself. He also offered Liz, then the only single girl among the It Girls, some sage advice: "Never settle."
She was getting pressured by the whole world about weddings and babies, yet here was this interesting stranger telling her not to let society get to her. Little did she know that the man advising her to enjoy the freedom of singlehood would be her endgame. Liz would never have admitted it then, but as they were talking that evening, it struck her hard: "I could be with this guy."
Raymond on the other hand, was a goner the first time he saw her smile. But because life is full of plot twists, despite the instant chemistry, they didn't see nor hear from each other for a month. It would take another serendipitous encounter for them to recognize that their bond could lead to something beautiful.
And it did.
Baby Boom
The first person outside of her family to know about her pregnancy was Raymond Santiago, one of Manila's top hairstylists and one of Liz's best friends. She broke the news to him at the airport lounge of Cathay Pacific right before their flight to New York for Fashion Week. The baby's future godfather was overjoyed.
Once in New York, first on Liz's agenda was to inform Society Management about her pregnancy. They congratulated her and allowed her to skip the many parties that were on her itinerary. It was a considerate move Liz appreciated tremendously. Unknown to them, she was suffering from Hyperemesis Gravidarum, which meant all-day, everyday nausea and vomiting. Despite her condition, Liz was determined to deliver. After fulfilling her obligations in NYC, she flew to Milan to attend shows for legacy brands like Pucci, Prada, and Gucci. She then travelled to Paris for the last leg of her month-long glamorous work trip. But once in the City of Lights, it dawned on Liz that her body had limits. It was time to choose her health and sanity. She bid goodbye to haute couture and runway shows and flew back home to take it easy.
In Manila, the friends were let in on the wonderful news. Isabelle, Liz's closest friend in their group, was the first to know. She was having dinner at Liz's place when she overheard Liz retching in the washroom. "Maybe you're pregnant," Isabelle said in jest as she continued to eat. Liz remained poker faced and said nothing. But because they know each other so well, one tiny twitch in Liz's face told Isabelle everything she needed to know.
"I love the baby so much," Isabelle whimpered through happy tears. Bea Soriano Dee was thrilled to find out she and Liz got pregnant almost at the same time. (Their kids were born only 12 days apart.) In time, everyone in their barkada knew. To their eternal credit, they all proved to be loyal and trustworthy—none of them spoke about it. "They all respected that it was something special to me. If there's anyone who should talk about it, it's me because I'm the parent."
After a hellish first trimester, Liz got her life back on her fourth month of pregnancy. She was able to navigate Manila without sending tongues wagging because three months of constant retching kept her slim. She was barely showing. Her waistline was 24 inches, prompting news anchor Karen Davila to quip, "Grabe dear! Ano bang secret mo dear!" during Liz's appearance at the ANC show Headstart. Liz continued to work until her sixth month, aware that once the baby arrived, she would have to temporarily stop the hustle. Armed with her doctor's permission to travel, she flew to the Maldives for a Jimmy Choo engagement, then to Bangkok for an IWC event. "Momma had to work," she says smiling.
La La Land
On her seventh month, Liz left for America to spend the rest of her pregnancy in peace and quiet. "I was proactively taking care of the baby in my womb," she explains. "I didn't want something beautiful to be tainted by negativity." Los Angeles was a natural choice because Liz herself spent many idyllic summers there as a child, and she wanted her baby to continue growing in that laidback environment.
In the city of Angels, Liz's nesting instincts kicked in. She hosted vacationing friends and family from Manila and got busy preparing her little angel's temporary home. She took a break from the toxicity of social media and focused instead on living her best life: indulging her craving for Salt and Straw's cookie dough ice cream every day, brunching at Gjelina, heading to al fresco Sunday markets, and gorging on Sugarfish's sushi with her girlfriends. It was two months of rest. It was bliss.
On Sept. 20, 2017, Xavier, a precious boy with a head full of hair, was born at exactly 7:30 a.m. His mother lay in the delivery room with shiny, blow-dried tresses, freshly-painted nails, and perfectly-groomed brows. Liz is one of the lucky ones who didn't experience painful contractions prior to giving birth. She was feeling so fine she even had time to hold a photo shoot with her sister Laureen before heading to the hospital. Their mom found the beautification and documentation strange. "My mom said, 'Anak, ano ba yan! Kung ano-ano pa ang inuna mo! N'ung panahon namin deresto ospital na!'" Liz says, laughing. "Well, dati 'yun," she retorted. "Kaya ko pa, 'no."
"Kaya" was her outlook throughout her stay in the States. Could she get over the fear of giving her fragile newborn, whom she lovingly calls Xavi, a bath? Kaya. "I was so scared," she recalls. "But if not me, who was going to do it? Lalong ayaw ko siya ipahawak sa strangers." Could she live through her baby's nonstop crying? Kaya. "If he was new to me, then all the more I was new to him," she says, explaining what it must have been like for her son. The first-time mom had a hard time figuring out her baby's needs, but that's now a distant memory. "Now, gamay na gamay ko na si Xavi. One cry and I know what he's looking for," she says with a proud smile.
When Xavier was first brought to her, Liz admits she didn't feel unconditional love right away. "I just kept staring at him. I couldn't believe I had a baby." But in a few days, she would be overcome by love she had never felt before, so powerful it left her weeping in front of a pediatrician. Liz wasn't producing enough milk and the doctor gently suggested switching from breast milk to formula. "Grabe 'yung iyak ko because I felt so inadequate," she reminisces. "I wanted to give Xavi my 100 percent." She could have given up but her "kaya" outlook drove her to search for lactation experts until she found one who gave her life-changing advice: "'Producing milk is 90 percent believing and 10 percent doing.' Alam mo after just one session, the milk came. As in gusto ko siyang i-hug! I hope this tip helps other struggling moms out there."
Xavi's arrival in Liz's life has brought out her best self, and her partner attests to this. The Liz Raymond met and fell in love with was someone "very selfless, loving, and caring," and being a mother has magnified those strengths. "She's a very hands-on mom, especially with the round-the-clock feeding," he says. "Despite her other obligations, she would always rush home to be with our son." Raymond's wish is for Xavi to inherit his mom's best qualities — her good heart, her sense of humility. "She is very down-to-earth and has no sense of entitlement. Everything she has accomplished was done through hard work."
The tiny human has expanded Liz's heart in ways she never expected. Xavi softened her edges and made her more compassionate. (The old Liz couldn't help but feel annoyed by wailing babies on airplanes. This new Liz offers to help harried parents who are traveling with crying infants. Her indifferent attitude toward children is now a thing of the past. Liz loves all of her friends' kids: Archie, Baltie, Braeden, and Billie, to name a few.) He has brought profound joy and completeness to his mother and their whole family. "Kung alam ko lang na ganito 'yung feeling na ibibigay niya, I would have had him when I was younger."
Choose Love
Liz's relationship and her pregnancy were beset by judgment from people who didn't know the truth. She was unfairly blamed for the breaking down of a relationship by the Philippines' other Supreme Court, the comments section. The old Liz would have fought tooth and nail to correct the lies, but the new Liz has learned to choose kindness and prudence for her family's sake.
In truth, the whole experience has humbled her. This is the most she has prayed in her life, and her plea is always the same: for her family to stay intact and for them to stand by the truth. "All the people who matter know what is true and what is not and that is what matters," she stresses.
Doing this feature was a scary prospect because Liz knows people will believe what they want to believe, the truth notwithstanding. But she found a compelling reason to push through with it: One day, her little boy will grow up and read the nasty things said about his parents. And one day, Xavi will read this piece. This is Liz's way of showing him that hate doesn't have to be met with hate; that you can stand up for yourself and your family with kindness and dignity. "I want him to always choose love over hate. Always."
Two months after our interview, I visit Liz in her home again. She made vongole for tonight's dinner, something I find both inspiring and amusing. Once upon a time, she was a hardly-ever-home fashion force who only had capers, lemons, and salmon in her fridge, and couldn't cook to save her life. Now here she was, a nurturing mother excelling in the kitchen. She's flying to Hong Kong for work in a few hours, so she's maximizing her time with her preternaturally calm baby.
Her partner arrives sometime later, and he is as gracious as ever, serving us scoops of his favorite vegan ice cream. TV host Kim Atienza, a good friend of the couple, said these words to Liz in the bewildering early days of her pregnancy. "He said, 'You're only seeing five meters from here and it's not an amazing view. But once you get to the top, you'll see that in the grand scheme of things, God had a great plan for you two all along." The arduous climb is over and the view is worth the struggle. Anyone can see that this is a family, this is a home.
As Liz and I chat about Xavi's recent baptism and life and politics and showbiz, I recall that not-so-pleasant memory I have of her. "I don't remember at all," she says, giggling. "But if I did say that, I didn't mean it as an insult. I'm the kind of person who tells others exactly what I mean."
We say our goodbyes at 10:30 p.m. She hugs me and thanks me for my time and sees me to the door. Inside the elevator, I think back on that encounter with her in our old office. I realize how wrong I was to assume the worst about someone I barely knew.
* * *
Tweet the author @IrishDDizon.
Photos by BJ PASCUAL
On Liz: Top from Isabel Marant
On Xavi: Top from Zara
On Liz: Dress from Ports, earrings from
Schield, Distinqt; and bangles from Cura V.