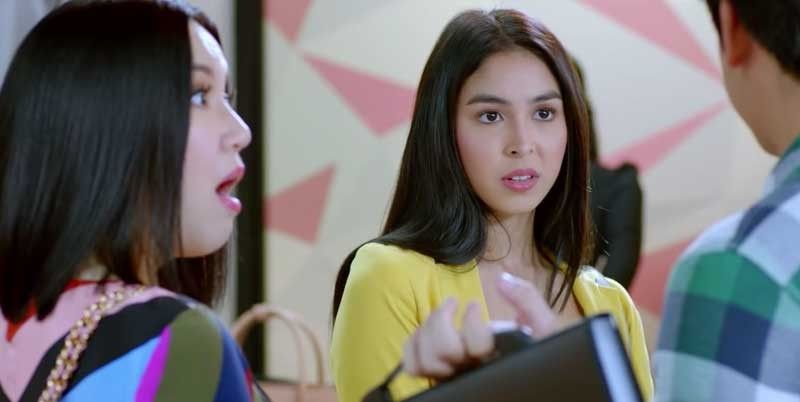 I Love You, Hater is currently showing in cinemas nationwide.
In 'I Love You, Hater' Aquino is able to cross over from fact to fiction — charms, warts, baggage and all.
In Giselle Andres' I Love You, Hater (2018), Kris Aquino returns to the big screen after a three-year absence, playing Sasha Imperial, an influential media personality who calls for a new personal assistant. This sets into motion the eventual romantic pairing of Zoey and Joko, two beleaguered youths who predictably fall in love.
Sasha's face is always plastered on billboards, with quirky quotable quotes that form part of her feel-good marketing strategy. In fact, it is her quote "Sa bawat setback, comeback comeback lang" that inspires Zoey to get past her father disowning her in public in order to seek her own fortune; and her slogan "Sa true lang tayo" that moves Joko to abandon his propensity to veil his failures in both white and more serious lies.
One can deduce that Sasha is an exaggerated version of Aquino, making her convincing performance in the movie a product of habit more than acting. However, practically playing herself in a film that offers escapism is a feat on its own.
While Aquino has always utilized facets of her personality to fuel the quirks and charisma of her various roles such as in Wenn Deramas' Sisterakas (2012), where her character is hilariously histrionic, and Antoinette Jadaone's All You Need is Pag-Ibig (2015), where she plays a hopelessly romantic host, it is in I Love You, Hater that she inhabits a character who seems to be fashioned out of her own public persona. Her influence on cinema has evolved from playing stereotypes, ironies and fantasies. Through the years of building a career, she has carved out a persona that is hyperbolic and fascinating enough to give birth to a cinematic representation that — more importantly — works. Aquino has done the nearly impossible which is to cross over from fact to fiction — charms, warts, baggage and all.
Less than three decades ago, she played one half of the tandem of Tony Cruz's Pido Dida: Sabay Tayo (1990). The other half was comedian Rene Requiestas. Pido Dida, which cleverly transforms the presidential daughter into a poor but lovable orphan who turns out to be a wealthy heiress, was a hit. In a way, there was an indescribable appeal in molding Aquino, whose stature renders her unreachable to the masses, into somebody who is capable of returning the care and adoration of Requiestas. The film eventually produced sequels, turning Aquino into a bankable actress, even to the point of being able to play a woman whose beauty and kindness inspires her loyal and loving dog to want to become human in the Hong Kong movie Magic 2 Win (1991).
Even with box office hits and foreign films under her belt, Aquino was still just one of many romantic lead actresses. It is when she started playing the role of victim of the many heinous crimes that stormed the early part of Fidel Ramos' presidency that she was finally given a title, although quite unsavory. She became the "massacre queen," essaying the roles of Carmela Vizconde, Myrna Diones and Eileen Sarmenta in Carlo J. Caparas' schlocky retellings of those unfortunate women's unfortunate fates, which were released in 1993. In Laurice Guillen's The Elsa Castillo Story… Ang Katotohanan (1994), she becomes the infamous chop-chop girl. From being the subject of every man's romantic fantasy, she became the symbol of the grossest extent of Filipino misogyny.
For playing a convicted felon in Mario O'Hara's The Fatima Buen Story (1994), Aquino earned an Urian nomination for Best Actress. The feat wouldn't be repeated until eight years later when she was nominated for Best Supporting Actress for portraying the taciturn sister of domineering Maricel Soriano and feisty Ara Mina in Joel Lamangan's Mano Po (2002).
Aquino is rarely critically recognized, but she always made sure she was relevant. She became the glitzy and upper class apple of every ordinary man's eyes. She became the shrill and screaming voice of every woman who has abused and victimized. She became a survivor, living through the ghosts and curses of Chito Rono's Feng Shui (2004) and Sukob (2006), Dondon Santos' Dalaw (2010) and Joyce Bernal's Segunda Mano (2011). She became the best friend of the LGBT community in Lamangan's So… Happy Together (2004), represented those who love but have to live under the shadows for fear of being misjudged in Rono's Etiquette for Mistresses (2015), and stood for both love and family in Marlon Rivera's My Little Bossings. Little by little, Aquino's career is shaping up to be intimately intertwined with the narratives and values she so publicly projects, all culminating in the character of Sasha Imperial.
On its face, Aquino's filmography is littered with works whose artistry is questionable, perhaps too plebeian and pleasing to be of any intellectual merit. However, as Aquino would herself say, "What seems like a simple dish has so many layers." Aquino's filmic career defines a state of pop culture that is obsessed with a single person's personal narrative. In turn, the fact that the public voraciously consumes and enjoys such products that are essentially derivative of Aquino's own experiences proves that there is more to the Queen of All Media's crisscrossing tragedies and successes than meets the eye.