Namit gid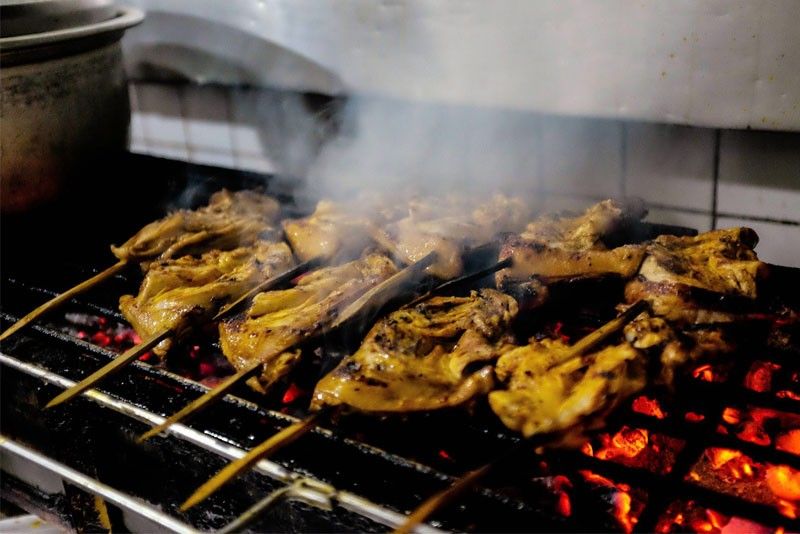 If you know good chicken, you know Aida's. Named after my friend's mother, the simple carinderia-style shack originated in Bacolod in the mid-'70s near the public plaza.
MANILA, Philippines — Tucked in a corner of a once-popular shopping center in the heart of the city lies Manila's best-kept secret. The mall — once known for its cinema — now attracts the C-D crowd for its shooting range and thrift shops. Every other stall is closed or in transition for renovation. However, one can find great bargains from hawkers selling the latest counterfeit mobile phones, handbags and perfume.
The '80s-era escalator leading to the basement is cramped and decrepit. Across the hall, I arrive at the restaurant and ask the head waitress if my friend is around. The lurid orange walls and blue plastic chairs are a welcome change from the outside monsoon gloom. A number of paintings from prominent local artists are neatly hung as the fragrant aroma of freshly grilled chicken fills the room.
If you know good chicken, you know Aida's. Named after my friend's mother, the simple carinderia-style shack originated in Bacolod in the mid-1970s on Cuadra Street, near the public plaza. They served a local version of batchoy, a popular Visayan high-protein soup of mystery meat and egg noodles. When the vendors across the street started grilling chicken and Aida and her family saw the flocks of people patronizing the grills, they decided to develop their own iconic marinade.
Aida's moved in the '80s to a reclaimed area designated by the local government together with the other stalls named mostly after women. The road was christened Manokan (chicken) Country. They have remained there since. Aida died in 1986, but her family has held onto the 40-year-old recipe. Sadly, the old streets in Bacolod have given way to new development and Aida's currently overlooks a massive shopping center. Now, Aida's only son, Toto Tarrosa, runs the singular branch in the capital. I've had the pleasure of eating at both.
The city of Bacolod, in the Visayas, is known for its sugar cane haciendas and for being the chicken capital of the Philippines. Skewered and grilled on a stick, or alive and ready to kill in a cockfighting pit, the city is obsessed with poultry. The underrated cuisine is often overshadowed by its neighbor, Cebu. But really, how much heart-clogging lechon can one eat? Inasal is a Visayan term for roasted or char-grilled meat. The marinade in the Bacolod region, where inasal originates, differs from most recipes across the archipelago because it stays clear (thankfully) of the ever-present ingredient, soy sauce. Aida's marinade is flavorful, bold and aggressive and puts other commercially-run franchises to shame.
"Did you have trouble getting here?" Toto asks as he puts down his umbrella to sit across from me. It was a tense trip, wading through the murky floodwaters of Manila. He lives in a nearby apartment. I order the standard chicken inasal paired with kansi, a beef shank soup stewed with chopped chillies, annatto and an indigenous fruit called batwan that adds to its clean and sour flavour. Lastly, I give in to some vegetables, requesting the knotted string and winged beans (sigarilyas) in coconut cream; it's homey, light and comforting.
"The Spanish sugar barons hired Filipinos to work in their plantations," Toto says, as he orders me a beer. "The Spanish cuisine was also taught to them." Once the helper returned home, the new cooking skills learned were applied and combined with readily available ingredients in the market. The farm-to-table concept, even back then. It is normal to find a Bacolod-style paella Valenciana inside a roadside shack. The quality of street food is higher in these parts than in others regions of the country.
My friendship with Toto revolves around the good things in life, like food and art. We often meet at exhibitions, but I try to visit whenever I'm on his side of town. Food is a frequent point of conversation. Hours of an afternoon are spent tasting and discussing his latest ideas to be added to the menu. The Manila branch offers a variation of Visayan dishes as opposed to Aida's Bacolod, which is solely known for its succulent chicken and grilled innards.
Before leaving I tease Toto for the nth time about expanding the business.
"It has never been about the money, but the quality of what we put on the grill," he says and smiles.
* * *
In memory of a great storyteller, who taught the world how to eat and not fear the unknown. "Barbeque may not be the road to world peace, but it's a start."– Anthony Bourdain (1956-2018)
Ingredients
1 whole chicken, cut into parts
Marinade
2 tbsp garlic (minced or crushed)
2 tbsp grated ginger
4-6 birds eye chillies chopped (optional)
2 stalks lemon grass, chopped
1 cup tuba or coconut vinegar
1/2 cup calamansi or lemon juice
1 tbsp rock salt
1/2 tbsp pepper
1/4 cup muscovado/brown sugar
1 cup lemon soda
For basting:
3 tbsp achuete or annatto oil (how to make achuete oil)
1/2 cup salted butter or margarine
1 clove garlic (crushed)
1 tsp calamansi or lemon juice
For achuete oil:
In hot neutral oil add a spoonful of annatto seeds until the color turns golden, which takes between 3 to 5 minutes. Do not over heat. Cool for a minimum of 3 hours. Strain and pour into a clean glass container. Keeps for a month or a week at room temperature.
Preparation:
In a large glass bowl, mix chicken and all ingredients for the marinade. Chill for a minimum of three hours. Using a separate container combine annatto oil, butter, garlic and calamansi juice. Set aside. Skewer chicken onto barbeque sticks. On a charcoal grill, cook chicken evenly while turning it on each side. Baste it with generous amounts of the annatto mixture, until done.
Serve with atchara or pickled vegetables and garlic fried rice. Dip in soy sauce mixed with chopped chillies and freshly squeezed calamansi. Enjoy!