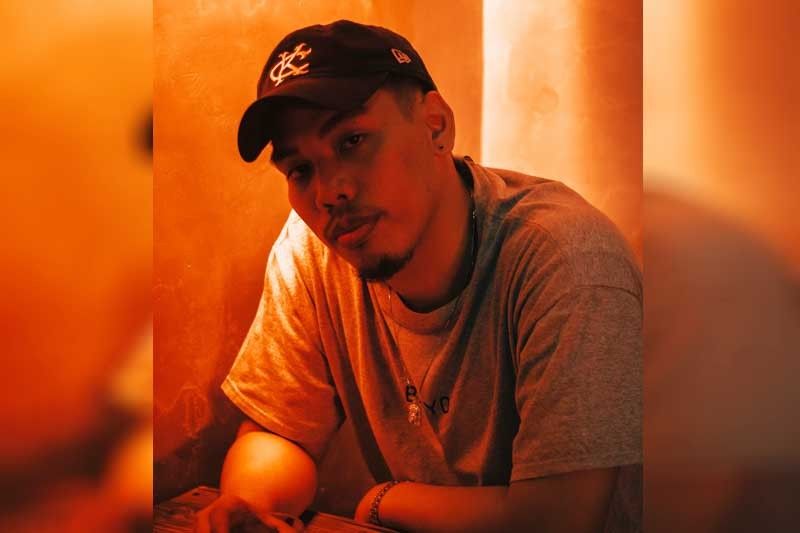 Chances are, you've already heard the slow bop of Al James somewhere: whether blared over speakers on the chaotic sidewalks of EDSA, or reverberated in the shadow-filled corners of Black Market.
Photo by Marc De Mesa
Maybe you haven't heard, but with over 20 million hits on YouTube, Al James is one of the country's hottest hip-hop stars.
MANILA, Philippines — The video opens with a scene of an apartment during a tangerine-tinted afternoon, with all the visual signs of sweltering heat. Cue the sultry beat and smooth verses dropped in a deep baritone. Then Gabbi Garcia comes onscreen, and then later transitions to close-ups of the McFloat. It's an ad that clearly sells the drink as the best way to cool down in the summer-licked city.
His name is Al James, and he just rapped his way into a McDonald's commercial. It's a peculiar choice for a fast-food giant to tap into a relative unknown (at least when it concerns the realm of mainstream artists). It's certainly odd for this writer's group of friends, whose mention of the name "Al James," quite frankly, doesn't ring a bell. Yet a few seconds into his track, Pahinga, which one later fires up on Spotify, it's a completely different story.
That's the magic of James, an unlikely crossover hip-hop artist who's managed to rack up 20 million hits on YouTube, and then some. Chances are, you've heard the slow bop somewhere, but can't quite place a finger on it: whether blared over secondhand speakers on the chaotic sidewalks of EDSA, or reverberated in the shadow-filled corners of Black Market.
James arrives alone on a Saturday morning, driving himself in a lived-in sedan as he pulls up onto a driveway of a neighborhood bar in the suburbs. Lanky and reserved, the six-foot-something rapper sheepishly introduces himself, before he politely asks if he can make a quick sprint to the milk tea shop downstairs before we begin our interview. It's his quiet and down-to-earth demeanor that's refreshing; not the ballin', boujee lifestyle typically associated with rappers.
That said, anyone worth their salt in the underground hip-hop scene is familiar with this street phenom who's achieved the unique kind of success many artists can only dream of, armed only with two digital tracks and a Soundcloud account. Since officially launching Pahinga a year ago, he's managed to headline two shows, all without a label, let alone an EP. His other single, Ngayong Gabi, topped the charts on Wave 89.1 last December. And of course there are the numerous gigs around the city, packed to the brim, eagerly awaiting the moment he steps onstage.
There's a well-earned street cred behind the name. Yet Al James, real name Alvin James, seems more bewildered about his accomplishments in the flesh. "Sobrang organic lang 'yung nangyari. Kahit ako, 'di ko in-expect noong ni-release ko 'yung Pahinga, nag-doubt din ako sa sarili ko, kasi noong time na 'yun, parang ako pa lang 'ata 'yung gagawa ng ganoong style," the rapper shares. This style he's talking about, the slick verses dripping in mellow, trap-infused beats, is a distinct identity he's carved out for himself after almost a decade in the scene. "Noong time na 'yun, pabilisan, hardcore 'yung mga verses, aggressive. From the age of battle rap to fliptop, ina-apply nila sa lyrics 'yun. So iniisip ko, baka isipin kasi (sa scene) baduy 'to, 'di nila matanggap."
The artist first started out on the closely related graffiti scene while earning his fine arts degree, later shifting to hip-hop where he met his friends and collaborators, collectively known as Baryo Berde. The group now has 11 members, each with their own distinct styles. It's hard to separate Al James and his music from the collective, whom he credits with helping and pushing him to release his own tracks. "Marami kami sa group na nagsimula lang as barkadahan. Dati kasi, parang group of friends lang kami na mahilig sa hip-hop, pare-parehas kami ng taste sa music," he recounts. It started with some freestyle verses, "trip-trip lang," as the rapper says, then some of them started lining up at gigs and releasing mix tapes. To support his friends, James, who's also a graphic artist for an ad agency by day, would illustrate their cover art and event posters. Even today, he still creates his own cover art.
Achieving millions of hits is one thing, but reeling in a broad range of fans is another — proving that social media and the internet is, in many aspects, the great equalizer. But in the age where the stigmatized local "hypebeast" culture is equated to Filipino rap, James is unfazed by it, and even circumvents the rather elitist notion. "'Di na rin ako bothered by it," the artist shrugs. "Dati naalala ko (kapag sinabing) Tagalog rap, 'Ayaw ko makinig niyan kasi masa 'yung nakikinig niyan.' Baka baduy 'yan, eh. Pero ngayon, nakakatuwa rin na sa club nape-penetrate na rin siya, pati sa ibang bars. 'Yun din naman 'yung gusto naming mangyari, na sana lahat ma-appreciate 'yung Tagalog na music."
On his decision to write in Filipino, James says, "Tagalog 'yung napili ko kasi mas malakas 'yung impact at feel para sa akin. Gets mo agad, ramdam mo agad. Parang kinakausap ko lang mismo 'yung mga listeners through a song." And he's not wrong — the words hit you like a brick and plunge deep inside with a rawness that only the vernacular can achieve.
At this point, James doesn't believe that his Filipino lyrics will limit his listeners, especially when he wants to go global — he's already brought different markets together, after all. The artist cites Asian platform 88Rising, which features non-English-performing artists making waves internationally. "'Yung iba nag-e-effort pa eh, 'Kailangan siguro English para mapansin ng ganitong market, para panlaban sa international.' Pero kaya naman, eh — kaya rin ng Tagalog," he declares.
With certified jams and a wide appeal, you could call Al James a fresh face fronting local hip-hop's revival. Yet he flinches at the idea, insisting that the underground community has always been alive and well, with several other talented acts at the helm, some of them also gaining mainstream recognition like Shanti Dope. "Kapag sinabi mo kasing revival, parang namatay na eh. Hindi naman sa namatay 'yung local hip-hop. Matagal na rin siyang andiyan, 'di lang nakikita or napapansin ng ibang tao. Siguro ngayon lang 'yung right time and tamang ingay para marinig siya ng ibang tao — Ano ba nangyayari sa underground scene na 'yan? Bakit ganyan sila kasaya diyan?"
To the uninitiated, the local hip-hop scene is an uncharted, yet inviting territory. Yet with a single coming out soon and new music in the works, sit back, relax and magpahinga ka muna — let Al James show you the way.
Produced by Chel Sudoy
Shot on location at Lan Kwai
Speakeasy & Hong Kong Cuisine