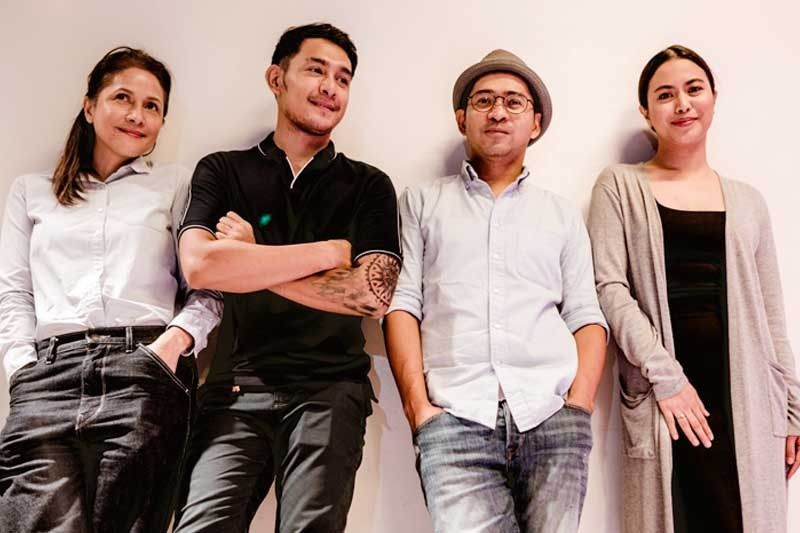 Agot Isidro, Sandino Martin, Jojit Lorenzo, and Anna Luna in Changing Partners: The Stage Musical.
Photo by Iya Forbes
The buzzy film crossover 'Changing Partners' attracted more people to the source material, making them want to see a repeat performance onstage — where it all began.
Local pop culture is littered with material that explores the dissolution of romantic relationships. From spoken-word pieces to hugot indies, there's no shortage of stories that find comfort in grief and pain. Start a conversation with metaphors alluding to heartbreak and, soon enough, you'll get active responses from anyone within earshot. It's a thematic category explored too often, maybe, played to the numbing rhythm of love fading to black.
Every once in a while, though, a standout comes along, pulling you into its orbit with visceral openness and charm. Vincent De Jesus' Changing Partners — both the film adaptation and the stage play from which it's sourced — is an anomaly in heartbreak porn. It is built on an interesting gimmick: a tale of a May-December romance that goes stale and sour, evolving into four different permutations that share the same conflicts and characters. Occasional shifts in gender dynamics are part of the storytelling design, with Alex, the older person in the relationship, portrayed by Agot Isidro and Jojit Lorenzo; and Cris, the younger partner, portrayed by Sandino Martin and Anna Luna. Soon, the characters get entangled in a mess created by age disparity, infidelity and pride. Their attempt to salvage what's left of the relationship only leads to bigger problems, causing gradual degradation of the love that once sparked it.
It took writer, musical director and producer Vincent De Jesus a "lifetime" to complete the torch-musical. The inspiration behind the story, as he shares with Supreme, is culled from his own experiences and his friends' relationship foibles. "It's a non-commissioned play that I finished in my own time," De Jesus relates. "And then I had to purge many things on a very problematic person, so I had to write it and give voice to the narrative in my head. It makes for a good drama." The stage version of Changing Partners gained traction in the local theater scene, catching the attention of acclaimed film director Dan Villegas.
The material was soon adapted into a movie, making rounds in the festival circuit and winning a total of eight awards in the Cinema One Originals Film Festival 2017 including Best Director (Villegas), Best Actress (Isidro), Best Actor (Lorenzo), Best Acting Ensemble (Isidro, Lorenzo, Luna, Martin), Best Editing (Marya Ignacio), Best Music (De Jesus), Audience Choice Award, and Champion Bughaw for Best Film. The buzzy film crossover eventually attracted more people to the source material, making them want to see a repeat performance onstage — where it all began.
This time, the producers behind Changing Partners took the musical's closed-door intimacy to a bigger stage — the 400-seater PETA-Phinma Theatre. The original casts of both film and stage reprised their roles as Alex and Cris, with Rem Zamora back directing. Cellist Poch Gutierrez joined the team to provide live music accompaniment, alongside de Jesus who played the piano in the background. "The sound of the cello evokes a certain gloom and misery," said Zamora. "I can tell you now that it's the effect of the cello for that audience: that feeling of melancholy and romantic helplessness." The casts were equally excited about the addition of Gutierrez. "Medyo level up na kami," beamed Agot Isidro. "And it also adds to the emotion eh. Nakakaiyak yung tunog ng cello. Bago kayo mag-breakdown, kami muna for sure."
In terms of the actual groundwork, the actors went through rigorous preparations to embrace their respective roles in an intimate setting. Veteran theater and film actor Jojit Lorenzo, in particular, felt blessed to be given material that nurtured his creative process as a theater actor. "I enjoy the company, the play, the tension. The entire journey works for me because it's challenging and fun. And at the same time, iba yung atake sa stage compared to when you're in film. Mas mahirap." Multimedia actress and singer Agot Isidro, on the other hand, credited her experience in Changing Partners as life changing. "I like the discipline. I like the fact that you can't just veer away from the script. Ibang atake rin because you need to respect the playwright. Also, if you missed the rehearsal, bahala ka. Feeling ko kapag ma-miss ko yun, papalpak ako. Kasi when you're out there, that's it. Every performance is different. It's a different energy, different crowd. You really get your energy from the crowd." Newcomer Anna Luna was having the time of her life reprising the role of Cris and sharing it with Sandino Martin, going out of her comfort zone as a newly launched Star Magic artist to tackle a mature role filled with emotional baggage and insecurity. "Kung ikaw rin ay aktor talaga at naibigay sayo itong materyal na ito, paulit-ulit mo siyang gagawin," she said of her decision to return for the second time despite her busy schedules. "Nakaka-inspire makita yung reaksyon ng audience sa performance mo. Lalo kang ginaganahan."
The chemistry alone in this cry-fest is palpable, but what made it a cut above the rest was how Agot Isidro, Jojit Lorenzo, Sandino Martin and Anna Luna did justice to the contrasting gender identities and nuances of Alex and Cris, turning the storytelling spectacle into a powerful piece of ensemble acting. In a world where characters are clearly marked as damaged goods, they made us aware that it's okay to get your soul ripped from the inside, to be angry and selfish, to indulge in the abyss of pain. And this is why Changing Partners succeeded in fleshing out even the conventional: it's all too real. At its core is a great story that captures love in its sheer mess and deception. There is no intention to sugarcoat the degradation, to hide the blemishes. What remains is love and life, warts and all.