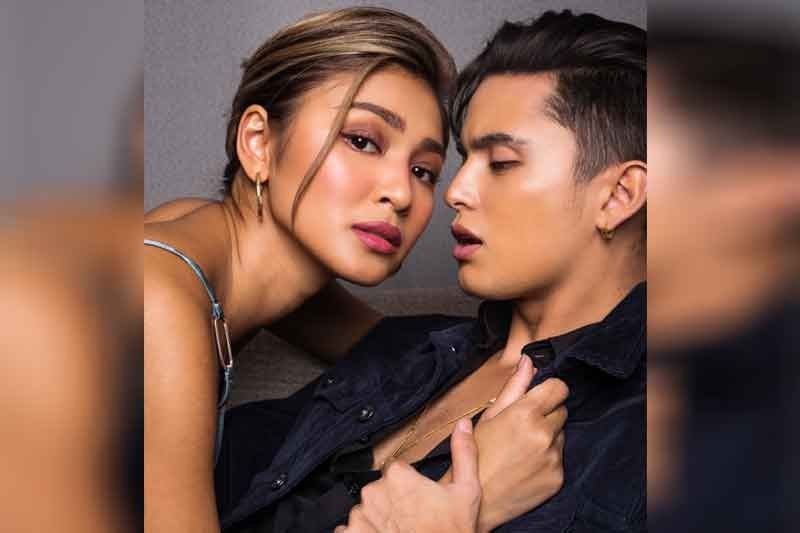 Rule-breakers Nadine and James are still here. Catch their film Never Not Love You in cinemas nationwide.
Photo by Andrei Suleik
How to destroy your career, according to JaDine
MANILA, Philippines — "JaDine is over," declare the anonymous pop culture prophets who spend their happy, productive lives lurking on the comments sections of social media and gossip sites. Every move, every word, and photograph posted by James Reid and Nadine Lustre, both 24, are picked up by the media and picked apart by the abovementioned. These bashers' idea of fun range from mudslinging by way of puns ("Negadine Laostre," "Pa-cool Girl," and "Disastrous"— what they perceive as clever plays on Nadine's name, her inactive personal website, and Lustrous, her debut makeup line collaboration with BYS), to spitting on James' (Palm) Dreams. They never not love to mock Jadine, and what they're currently hacking at with their pitchforks is the film Never Not Love You, directed by Antoinette Jadaone. It bears the identifying marks of a Jadine project: controversial, interesting, and polarizing.
Around nine days before the film opened in cinemas, Mercury Retrograde began. Astrologers believe that every time the communication planet Mercury appears to spin in reverse, it results in a three-week period of chaos on Earth — with lots of scalding tea spilled literally and figuratively. Never Not Love You was one of its victims.
The director and her lead stars were embroiled in drama because of a Twitter mess (unwittingly?) instigated by another filmmaker who was not part of the project. Antoinette and Dan Villegas, her boyfriend and producer, were accused of backstabbing Jadine, ensuing from director Cathy Garcia-Molina's Twitter exchange with a fan who was earnestly requesting her to make a film with the two. "Sana po direk sa huling movie mo, sana Jadine ang kunin nyo, magaling po at napaka-professional," the fan's now-deleted tweet read; to which the director replied, "Iha, talaga ba? Iba kasi ang naririnig ko galing mismo kay direk Dan (Villegas) at direk Tonet (Jadaone). Sorry." Wigs flew. Hell hath no fury like a love team fandom scorned, and Antoinette and Dan bore the brunt of it. The angriest fans even threatened to boycott the movie, despite it being fronted by Jadine, in retaliation for the couple's supposed transgression. But despite the clamor for her to speak up, Antoinette chose to keep mum because, really, once people have pre-judged you, no explanation will change their minds.
However, for Supreme, she is giving her first and last statement about it. "Ako, gusto ko lang talaga gumawa ng pelikula. Kung hindi man magandang pelikula, significant, memorable. Iba't-ibang directors, iba't-ibang process 'yan eh," she explains, adding she's a storyteller who gives every project that comes her way nothing less than 1,000 percent. The downside of Passion with a capital P is it tends to make its vessel runneth over with emotions, something Antoinette acknowledges. After all, emotions were what prompted her to post that (understandable but possibly ill-advised) blog entry about the movie's shooting delays, sometime in January. "Hindi ko sinasabing tama, but I think it's part of the process. As long as within the three of us, within the staff, okay kami, [I'm] okay. 'Yun 'yung natutunan ko sa social media. Marami talagang hanash. Kasi kahit tayo naman minsan may mga hanash tayo sa mga di naman natin kilala, 'di ba? Pero dapat kilala mo kung sino 'yung papaniwalaan mo kasi nakakabaliw talaga siya." The most effective fix for a PR crisis like this is to deliver undeniably good art, and lucky for the crucified directors, the finished film signaled their personal Easter.
Never Not Love You is not your usual love team vehicle. (The kind of kissing and cursing that happens in this movie won't even make it to the storyboards of their contemporaries' projects.) Gio (played by James) and Joanne (played by Nadine) are lovers who meet in their early 20s, that ephemeral stretch in our lives when we feel both invincible and vulnerable. They're polar opposites whose disparities turn out to be exactly what the other needs: Gio's carefree attitude teaches ambitious Joanne to loosen up and breathe, and Joanne's sensible outlook rubs off on Gio, giving him a sense of purpose and direction. It's not a romcom, as some assume, but a somber look at how love begins and burns and ends in the real world. The treatment is gritty and deglamorized (#TeamReal), and Jadaone did away with slow-motion effects, soft rain falling on the background, and cheesy lines that sound like they were written in a vacuum — a.k.a. the trite triumvirate of Pinoy love stories. The conflict isn't caused by a third party, but comes as the characters grow up and make tough choices. Love is the film's beating heart but there's also commentary on class, racism, office politics, and yes, living in (Come on, guys. It's 2018.) It's been called immersive, with relatable working-class characters who take their lunch in Jollijeeps (cheap eateries that dot Makati); whose dreams include buying their fathers brand new jeepneys. On the flip side, it's also been tagged escapist, with Gio snatching a London-based job, aligned with his skill set, that pays 2,000 pounds a month, and nice housing to boot. He hardly had to lift a finger to get it, too. The non-formula ending drew mixed feedback. Again: You know it's a Jadine project if it is controversial, interesting, and polarizing. But the film earned P20 million in its opening weekend, and had positive critical reception from film critics with street cred: Philbert Dy, who has ruffled a lot of feathers for his unflinching reviews, gave it 4 out of 5 stars. Wanggo Gallaga declares it's now his favorite Jadaone work. Supreme contributor Oggs Cruz deems Jadine's involvement in the film an "essential" reason why "everything works." Naturally, the haters' first impulse is to dismiss the good and magnify any negative feedback to justify their hatred. They will keep finding — and poking — holes to make this damn ship sink. Walwal boy and pa-cool girl must be destroyed at all costs!
The reasons as to why they hate Jadine as intensely as they do — to the point where they even wish violent rape upon Nadine — is as varied as their inner demons and the chips on their shoulders. But allow us to hazard one guess: James and Nadine have been breaking the rules and it's infuriating for blameless people to watch these troublemakers get away with it.
As with any game, local showbiz has a rulebook, a figurative manual James and Nadine didn't just ignore — but insolently threw out. Breaking these rules should lead to the destruction of one's career. But Jadine is still here, and it's making haters grind their teeth in anger. Here's a log of transgressions.
In February 2016, Jadine broke the cardinal rule of the love team game: Never admit the real score and keep the fans guessing. Knowing your OTP (One True Pair) is only for reel. When it becomes for real, it removes the mystery and tends to diminish public interest — that money-making ingredient that the bosses want to sustain and intensify for the greatest ROI. It was James who made the call. Before they exited the stage at their "Jadine In Love" concert held at the Araneta Coliseum, he simply said, "Nadine, I… love you," shocking everyone — including Nadine herself and their stunned managers. "I knew how I felt, so that's all that matters. I didn't want anyone else to take advantage of it or make bank off it," James tells us. At that point, he could see how the whole thing would play out if he didn't assert himself. They would have to hide their relationship and constantly deny it. Having had a taste of that situation in the past, he knew it would be hard to lie for the sake of his career, and he wanted a love that flourished in the open, consequences be damned. "I didn't want the network or my management to decide and say, 'Okay, this is when you're going to say it, and this is how you're going to do it, and you're going to be holding these flowers, and you're going to say this.' When it comes to love, you should have your own choice." Before James made that declaration, his girlfriend was adamant about keeping their relationship low-key, not for business reasons, but for their sanity. "I didn't want people to be, alam mo 'yun, nangingialam all the time, ang daming sinasabi, and all that. It makes everything harder," Nadine says. "Ang hirap ng nagsisinungaling ka palagi sa tao. 'Wala, 'di naman talaga kami.' Pero kayo naman pala talaga. 'Di mukha kang tanga. Ikaw rin 'yung mukhang sinungaling in the end, 'di ba?"
This forthrightness, this realness, became their mark, especially James. Perhaps this is why certain members of the press feel too comfortable, asking them about sensitive topics: like their living situation and their views on sex. "When I first started out as an artist, I probably would have answered anything they would have thrown at me. I wanted this bad, I needed the money, I needed this," James says evenly. "But now I feel like I'm in a position where I can see everything that's wrong with it. For a long time, they've gotten away with asking those questions and being too personal, too prying." He has learned the art of deflecting, and stresses that artists shouldn't be scared of refusing to honor questions that invade their privacy. "They're not entitled to everything." These days, the scoop everyone's trying to get is their definitive answer to "Nag-li-live-in ba kayo?" Some ask this question point blank (Nadine's "Come on, guys. It's 2017!" clapback has become quite a catchphrase), while others are a bit more sly. ("If you put it in different levels, what is the level now? Is it like kasal already," asked broadcast journalist Korina Sanchez, in last week's Rated K episode.) To date, no one has gotten them to answer this question, and perhaps no one ever will. "It's none of their business in the first place," Nadine says matter-of-factly. "Tsaka kahit hindi artista, why would you ask that to someone na 'di mo naman close? Are you sure you should be asking that?" (It's interesting to note that James literally keeps saying, "We're together every day" in their interviews. In the name of respecting people's privacy, perhaps the ability to read between the lines should be activated, pronto.) Rule no. 2, be the darling of the press, is now clearly out of the window.
Darling girl-next-door: This used to be the persona of Nadine Lustre, clothed constantly in sweet dresses, always with a smile, bubble gum pop songs dominating her discography. But even at the height of the good-girl era, she had an edge, and a creative eye reflected in her Instagram account. When James and Nadine became a couple, that potential energy became kinetic. She transformed from sweetheart to siren, stirring up a hornet's nest. Everything about her was suddenly extra offensive to haters, from her misspelled "ya'll" to her use of "shenanigans" in a sentence; from her skin color to her singit. A woman made of less sterner stuff would probably crack at the amount of cruelty Nadine receives on a daily basis, but the person in front of us now is someone who has gone through her worst personal hell in 2017 — if you survive the aftermath of a loved one's tragic death, it's going to take a hell lot more than some anonymous basher to kill your spirit.
For those upset by this "new" Nadine, this minx who casually slid her white dress to one side to give a peek of her bikini area, we've got bad news for you: She doesn't care what you think. "I didn't change — I grew up. And I found myself. I discovered who I really was. The old Nadine? Pabubura niya 'yung photo. Kasi the old Nadine, she would listen to what people would tell her," she ruminates. "Hindi ko kilala 'yung sarili ko because I would just listen to everyone. Lahat nung comments na 'yan dinadamdam ko noon, and then I use it to change myself. 'Di maganda yung buhok niya.' So papalitan ko 'yung buhok ko. Alam mo 'yun?" #SorryNotSorry but Nadine will not take that #AndreiShotThe photo down, no matter how many ang-itim-ng-singit-niya slurs are maliciously left in the comments section. (All she has to say to the body shamers? "Nag-aral ka ba ng photography? Jesus.") She will keep saying "y'all" and keep talking the way she does no matter how much you make fun of her for being "pa-cool." ("Noon, I would say that [y'all] na rin but I was not confident in saying that kasi feeling ko, 'Ay s**t, baka mamaya sabihin papansin ako and stuff like that," she recalls. "But now? What's wrong with that? Ano kung pa-cool ako? Ba't ba nangingialam ka?") And she will keep answering bashers no matter how much you call her patola. ("Well, dapat naman talaga hindi mo pinapatulan kasi sayang oras mo," she says, her voice the sonic equivalent of an eye roll. "But sometimes kasi I want to make a point. I know na hindi lang 'yung nang-bash sa akin ang makakabasa — all of the fans. They start to know me better na, 'Ah, eto pala 'yung principles that she lives by. Ganito pala siya mag-isip.' Inaaway ko 'yung basher pero I'm not really disrespecting anyone. I just say what I want to say.") Nadine gets flak for being confident, something that makes her question whether our feminism is only a performance. "They keep saying na be yourself, 'di ba? Do you. Tapos makikita kita mo ang daming nangba-bash. So what do you really want from a woman? If a woman is confident, is comfortable in her own skin, wears bikinis, tapos nararamdaman mong confident, binabato mo. Why? Pag 'di naman confident, sasabihin mo, 'Ay dapat maging confident pa siya. What the f**k do you really want?" And with that, Rule No. 3, keep the image and the language squeaky clean, is found dead in a ditch.
By disregarding the status quo, they destroyed the manufactured Jadine image and introduced us to who they really are: artists with singular visions, imperfect human beings who party, who drink, who curse, who skip work when they can't even, who are not impervious to the havoc wreaked by Mercury Retrograde. Saint James and Saint Nadine, they're not. Just James and Nadine. The only real threat to their career is not any hater pissed at them for getting away with being rule-breakers, but themselves. Burnout may sound the death knell for their relevance. Too much carelessness probably will too. But right now, they capture the zeitgeist, and whether you love them or hate them, praise them or vilify them, you just can't ignore them.
Like their Never Not Love You characters Gio and Joanne, their differences have proven complementary. James taught Nadine to stop fixating on what the world will say about her choices ("I really don't care. I'm James now. I don't care.") and Nadine became careless James' anchor and North Star ("I'm a one-woman man now, so I'm definitely a good boy now.") They break showbiz rules left and right, asking for a rest period at the height of their career, but somehow, they are still on top, seemingly immune to both hate as well as the consequences of ignoring the wisdom of those who came before them. Why?
Nadine thinks the interest comes from their distinctiveness. "I guess because we're interesting people. In show business you rarely find someone who's very outspoken, who's very transparent, who's different. Like you said, there's an artista playbook, and most artistas come from the same mold." she says. "I guess, with me and James, Viva didn't force us to become very likable. Me and James, we're not scared to be bashed. We're not scared of people saying s**t about us. If you don't like us eh di bahala ka. Hindi ko problema 'yun. "James believes sticking to the playbook is they very thing that would destroy their careers. "By following the rules, only so few can stand at the top. I know there's always been this formula in show business on what makes a good love team. It's worked in the past, but we can't stick to a formula that was invented 20 years ago. People want change, people want things to be different," he says, sure in his stance. And then, followed by a mischievous smile, "I don't know what the rules are. Actually, I never knew what they were. That's one of the reasons I kept breaking them."
* * *
Tweet the author @IrishDDizon