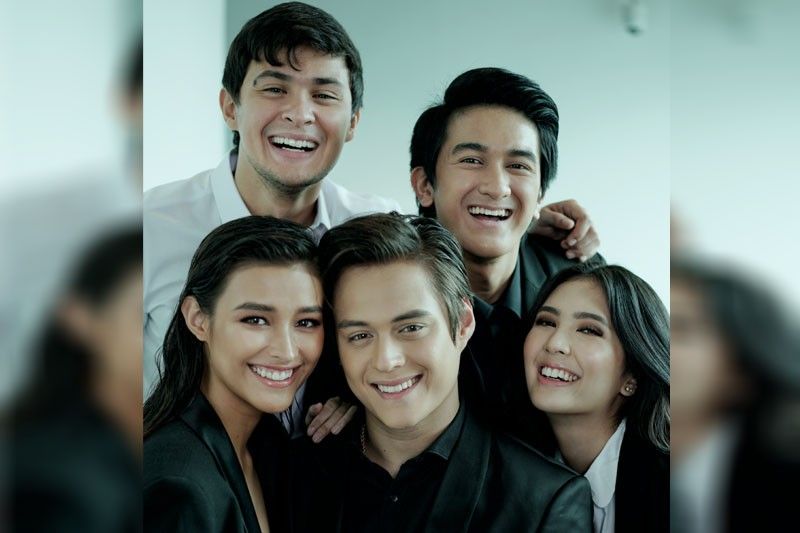 Bagani takes place in a fictionalized place named Sansinukob, and features five individuals with powers that allow them to take on the many threats that come to destroy their regions. Starring Liza Soberano, Enrique Gil, Matteo Guidicelli, Sofia Torres and Makisig Morales, Bagani premiered on March 5. Photograph By Patrick Diokno
Gabbie Tatad
(The Philippine Star) - March 10, 2018 - 12:00am
MANILA, Philippines — The odds have been stacked against Bagani, igniting controversy along its path before it so much as aired. It came with the best of intentions, trying to tell the story of five individuals with weapons that give them extraordinary abilities, in a fictionalized place called Sansinukob. It was attempting to do what the American series Once Upon A Time had done for fairytale characters of legend — giving a meatier, humanized arc to characters we heard of in the myths we studied as children. The sets envisioned by artist Leeroy New were truly beautiful, the cast comprised of equally beautiful actors with weight behind their names. The aim was to bring families together in a setting where kids could relate to the names of the characters, engage in some visually stunning adventures, and learn important lessons like the value of courage and standing up for what is right. This was, of course, the ideal.
Wading Through Quicksand
When its trailer initially premiered, there were loud protests against the casting of actors whose looks were clearly of the more Eurocentric vein, for roles that appeared to be some form of indigenous Filipino tribesmen. Scenes with Enrique Gil smothered in bronzer spiked a particular outpouring of rage, going as far as to challenge whether or not any of the cast could even be called Filipino. This was admittedly a step too far, triggering a mostly valid tweet from one of the cast members until the word sinigang came into play. The supposed "brown face" controversy was also addressed on Twitter by Bagani headwriter Mark Angos. Angos stated that it was a creative interpretation of Gil's character being a warrior of the desert, belonging to a people who made the surrounding dirt and sand a literal part of their skin and identity. He also clarified that the show made references to popular Filipino mythology and was in no way pre-colonial or presenting itself as historical. This basically meant that they were free to cast who they felt fit the bill, whether or not audiences agreed with their facial features and skin color.
While Bagani waited to ride out this initial uproar, it would then find itself wading through quicksand. Commissioner Ronald Adamat of the Commission on Higher Education (CHED), in a heated letter to Carlo Katigbak, President of ABS-CBN, raised his concerns about the use of the term bagani and both its appropriation and possible misrepresentation of Indigenous Peoples (IPs) culture. "…The undersigned… would like to seek immediate clarification and explanation from ABS-CBN as to how and why the term 'Bagani', which is an Indigenous Peoples terminology and endemic only to IPs ended up used in a teleserye that I suspect is devoid of real meaning and substance," said Adamat in the document. Himself being an IP, Adamat adds, "It is not enough for writers and producers of movies and teleseryes to come up with concepts, titles, and characters that would sell and create blockbusters yet carry with them half-truths and lies that destroy and negate the real essence of an IP terminology, as in the case of 'Bagani', and instead bring injustice to the 14 million Filipino IPs."
The network replied in a statement, saying, "The production team did intensive research to determine a distinctly Filipino term that embodies a champion who fights for the common good of his tribe or family… with all due respect, the use of Bagani is not in any way intended to malign or disrespect beliefs of the Indigenous Peoples' communities, but instead hopes to propagate the values, morals, and ethics that are inherent in a Bagani — a Filipino warrior, protector, and hero."
The National Commission on Indigenous Peoples (NCIP) fired back in its own statement, explaining, "Bagani is an exclusively indigenous term that refers to the peace-keeping force of the Manobo Indigenous Cultural Communities/Indigenous Peoples (ICCs/IPs)… The Bagani defends and protects lives, properties, and territory. Its prime duty is to guard the ancestral domain against any intrusion from outside forces that pose threat…It is a sensitive position and class not lightly ascribed to just any person and never to those outside the ICCs/IPs." It goes on to say that to scrub Bagani off its cultural significance and to render it a mishmash of mythology and fiction is a disservice to the viewers, who could be learning more about our Indigenous Peoples and their long-preserved culture.
What's in a Name
Because the history and culture of the Indigenous Peoples are not entirely familiar to many, it's easy to dismiss it as overreaction or oversensitivity. It's easy to speak of what we do not understand, to think that quick Google searches and skimming articles on the Lumad will give us enough perspective to join in the noise. But in terms of popular culture, this is what we know: this is an age where the world is shifting to accommodate for wider representation. The 2017 blockbuster Wonder Woman showed us a vast change in the depiction of women in film, especially in the superhero genre — she wasn't sex on legs and she wasn't acting like a man. She was equally strong and feminine, intelligent and naïve, and had more important things to talk about than her looks.
Likewise and even more appropriate for this scenario, Marvel's Black Panther was a film unlike anything we had seen before. It celebrated what has long been unseen of Africa — its riches, its power, its glory, its potential had it not been colonized. It was unapologetically black, from its cast to its director to its soundtrack, to making a historical reference of Africans having jumped ship in Middle Passage rather than accept a life of slavery. This is a culture that has seen long and storied oppression to this day, and this is one of the first films that defies every stereotype perpetuated in media. Alan Jenkins in The Hollywood Reporter writes, "The people of Marvel's mythical Wakanda are loving fathers, mothers and siblings. They are creators and users of technology. They are financially responsible and secure. They are peace-loving and ethical, notwithstanding their penchant for patriarchal monarchy. Of course a single film, even a massive blockbuster like Black Panther, cannot alone reverse generations of negative imagery and distortion. But it's an important step that will hopefully invite more, in part by indisputably demonstrating the global hunger for Black heroes and storylines. For now, moviegoers from Taipei to Tanzania to Turkey to Trinidad will see a new vision of what blackness means and what Africa stands for." This is what one might call a blueprint.The Indigenous Peoples are ethnic tribes that have withstood the onslaught of foreign religion, preserving unique and inimitable pieces of our history that could well have been lost without their survival. They also have long been oppressed, having dealt with the displacement of their tribes, the loss of ancestral lands, the death and helplessness that comes with living amid continuing armed conflict. They are clinging to their culture and history as many of us would to our own religions or belief systems, and often exoticized in popular media for entertainment. So when the IPs dare to raise their voices, to bother to make the distinction that while Bagani is indeed a hero, but not every hero can or should be addressed as Bagani, the minimum amount we can do is to listen. Bagani is Filipino, but not all Filipinos, whatever their skin color, are Bagani.
Many have drawn the conclusion that the easiest way to resolve this problem was to remove the use of the word Bagani altogether, instead of using an existing and highly revered term to apply to something made up. The thought is that if the show is fictionalized, its title should be too. As of press time, ABS-CBN has reportedly scheduled dialogue with concerned groups, but whether or not they have come to an agreement remains to be seen.
Beyond The Controversy
The burning dispute, however, seems to have little effect on the success of Bagani. The pilot buried its competitor in ratings, coming in with a smashing 35.5% versus Kambal, Karibal's 15.2%. It also aired with a warning, saying that the none of the story was fact or actually historical, and was not pertaining to any Indigenous Peoples. The production value was truly visually striking, not only in the attention to detail paid in creating an otherworldly milieu, but in the filmic coverage of events unfolding. The good intentions with which the show was crafted undeniably exist, and the potential to elevate the chop-and-change nature of local television is there. There is more than enough room for the kind of programming that we need, of how easy it can be to do good in every little act, and how much more important it is to do so when it's most difficult. But a lesson we also need to learn, which Bagani is poised to teach us, is how valuable it is to first make amends. Produced By David Milan