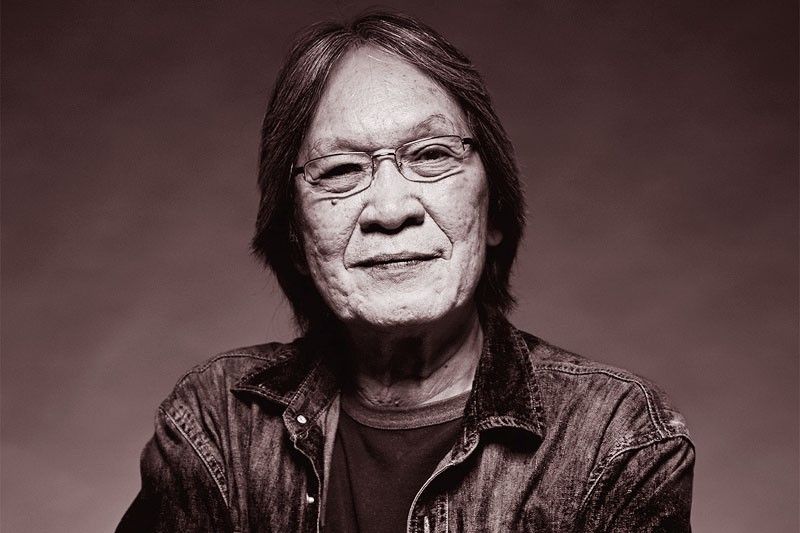 Junyee will be exhibiting a few pieces at the Art Fair Philippines from March 1-4. Photo by Jason Quibilan
Kara Ortiga
(The Philippine Star) - February 24, 2018 - 12:00am
MANILA, Philippines — The title "artist" is too easily thrown around these days. Some of them become more concerned about their marketing blueprint than with their art — so afraid of being misrepresented to the public. But with creative work, this kind of indignant uneasiness is a little bit unbecoming of an artist. Why do you care so much?
With artists, you want them to be surprising, so you look for qualities you won't find in your office colleagues. You want the isolated dedication of Vincent Van Gogh, who persisted with his work even when everyone thought him a madman; or the braggadocio of Andy Warhol, who posed the idea that the artist himself was the work of art. You want the eccentricity of Salvador Dalí, the frightful boldness of Frida Kahlo. You don't really want an artist who spends too much time fluffing their public personas like press releases. No. You want an artist who will disrupt, offer new ways of seeing, and just dumbfound you. You want them to be the type who will turn down prestigious art awards; someone who will burn all his valuables at one point in life (save for a knapsack, some art tools, and three pairs of jeans) in order to detach from the material world; someone who, upon reading an article about then UP Diliman president and diplomat Carlos P. Romulo and his hobby of painting landscapes, will write to Romulo himself and tell him that he could paint better.
This is found in Junyee. And Junyee has devoted his entire life to creating art. In the process, he may have even inspired an entire movement. But the timid artist is hardly concerned about these things… he simply enjoys the idyllic life in his home in Los Baños surrounded by lush greenery.
Junyee has received critical acclaim from esteemed awarding bodies both locally and abroad for decades. He will even go on to say that he has won maybe 21 of the perhaps 22 art competitions he has joined in his life, and even turned down two art awards: the CCP 13 Artists Award in 1980 and the Araw ng Maynila, Patnubay ng Sining at Karilangan Award for Sculpture in 1989. Why? "Hindi ko alam," he says laughing.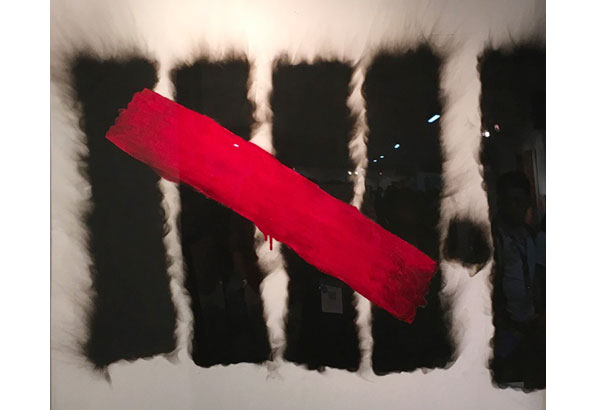 In his latest work, Junyee forays into painting, using soot on board to create this piece entitled "Killings."
He joined the Art Association of the Philippines National Open Art Competition in 1974, where he won the overall award for his wood sculpture "Mga Kahoy Natin," beating National Artist and mentor Napoleon Abueva, National Artist Abdul Mari Imao, and Danny Dalena. (This piece sat in the lobby of the former PNB office in Escolta until EDSA 1 when it was stolen along with other precious artworks from other offices.)
In 1987, Junyee's "Acid Rain" was the first-ever commissioned work of installation art in the country, made for Alliance Francaise. He also organized the first outdoor installation festival at UP Los Baños sponsored by the CCP and UP in 1980-82 and 1984, inspiring the likes of Santi Bose and Roberto Villanueva.
Born Luis Yee, Jr. in Agusan del Norte, Junyee became the lone torchbearer for installation art, creating site-specific work way before the genre was ever formed. A tail-end modern master, and possibly the trailblazer of contemporary art. "It was not even called installation art yet. In my case, I was hooked on environmental work — ako yung pinaka una dun, gumagawa ng art using materials from nature. Because I am really close to nature."
Junyee's work is deeply ingrained with the indigenous — for reasons both practical and personal. "I have to use (natural materials) because I had no money to buy my art materials. I was a working student, wala naman nagsusuporta sa akin. So nagulat lahat bakit installation ang ginagawa ko. My first-ever outdoor one-man show, ginawa ko sa Diliman outside the Sampaguita dorm. It was the first installation I think in Southeast Asia. I didn't call it installation because I was not aware of it — I'm sure there were other artists ahead of me doing the same thing, but with a different approach."
Junyee knew that he wanted to be an artist since he was 17, a life that his father, a Chinese immigrant from Guandong, could not understand. When he told his father he planned to leave the house to study art, his father did not even look up from the book he was reading. Still, Junyee took his father's hand, pressed it on his forehead, and left the house for the pier, which would take him to Cebu.
Only to find that then when he arrived in Cebu, that the university he sought did not offer tertiary courses in Fine Arts. Instead of going home, he decided to stick it out, and settled for a janitorial job in a funeral parlor.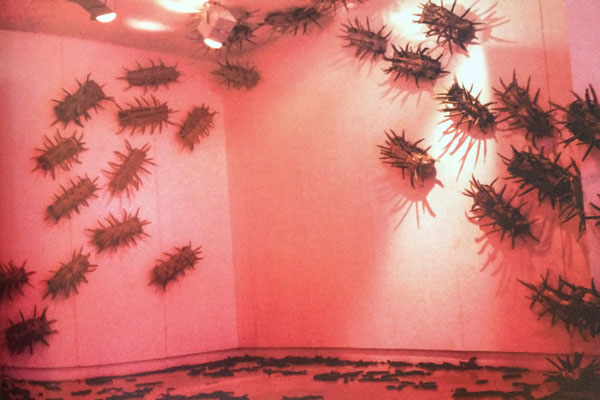 "Wood Things," his installation at the CCP in 1980, was selected by the 12th Paris Biennale to represent the country, after 12 years of absence in this prestigious international exhibition.
When his employer found out he was a high school graduate, he was promoted to handle papers. And when he again found out about Junyee's artistic inclinations, he assigned him to do the makeup for the dead. "Alam mo napakatraumatic yun kasi iniwan nila ako sa morgue sa basement, eh ayaw ko lumapit sa patay kasi takot ako. Nanginginig yung tuhod ko." But, he adds with a smile, "I was the best makeup artist ng patay sa funeraria."
But food was scarce, work was tough, and Junyee sometimes had to sleep in chapel pews. "I was 17 when I entered the funeral parlor, I was 135 pounds, I was very healthy. Pagkatapos after 10 months, I was down to 94 pounds. Because of kahirapan. So ganun dinaanan ko. Hindi ako gumive up, di ako umuwi kasi kung umuwi ako hindi ako pwede maging artist. Kung hindi ako umalis doon, siguro mamatay na ako."
He headed back to Cebu when news of his father's death reached him. And his art was put on hold for a while, to work to help sustain his family financially. Then when he was 22, still adamant about studying art, he saw an ad for a scholarship, and finally pursued his dream, studying Fine Arts in UP Diliman.
"And this is the irony of the whole thing because 'yung struggle ko sa funeraria na napakahirap, walang tulugan, sa bangko lang natutulog, walang kwarto kasi I cannot afford to rent a room or a bed space. Ironic talaga kasi ang hirap hirap ko dun. Tapos here I am nasa Diliman na ako, I was doing fine, winning awards, I was on my way… tapos pinahirapan ko ulit sarili ko. Ang problema ko sa Cebu was just physical and emotional. But my problem here was even harder, because with installation (art), my vision is that I wanted to change the mindset of the people, that there is something else beyond painting or sculpture." Which is a very difficult task to do, he says.
Within the campus of the UP Diliman, Junyee created his first outdoor show: a construction made of bamboo strips, roughly hewn with a machete, and bound together with rope, adorned with poems, protest slogans, fruits and other objects by students. It was called "Balag," the Visayan word for "trellis," and was a piece of art that couldn't really be sold on the market.
"Sanay talaga tayong sumandal sa west. I have nothing against them, but it's not mine. It's not ours. Ba't ako magpapainfluence sa western art if the universe is so wide? Hindi mo maubos ang posebilidad. I can't understand until now: the universe is so wide, there's no limit to things. So why insist on doing things that have been done already? You're wasting your time, you're wasting your mind, and you're wasting your gift. You're supposed to be an artist, and artists are supposed to be creative people. Copying? It's really stupid because you're gifted with something you can create on your own. I am Junyee, for God's sake. Wala namang masama ma influence — but that is only one of the elements that makes you who you are."
A truly original and indigenous artist, highly praised by awarding bodies, with an impressive body of work and a dedication that is undying, Junyee is one of the most underrated revolutionaries of today. But for an artist to have his moment, for people to finally understand your work, the culture has to be ready, the people have to catch up, the environment has to be ripe. Sometimes it takes awhile for a culture to finally recognize true artistic genius. For once, let's shape up and give due credit to one of the real movers and shakers of this country.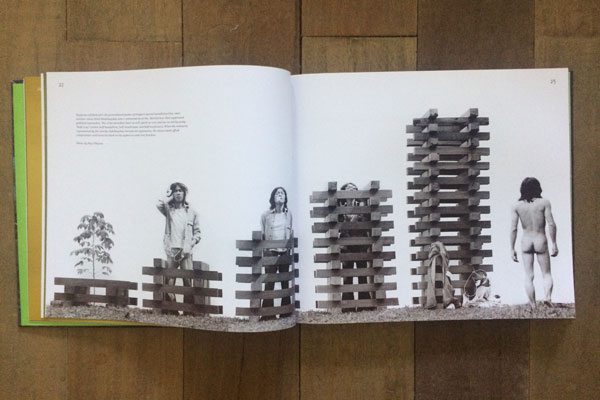 Sequence of photos used for the promotional poster of Junyee's second installation show called "Malabayabas," a commentary on martial law.