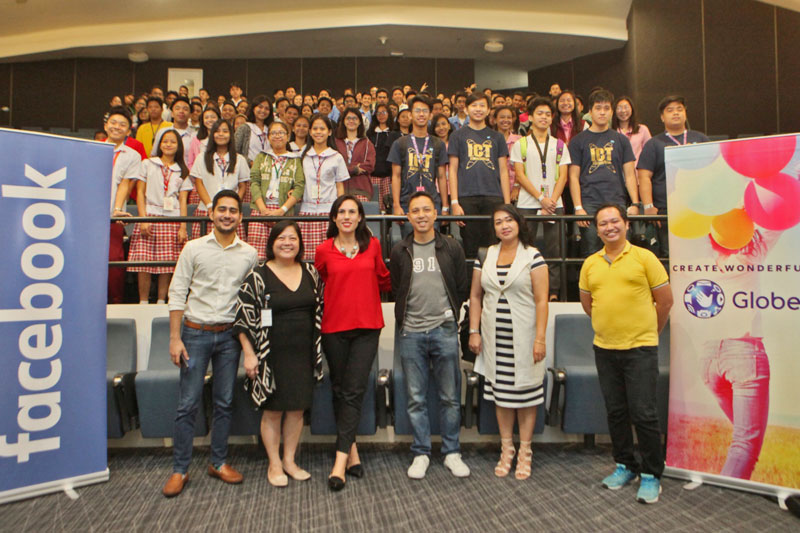 One in Fighting Fake News: Facebook Philippines policy program manager Chris Kuzhuppily (left), Facebook Asia-Pacific head of community affairs Clair Deevy (third from the left), Globe citizen and advocacy marketing manager Miguel Bermundo, and representatives from the Department of Education, debuts the first Digital Thumbprint Cyberwellness workshop on Digital Critical Thinking to high school students from Pasay, San Juan, and Marikina at the Mind Museum, Taguig City.
Setting the facts straight in the age of fake news
MANILA, Philippines — In a study conducted by international digital think-tank DQ Institute, it was revealed that among 3,819 Filipino children aged 8-12 years are active on social media, spending an average of 34 hours per week. This relatively high usage of people can be swayed by misinformation, prone to cyber-bullying, or can fall victim to other forms of digital corruption.
This spurred Globe to sound the alarm and focus its community development efforts on the promotion of the digital intelligence quotient, or DQ, particularly among young students, in a program in partnership with the Department of Education (DepEd) dubbed as Digital Thumbprint. "The Digital Thumbprint Program is already two years old, and it started with three different modules. One is on online security and safety. The next one is etiquette and responsibility which addressed cyber-bullying. The third is on empowerment, how you use the internet to empower yourself," explains Globe's citizenship and advocacy marketing manager Miguel Bermundo.
With the majority of juvenile internet users active on Facebook, the Digital Thumbprint Program partnered with the global social media giant in developing its fourth module, centered on developing critical thinking in properly discerning online information.
"For Facebook, this is something that is really important to us. We want your experience on Facebook to be a good one. We want you to have the right interactions with your friends and your family, to learn from each other. And we can only do this if each of us understand and can process what we see online, and have the empathy to think about what the impact will be of things when we share it," shares Clair Deevy, head of community affairs for Facebook Asia-Pacific.
In the age of fake news, alternative facts, and trolls fueling conflicting opinions, it couldn't have come in a more relevant time. "We want people to intelligently decipher what is factual, what is opinion, and what is outright or intended to be false news. And from there, we encourage them to start understanding and respecting other perspectives and point of views," he notes.
With an audience of DepEd-accredited students from Pasay, San Juan, and Marikina, Globe and Facebook piloted their module on online critical thinking, centered on how to crack false news. Chris Kuzhuppily, senior associate at Pearl Consulting, and policy program manager for Facebook Philippines shares this ten-point objective on how to spot fake news, with the hopes that social media users, both young and old, can help prevent the spread of irresponsible content online.
1. Be Skeptical of Headlines
Beware of clickbait titles that are just too sensational to be real.
2. Look closely at the URLs
Some fake news sources tend to use webpages that mimic that of reliable news sources. To be sure, compare the questionable website with the more dependable one.
3. Investigate the Source
Articles with unnamed sources or facts of questionable origin are certain red flags for misinformation.
4. Watch for Unusual Formatting
Reliable news pass through dedicated editors before they get published, so watch out for typographical, grammatical, and sentence construction errors.
5. Consider the Photos
Highly-edited, filtered, and superimposed photos are tell-tale signs of dubious content, while real photos used out of context can spur the spread of misinformation.
6. Inspect Dates
Old, recycled news can be as equally damaging as fake news, especially when taken out of context or used for purposes of deception and confusion.
7. Check Evidences
With search engines such as Google, and fact-checking sites such as Wikipedia, it is just as easy to gather evidence to support or dismiss any information under question.
8. Refer to Other Sources or Reports
News, even the most exclusive ones, can never remain a property of only one outfit. So when faced with questionable facts, it is wise to compare with more credible news sources.
9. Be Critical of Content
Not all content published are meant as factual. Is it a parody? Does it sound like a joke? Is it too good to be true? If your answer is yes, then it probably is.
10. Understand that Some Sources are Intentionally False
Some published articles or content are intended to damage reputations or falsely influence public opinion, and if we take this warning to heart, then, perhaps, we would be more watchful with what we click, read, and share online.
* * *
Schools and organizations that would like to avail of Globe's Digital Thumbprint program can email bridgecom@globe.com.ph.