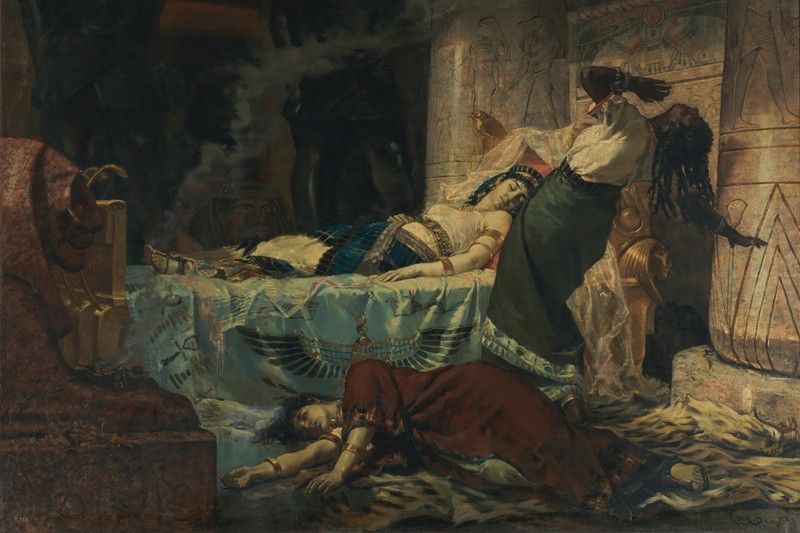 "The Death of Cleopatra," which won Juan Luna an award three years before completing the "Spoliarium," is exhibited for the first time at the National Gallery Singapore.
Kara Ortiga
(The Philippine Star) - January 13, 2018 - 12:00am
MANILA, Philippines - The last one was mounted in Manila in 1988, at the National Museum and Metropolitan Museum, which tackled his life and work along with those of his contemporary and rival, Felix Resurreccion Hidalgo. Clarissa Chikiamco, a Filipina curator at the National Gallery of Singapore, understands pretty much why. Gathering Luna's works from across the world — it's not an easy task.
Which is why the Juan Luna exhibit at the National Gallery Singapore titled "Between Worlds: Raden Saleh and Juan Luna" is not to be missed. On display are rare pieces, alongside his Asian contemporary, Raden Saleh, a renowned painter from Indonesia. It took four years to curate the exhibit by the Gallery's curators — Russell Storer, Clarissa Chikiamco and Syed Muhammad Hafiz — who brought together more than 100 paintings, drawings and archival materials from all around the world.
In parallel, the lives and works of the two artists say something significant about art and history during their time. At the height of colonial rule in Southeast Asia in the 19th century, Saleh and Luna sailed across the ocean to Europe, to train under great painters. They earned their place within European art worlds, and their successes there made them national heroes in their respective homelands. The exhibition unites, for the first time, an array of their masterpieces loaned from private and public collections that traces their artistic journey from Southeast Asia to Europe and back again. It also tells of their struggle to reconcile their love of homeland with their ambitions in Europe, where they established their careers.
Saleh was the first Indonesian artist to receive training in Europe, from landscape, genre and portrait artists from the Netherlands. He received acclaim in Germany and Paris for his signature Orientalist animal hunts and fights.
Meanwhile Luna, taken under the wing of Spanish painter Alejo Vera, studied in Madrid and Rome. His painting "Spoliarium" earned him fame in Spain and won him the First Class Medal in Spain's annual art exhibition in Madrid in 1884.
The show signifies the artists' lives between Europe and their home, and takes an exploratory look at each master's work over their illustrious careers.
Dr. Eugene Tan, director of the National Gallery Singapore says, "Raden Saleh and Juan Luna are two of the earliest and most significant artists who propelled the prestige of Southeast Asian art around the world in the 19th century. Given the National Gallery Singapore's commitment to furthering the understanding of Southeast Asian art globally, we are excited to be organizing this extensive exhibition featuring their paintings from across the world. 'Between Worlds' will enable the works of Saleh and Luna to become more accessible to our audiences while furthering our understanding of the art histories of Southeast Asia in the 19th century."
A major highlight among Juan Luna's works on display is "La Muerte de Cleopatra" (The Death of Cleopatra, 1881) — a mural that won him the silver medal in the 1881 National Exposition of Fine Arts in Madrid — the same contest in which he entered the "Spoliarium" three years later.
However, unlike the "Spoliarium" which found its way home, the "Cleopatra" stayed in Spain's Museo Nacional del Prado, and has never been exhibited… until today. There a few other pieces on display as well that have never been seen by the viewing public. If only for this reason, "Between Worlds" is worth the visit.
"Between Worlds" shows Juan Luna from a broader perspective — we see him in relation to Raden Saleh, and we see both artists in relation to the world. Through their work, we get a glimpse not only of each artist's exemplary work — but also a brief look at history through these maestros' eyes.