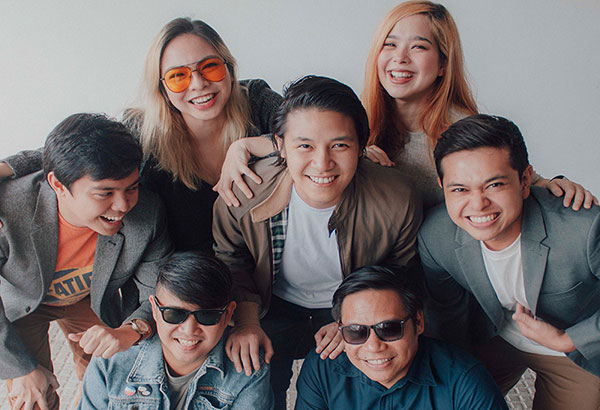 Cheats launches their new album "Before the Babies" available on cheatsmusic.com. Photo by Kitkat Pajaro
Cheats: No Sophomore Slump
Ian Urrutia
(The Philippine Star) - December 15, 2017 - 4:00pm
MANILA, Philippines — It's not rocket science to figure out why Filipino indie-rock champs Cheats have emerged as one of the most in demand artists in the international music festival circuit. Their infectious pop appeal and unabashed heart-on-sleeveness leave little room for doubt. And after countless performances in packed venues and outdoor arenas, you can tell from the get-go that they deserve the exposure they've been getting here and abroad.
Having secured a spot at Singapore's Laneway Music Festival in 2016 and Hongkong's Clockenflap in 2017, the seven-piece band takes pride not only in sharing the stage with their music heroes Feist and Massive Attack, but also in representing the country in the global music arena. Lead singer and multi-instrumentalist Jim Bacarro points out, "It's always an honor to be chosen to play at these big festivals and represent our wonderful music scene in the Philippines. We're always nervous before playing big shows which makes it even more exciting once we get on stage."
Captivating Appeal
Cheats can easily captivate the audience with their charismatic stage presence, and get everyone to jump out of excitement, join the communal sing-along, and muster the courage to rock out in wilderness. "And I think we put on a great live show, where we all unpretentiously have fun onstage. Sincerity is key, I guess," observes guitarist Jason Caballa. Those invested in the band's music know the impact of their massive power-pop anthems, the adrenaline rush it brings when singers Candy Gamos and Saab Magalona, along with Jim Bacarro, crush the chorus with their saccharine pipes and anthemic vocal chops, and the euphoric feeling one inhabits when moshing to the hit songs Talk, Accidents, and Drunk.
On recording, Cheats' self-titled full-length album bottles up the infinitely affecting moments of watching Cheats go berserk and all-out live. It's in these songs that we realize the importance of failure and cynicism in shaping up our teenage years; that it's fine to feel consumed by rocky relationships, be it romantic or personal, and outgrow and learn from them eventually; that sometimes we need to get out of our confines and experience committing mistakes, getting into trouble, and falling recklessly, helplessly in love. Cheats called the animal inside of us, and we just gladly obeyed.
Sophomore Full-Length
Like The New Pornographers and Broken Social Scene, Cheats operate in their own defined lane with unassuming cool, their songs larger than life but intimate and relatable in scope. They have also managed to cement their ascension with a more nuanced approach to songwriting and production, balancing the accessibility of their previous releases with newfound tightness and wisdom. In fact, their upcoming release Before The Babies tackles a more seasoned perspective on life, love, and adulthood. Gone are the days when they'd sulk into quarter-life crisis and aversion to change. As Jim Bacarro best puts it: "Lyrically, this album is really about life before babies and greater responsibilities. Even from a production standpoint, I wanted it to contrast from the first album where each track was guns blazing with 15 guitar tracks and layers on top of layers. I guess this is the point in our lives where we see it as a marathon. There are bursts of energy and speed while giving importance to rest."
Songs such as Ringer and Melon, shows the band's more emotionally naked side, with the latter written as a tribute to all the band members that have joined and left Cheats. False Alarm, according to Jason Caballa, might be Jim Bacarro's most lyrically compelling song to date. And then there's the title track which serves as a last-minute inclusion in Cheats' upcoming full-length release. "It's a song I wrote after we found out we were pregnant," Bacarro fondly recalls. "It's the longest track in the album. I challenged Jason, Kyle and Enzo to make guitar solos to represent different stages in life." Guitarist Kyle Quismundo considers it his favorite song in the record, speaking highly of its great arrangements. "Plus it's my favorite to play live."
Continuing Evolution
Musically, Before The Babies maintains the comforting highs with more variety in the mix. While they seem to capture the widescreen rawness of their sound, the indie-rock band mines unpredictable sonic elements and indulges a little bit in experimentation. "I think the songs sound more mature in a way, and that's not because I raised the band's mean age by joining," Jason Caballa shares. "There is nothing as riotous as Sleepist or even Accidents on this record, but this one varies more in style: there's a bit of funk in Glass Mouth, Smashing Pumpkins grind on Printers, and indie pop on Crumble."
One can also pinpoint the band's continuing evolution. From wringing pop smarts that unfurl beautifully in repetitive listens to embracing a mellower sound, the band is certainly not afraid to take risks. "Musically, the band grew up a lot in this album," bassist Manny Tanglao tells Supreme. "I mean having three guitarists can be stressful in terms of arrangement. However, in this album we feel we've learned how to give way to one another and appreciate the concept of less is more." Despite the subtle changes in musical direction, Cheats keep up with the tradition of highlighting the grit and vitality one gets from hearing them perform live. "We will always be a live band first," drummer Enzo Hermosa points out. "We record the songs based on how we enjoy them being played live. For me, this album has been more enjoyable to play live."
As for the album title, Cheats have been toying around the idea of using Before The Babies for its follow-up to their eponymous debut record. Little did they know that the joke thrown around in conversations during rehearsals and jam sessions would shed light on countless personal realizations, thanks to Saab Magalona's pregnancy. "We felt that this album captured this shared time in our lives," reflects frontman Jim Bacarro. "No one during the production of this album was a parent yet. We were all in a common space and we wanted this album to be a remembrance of that."